This article first appeared in The Edge Financial Daily, on March 28, 2019.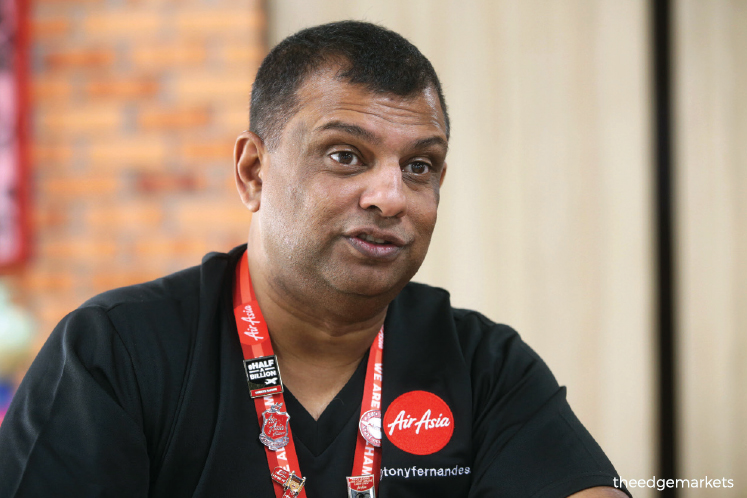 KUALA LUMPUR: Tan Sri Tony Fernandes (pic), AirAsia Group  Bhd's co-founder and group chief executive officer, commented that the ailing Malaysia Airlines Bhd could be revived; however, he is not keen on taking over the national carrier as he said his plate is currently full.
"There are fantastic people in Malaysia Airlines, it is a good brand ... I think it could be turned around. I think it is not a wise idea to close it down, there should be good efforts to revive it," said Fernandes in an interview with Channel NewsAsia in Singapore.
Speculation is rife with whether the government will revisit the share swap proposal between the controlling shareholders of AirAsia and Malaysia Airlines; to that question Fernandes commented that he is not keen on such a deal given the fact that AirAsia's current focal point is to expand into digital business.
"I already have a lot on my plate … my plate is full now ... we want to expand our digital business," he said, noting that digital business is the next catalyst of growth for the airline.
To recap, in 2011, a deal was mooted between Khazanah Nasional Bhd and Fernandes' Tune Air Sdn Bhd, whereby Khazanah would swap a 20% stake in the then-listed Malaysia Airline System Bhd (MAS) for a 10% stake in AirAsia in order to synergise the two Malaysian-born airlines and reduce competition against the national carrier.
That deal was called off in 2012 amid pressure from the MAS workers' union due to a fear of job cuts.
Fernandes highlighted that AirAsia already has a plan mapped out to develop a digital platform to provide financial services and an intra-Asean logistics service. "Amazon, which started as selling books, is now selling cloud space ... we are looking at digital business," said the controlling shareholder of AirAsia.
Fernandes also commented on AirAsia's logistics arm RedCargo, saying it is a huge asset that is underutilised.
He said consolidation of all its belly space and simple reorganisation have multiplied revenue and the team is confident the group will double the revenue.
Fernandes said AirAsia will also help the rise of small/medium entrepreneurs in Asean especially in social e-commerce which struggles with logistics.
"RedCargo will help the people grow their biz (business) with last mile delivery. [It's a] huge upside here that will change ancillary dramatically," he said.
Fernandes said AirAsia has built a system and invested in technology that will reduce complexity for consumers.
"Customers can come directly to us. Goal is to achieve fulfilment in 12 hours instead of 138 hours, leveraging on our powerful network. Already have big brands on board," he tweeted.