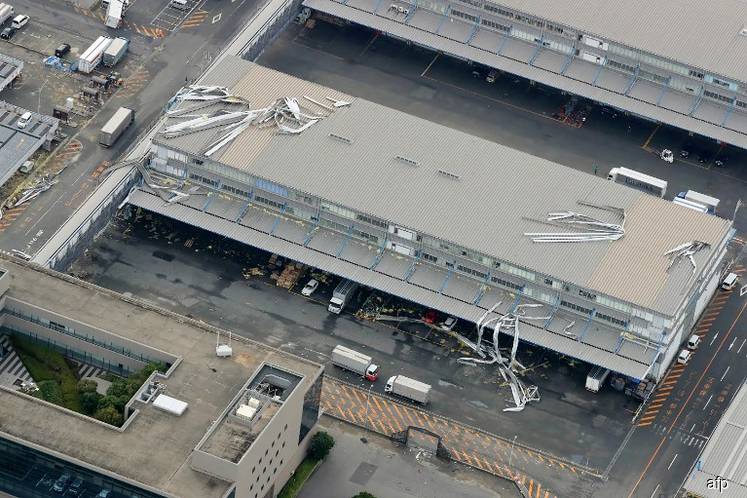 PETALING JAYA (Sept 5): Malaysia Airlines (MAS) and AirAsia have suspended flights to and from Osaka, Japan as Typhoon Jebi – the strongest to have hit the country in 25 years – left a trail of destruction that included nine deaths and a slew of damaged buildings, including flooding and other damages at the Kansai International Airport.
On a travel advisory issued on its website, MAS said it had cancelled its MH052 flight from Kuala Lumpur to Osaka yesterday and is expecting further disruptions on all flights in and out of Osaka.
Passengers who are affected may choose to reroute their travel to Narita International Airport, postpone their travels or request for a full refund.
They may seek further information by calling 1 300 88 3000 (in Malaysia) and +603 7843 3000 (for outside Malaysia).
The airlines is also providing periodic updates on the situation on its website, Facebook and Twitter accounts.
Meanwhile, AirAsia has cancelled 11 flights from Sept 3-6, affecting travels to three cities connected to Osaka – KL, Bangkok in Thailand, and Honolulu in the US.
The budget carrier has offered affected passengers four service recovery options – to change their flight on the same route to a later departure date, to be rerouted to Narita International Airport in Tokyo or New Chitose Airport in Sapporo within 14 days of their scheduled departure date (except for those travelling to Honolulu), keep the value of their booking in the AirAsia BIG accounts which must be redeemed within 90 days, or seek a full refund.
These options are subject to seat availability.
To find out more, passengers can log on to their social media platforms and support.airasia.com.