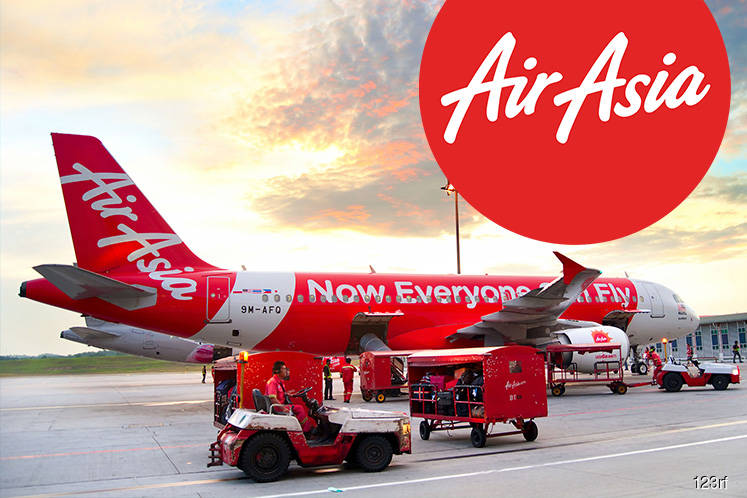 KUALA LUMPUR (July 25): AirAsia Group Bhd has proposed a joint venture in Thailand for its indirect wholly-owned subsidiary Teleport Everywhere Pte Ltd to provide logistics services to its associate companies Thai AirAsia Co Ltd and Thai AirAsia X Co Ltd.
In a filing with Bursa Malaysia today, AirAsia said Teleport, AirAsia Thailand and AirAsia X Thailand had jointly signed a memorandum of understanding (MoU) with Triple i Logistics Public Co Ltd for the purpose of the collaboration.
AirAsia said Teleport plans to establish the joint venture with Triple i to integrate cargo capacity in Thailand for AirAsia Thailand and AirAsia X Thailand by Jan 1, 2020.
Triple i is a total logistics integrator with 27 years of experience in the international forwarding and logistics industry. It also provides services as a carrier, logistics operator, freight forwarder for international and domestic air freight, sea freight, inland transport as well as services in logistics and supply chain management for general cargo, hazardous chemicals and dangerous goods.
Meanwhile, Teleport's group of companies provide cargo and logistics services to merchants and companies to move goods, and e-commerce in Southeast Asia and beyond.
With the MoU, Teleport and Triple i confirmed their interest in establishing a joint venture company in Thailand to conduct a business as a general cargo sales agent to serve Thai AirAsia and Thai AirAsia X.
AirAsia said the MoU aligns with Teleport's mission to move goods and e-commerce seamlessly throughout Southeast Asia, taking full advantage of AirAsia Group's network across the Asia Pacific.
"In particular, it allows Teleport to integrate the rights to the cargo capacity in Thailand for Thai AirAsia and Thai AirAsia X with the wider AirAsia Group's network," it said.
In a separate statement, Teleport chief executive officer Pete Chareonwongsak said the combination of Teleport's technology and Triple i's local experience will ultimately prove to be a success to achieve its shared vision in Thailand.
"With our infrastructure, we intend to open this to both individuals and companies, enabling them to transport anything they want both quickly and painlessly," he said.
Triple i group chief executive officer Tipp Dalal said the company shares the same vision as AirAsia and Teleport, to develop and grow demand for air cargo services, which he said is constantly evolving, especially when it comes to e-commerce.
"Triple i would like to thank AirAsia and Teleport for believing in the company's potential and experience in logistics management, especially Triple i's air freight service in Thailand and the wider region," he said.
"Through this joint venture, we will be able to create new and innovative logistics solutions, combining the strengths and expertise of all partners. This is a reflection of our strong and long-standing business relationship and our goal to become the leading air logistics business in the region," Dalal added.