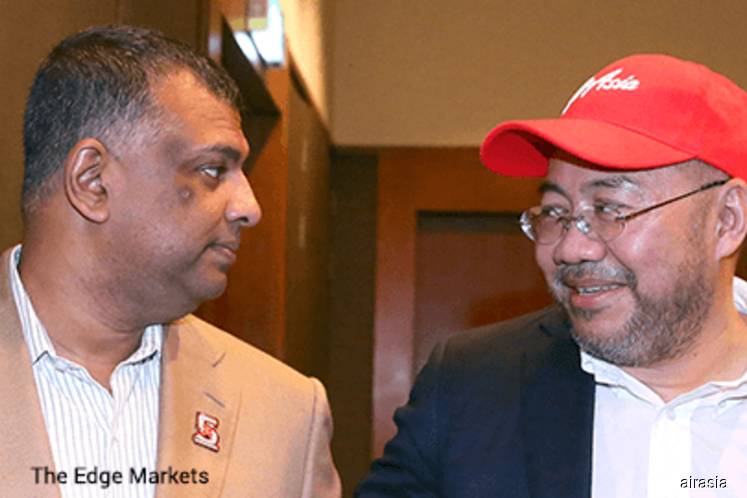 KUALA LUMPUR (March 20): BDO Governance Advisory Sdn Bhd, appointed by the board committee of AirAsia Group Bhd and AirAsia X Bhd (AAX) to assist in undertaking an independent review on  corruption allegations related to the Airbus scandal against their co-founders Tan Sri Tony Fernandes and Datuk Kamarudin Meranun, has given the duo the all clear.
Following this, Fernandes and Kamarudin have been reinstated to their posts as group chief executive officer (CEO) and executive chairman of AirAsia respectively.
In separate bourse filings today, AirAsia and AAX said BDO had on Monday (March 16) presented their report on the findings of the independent internal inquiry.
BDO found that the group has a robust aircraft procurement process and that the acquisition of aircraft was "justifiable and at prices favourable to the company" and that its sponsorship of the sports team by Airbus was disclosed to and supported by the board of directors of AirAsia at the relevant time.
The report said the sponsorship showed demonstrable benefits to the AirAsia group and was not linked to any purchase decisions by AirAsia and that both Fernandes and Kamarudin had properly disclosed their interests to AirAsia's board and abstained from discussions or decisions relating to the said sponsorships.
"The report has now been presented to and accepted by the board (which conducted its meeting without the presence of the two executives) and arising from this, the board has resolved to reinstate the executive positions of Tan Sri Anthony Francis Fernandes and Datuk Kamarudin Meranun.
"Consequently, the appointment of Tarumalingam Kanalingam (Bo Lingam) as the acting CEO has been rescinded," said AirAsia.
Last month, AirAsia and AAX announced the appointment of BDO to assist in the review of allegations of corruption against the two top executives.
The appointment of the firm was done by the two airlines' non-executive independent board committees, comprising non-executive members of their respective boards.
AirAsia and AAX were mentioned in a UK court document, which alleged Airbus SE of bribing two executives of the airlines with some US$50 million (RM207 million) in exchange for purchasing Airbus aircraft.
Airbus allegedly provided the kickbacks in the form of sponsorship of a sports team owned by the two executives, which was reported to be the Caterham F1 racing team, previously owned by AirAsia co-founders Fernandes and Kamarudin.
The duo have categorically denied all allegations and relinquished all executive roles in AirAsia and AAX on Feb 4 for two months, amid the ongoing probe that now involves three Malaysian authorities, namely the Malaysian Anti-Corruption Commission, the Securities Commission Malaysia and the Malaysian Aviation Commission.
At 2.18pm, AirAsia shares were up 4.5 sen or 8.65% at 56.5 sen today, with 37.33 million shares done, bringing a market capitalisation of RM1.89 billion. AAX's stock price was unchanged at 4 sen, with 8.64 million shares done, for a market cap of RM165.93 million.