This article first appeared in The Edge Financial Daily, on January 9, 2018.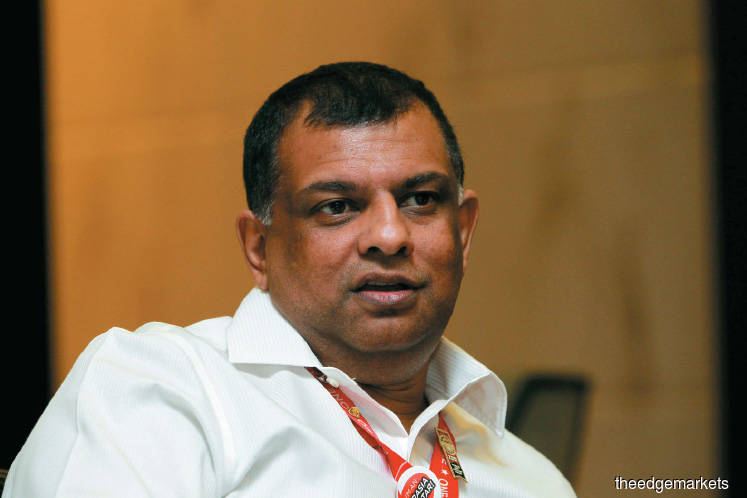 SEPANG: AirAsia Group Bhd (AAG), a holding company established to own and manage the budget airline's Southeast Asian units and will assume the listing status of AirAsia Bhd, may relist its Malaysian unit to unlock the value of the asset in the future, said its founder and group chief executive officer Tan Sri Tony Fernandes.
This is one possible option for the group to get a fair valuation from analysts, he added.
"If you look at the sum-of-parts, we (AirAsia Group) are so undervalued. As such, we are now ascribing value to each of our associate [through the reorganisation]. Take Malaysia (AirAsia Bhd) for example, it is worth more than its market capitalisation, but analysts are ascribing no value to [its operations in] Thailand, Indonesia and the Philippines," he told a press conference after AirAsia's extraordinary general meeting (EGM) here yesterday.
He added that the group may consider the prospect of a "small offering" of its Malaysian operations, which are currently the cash cow for the group, at a later date when the reorganisation is completed.
Earlier in the EGM, the resolution for the reorganisation of AirAsia Group by way of a members' scheme of arrangement was unanimously approved by shareholders. Under a one-for-one share swap deal, AAG will take over AirAsia Bhd and assume the latter's listing status as an investment holding entity by March this year, while AirAsia Bhd will focus on its airline operations.
This is a step closer for AirAsia to its dream of creating a single public holding company for its major businesses in Southeast Asia. Under the current structure, AirAsia Bhd owns partial shareholdings in all of the Southeast Asian units through its wholly-owned subsidiary AirAsia International Ltd.
Fernandes said a public listing of the group's Malaysian operations could open an avenue for investors to choose between exposure to the group's overall risk or limit themselves to risk related to Malaysian operations.
"There is nothing to prevent us from listing some shareholdings in AirAsia Bhd [in the future]. What we are creating now is a vehicle (AAG) where some people may want [exposure to] the Malaysian risk or some people may want [exposure to] the group's risk," he said. Apart from PT Indonesia AirAsia, none of AirAsia's foreign subsidiaries or associates are listed in their home country.
Note that Thai AirAsia Co Ltd is 55%-owned by Stock Exchange of Thailand-listed Asia Aviation PCL (AAV). AirAsia Bhd has an effective interest of 45% in Thai AirAsia and 49% in Indonesia AirAsia (IAA).
Plans are in the works to list 39.9%-owned AirAsia Philippines Inc this year.
Fernandes said AirAsia Group's longer-term objective is to fully own all operations, including those overseas, which is not plausible today due to regulatory requirements that prevent foreign shareholders to own controlling stakes in an airline.
"That (listing Malaysia AirAsia) is a potential plan. Ideally, we really want to convert all the interest [in all subsidiaries and associates] into one economic unit. So, let's assume 51% of foreign associate shares could be swapped for AirAsia Group shares and that requires a lot of work such as legal [requirements], but now we have a vehicle to start working towards that," he said.
"This is also to enable our investors to understand the group better going forward. We hope to consolidate all of Asean's businesses very soon, [with] Thailand being the next, hopefully, and then we will also give investors individual profit and loss statements, so that they can look at them.
"This is the first step of combining AirAsia into one economic unit [towards] our dream of creating a single public holding company, and aligning all shareholders," he added.
AirAsia shares closed unchanged at RM3.59 yesterday, giving it a market capitalisation of RM12 billion.