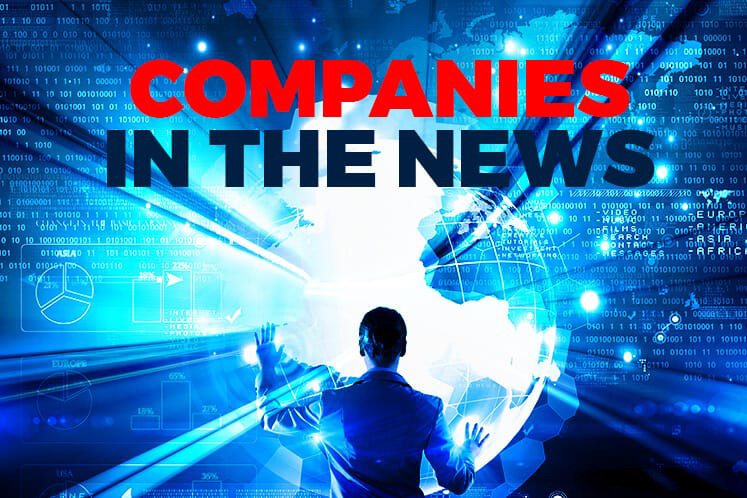 KUALA LUMPUR (Dec 6): Based on corporate announcements and news flows, stocks on focus on Friday (Dec 7) may include: AirAsia Group Bhd, Gamuda Bhd, Sapura Energy Bhd, GD Express Carrier Bhd, Perak Transit Bhd, Telekom Malaysia Bhd, KLCCP Stapled Group, AMMB Holdings Bhd, Top Glove Corp Bhd, UEM Sunrise Bhd, Perodua Bhd, China Automobile Parts Holdings Ltd, Computer Forms (Malaysia) Bhd and SMRT Holdings Bhd.
AirAsia Group Bhd  has reaffirmed its intention to set up a joint-venture low-cost carrier in Vietnam by signing a memorandum of cooperation with a Vietnamese partner today.
The memorandum was signed by AirAsia Group CEO Tan Sri Tony Fernandes and Vietnamese businessman Tran Trong Kien, in his capacity as CEO of Thien Minh Travel Joint Stock Company and general director of Hai Au Aviation Joint Stock Company
Some 300 ex-employees of Lion Group Bhd's 79%-owned unit Megasteel Sdn Bhd may receive their unpaid salaries totalling some RM3 million.
Deputy Human Resource Minister Datuk Mahfuz Omar said 56 cases have been filed by the employees of Megasteel in 2017, with claims amounting to RM6.66 million, about half of which comprise unpaid salaries.
Gamuda Bhd said it accepts Prime Minister Tun Dr Mahathi Mohamad's view that the Mass Rapid Transit (MRT) systems costs were too high for a project that would only see full ridership after 20-30 years, highlighting that it was chosen to deliver the project by the previous Government.
The group also said it is considering more projects abroad in order to maintain the pace of growth it had achieved over the past decade, highlighting challenges in the property and construction business in Malaysia, thus focusing on projects in Singapore, Vietnam and Australia.
Sapura Energy Bhd's net loss for its third quarter ended Oct 31, 2018 narrowed significantly to RM31.09 million from RM274.41 million a year ago, due to a higher revenue contribution.
Quarterly revenue grew 17.4% to RM1.5 billion from RM1.28 billion previously, which the group attributed to higher contribution from its engineering and construction (E&C), and exploration and production business segments.
Despite this, its nine-month net loss widened to RM292.88 million from RM217.95 million for the same period last year due to lower revenue from its E&C and drilling segments.
The group had also secured a contract valued at about RM3 billion from Oil and Natural Gas Corp (ONGC) in India as part of a consortium to explore an oil block offshore The Godavari Delta in eastern Indian waters.
GD Express Carrier Bhd's managing director-cum-chief executive officer Teong Teck Lean said the group is allocating higher capital expenditure of RM50 million for its financial year ending June 30 2019.
The group sees a challenging year ahead as it faces intense competition and rising pressure from operating costs.
Perak Transit Bhd has received the Securities Commission's approval to move from its current ACE market listing to the bourse's main market.
The group said it had met the main market listing criteria of having an aggregate net profit of RM20 million for the past three full financial years and net profit of at least RM6 million in the most recent financial year.
Telekom Malaysia Bhd and KLCCP Stapled Group Bhd, which comprises KLCC Property Holdings Bhd and KLCC Real Estate Investment Trust, have been removed as constituents of the FBM KLCI in the semi-annual review of the index.
AMMB Holdings Bhd and Top Glove Corp Bhd will be replacing the two counters on the benchmark index of 30 stocks instead.
UEM Sunrise Bhd is aiming to meet a similar sales target of RM1.2 billion for its FY19, adding that it wishes to monetise its landbanks in Johor and central Kuala Lumpur.
Managing Director and Chief Executive Officer Anwar Syahrin Abdul Ajib said that the group is looking into launching projects in smaller batches for the first half 2019 while keeping larger projects for the year end.
Perodua Bhd's Myvi was proclaimed the winner in the entry level segment at the 2018 Malaysia Car of the Year Awards organised by the Malaysian Automotive Institute.
Perodua CEO Datuk (Dr) Aminar Rashid Salleh said that since the car's third generation launch in November 2017, nearly 85,000 units of the car have been sold, with over 138,000 bookings to date.
The trading in shares of China Automobile Parts Holdings Ltd (CAP) is still suspended due to the group's failure to submit its quarterly report for the financial year ended Sept 30.
The suspension began in June 8 2017 after it failed to submit its 1QFY17 report by May 31.
Tan Sri Robert Tan Hua Choon's offer to take over shares in Computer Forms (Malaysia) Bhd that he does not own at RM1.35 per share has turned unconditional, as his shareholdings in the group surpassed 50% benchmark of the group's voting shares today.
This is part of Tan's ongoing proposal to buy more shares in the company, previously offering RM1.25 per share, which independent adviser Public Investment Bank Bhd opined as "not fair and not reasonable".
Minority shareholders of SMRT Holdings Bhd's 64%-owned unit, N'osairis Technology Solutions Bhd, are suing SMRT for alleged oppression.
"The minority shareholders are in essence alleging that SMRT had used its position as the majority shareholder in N'osairis to oppress the minority shareholders," the group said.
SMRT said solicitors acting on behalf of N'osairis' chief executive officer Stalin Thangaiah Vijaya Kamaraj, Balasubramaniam Manikam and Navindra Sivaratnam have sent a notice of commencement of legal proceedings.