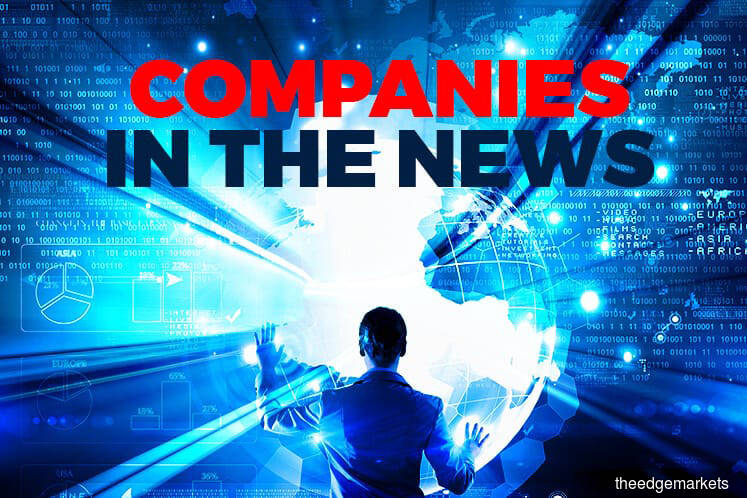 KUALA LUMPUR (Feb 3): Based on corporate announcements and news flow today, stocks in focus for Tuesday (February 4) may include the following: AirAsia Group Bhd, Datasonic Group Bhd, DRB-Hicom Bhd, Fraser & Neave Holdings Bhd (F&N), Ideal United Bintang International Bhd, Kinsteel Bhd, LPI Capital Bhd and Mudajaya Group Bhd.
AirAsia Group Bhd group CEO Tan Sri Tony Fernandes and group executive chairman Datuk Kamarudin Meranun have relinquished their executive roles for an indicative two-month period, amid a corruption probe in relation with AirAsia's purchase of Airbus aircraft which has now garnered the attention of at three Malaysian authorities.
This came on the heels of yesterday's statement by AirAsia that it was "improperly linked" to the graft allegation – where Airbus SE reportedly sponsored US$50 million to a sports team jointly owned by two AirAsia executives in exchange for facilitating AirAsia to buy Airbus aircrafts.
Today, AirAsia said it has formed a non-executive independent board committee to act on the allegation. As Fernandes has stepped down from his executive post, his deputy Tharumalingam Kanagalingam has been redesignated as interim CEO on the committee's recommendation.
Datasonic Group Bhd has been awarded a facial recognition e-gate supply contract worth RM6.97 million by the Ministry of Home Affairs.
Datasonic said it won the one-year contact, which starts on Feb 15, through an open tender participated by 18 companies last October. Concurrently it is required to furnish a performance bond amounting to RM348,656 to the ministry for a two-year period ending on Feb 14, 2022.
DRB-Hicom Bhd's 50.1%-owned Proton Holdings Bhd recorded a total of 8,506 new registrations of its vehicles in January this year, representing a 20.2% year-on-year (y-o-y) jump. The automaker's market share rose by 4.9% to 19.5%, compared to the same period last year, Proton said in a statement today.
Fraser & Neave Holdings Bhd (F&N) net profit grew in the first quarter ended Dec 31, 2019(1QFY20) by 4.48% year-on-year to RM128.37 million from RM122.86 million, driven by better operating profit from its Thai operations that offset decline in its Malaysian business.
It made better sales in Thailand, supported by successful customer loyalty programme, wider outlet coverage, new launches and a favourable foreign exchange translation. For the group, quarterly revenue rose 9.98% to RM1.11 billion, from RM1.01 billion previously.
Ideal United Bintang International Bhd has signed a memorandum of understanding (MoU) with Penang Port Commission to refurbish parts of Swettenham Pier Cruise Terminal (SPCT) in Pulau Pinang.
Ideal said Phase 1 of the refurbishment, which will allow the terminal to cater to up to 1.7 million passengers a year from over 500,000 in 2019, is expected to be completed by 2021, with Phase 2 and 3 to follow suit by 2022.
Kinsteel Bhd has been granted a further three-month extension by Bursa Malaysia Securities Bhd, until April 30, to submit a regularisation plan to the relevant authorities. This marks the third postponement by the Practice Note 17 (PN17) company.
LPI Capital Bhd announced dividend of 43 sen per share for the fourth quarter ended Dec 31, 2019 (4QFY19), as quarterly net profit inches 3.09% higher on-year to RM86.6 million, from RM84 million thanks to better results from its general insurance business. Revenue for the quarter rose 2.63% to RM399.26 million from RM389.03 million.
For the full-year, LPI net profit rose 2.65% to RM322.36 million from RM314.05 million in FY18. Full-year revenue rose 5.88% to RM1.6 billion, from RM1.51 billion.
Mudajaya Group Bhd's indirect 18.93%-owned  Indian associate RKM Powergen Pte Ltd has commenced power supply of 550MW to PTC India Ltd. 
This supply supplements RKM's current power sales of 350MW to Uttar Pradesh Power Corporation Limited (UPPCL), bringing the total power sales from the 1,440MW coal-fired plant to a total of 900MW, Mudajaya said.