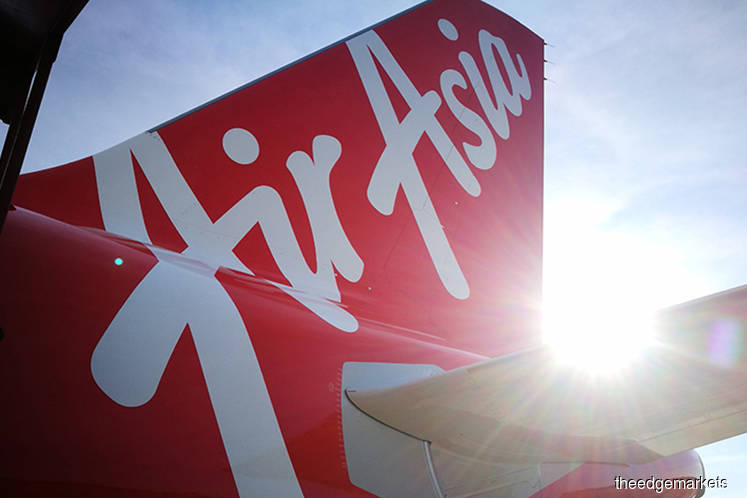 KUALA LUMPUR (Feb 19): Shares in low-cost carrier AirAsia Group Bhd (AAGB) fell by as much as 2.52% at mid-morning following a report by CGS-CIMB Research that flagged a potential core net loss of RM1.1 billion for the aviation group amid the ongoing Covid-19 outbreak.
As of 10.45am, shares in AAGB fell 3 sen to RM1.16, giving the group a market capitalisation of RM3.88 billion.
AAGB saw 14.77 million shares traded and is the sixth most actively traded counter on Bursa Malaysia today.
At the time of writing, AAGB is just one sen away from its one-year low of RM1.15 on Feb 4, 2020.
CGS-CIMB Research had opined in a note to investors that it was expecting AAGB to post a core net loss of RM1.1 billion in the financial year ending Dec 31, 2020 (FY20), from its previous expectation of a RM147 million core net profit.
This was due to the impacts of the Covid-19 outbreak on passenger movements, particularly as AAGB's operations in Malaysia, Thailand and the Philippines have significant exposure to the North Asia region, which includes China.
These impacts include lower passenger demand and yield.
The research house had also slashed its target price (TP) on the low-cost carrier to RM1.03, from RM1.58 previously, while maintaining its hold call on the stock.
The lower TP is based on a lower 2020 price-to-book value (P/BV) of 0.73 times (from 1 times), which is two standard deviations below its P/BV mean since 2013.
"AAGB is less able to tolerate unexpected changes to demand and yields given that its profitability has already been ravaged by the higher cost of leasing planes, with virtually all of its planes having been sold and leased back in the past two years. AAGB has already lost its lustre among investors, and Covid-19 will turn conditions far more hostile," CGS-CIMB said in a note Feb 17.
In terms of analyst coverage, AAGB has 22 analysts covering it — with 10 sell calls, 10 hold calls and only two buy calls.
Its consensus TP stands at RM1.41 — with TPs among the analysts ranging from RM1 to RM2.16.