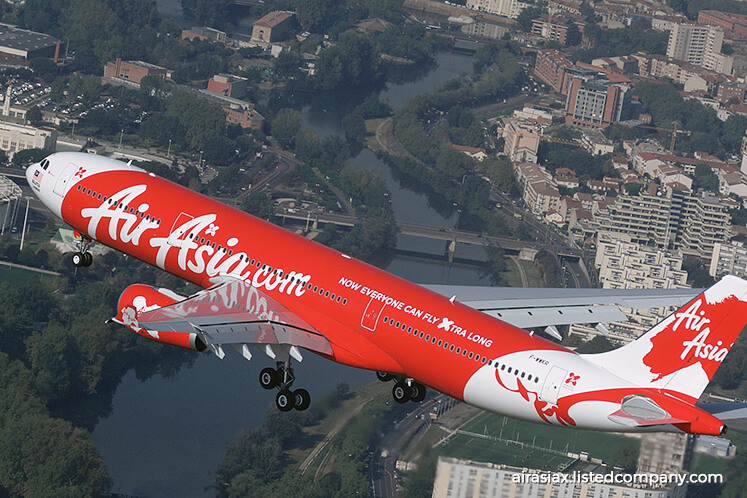 KUALA LUMPUR (Feb 3): Shares in AirAsia Group Bhd (AAGB) and AirAsia X Bhd (AAX) fell in active trade this morning following reports that European aerospace corporation Airbus had allegedly bribed officials at AirAsia and AirAsia X US$50 million (about RM204.8 million) to secure lucrative contracts to supply aircraft to the Southeast Asian budget carriers.
At 9.06am, AAGB lost 9.79% or 14 sen to RM1.29 for a market capitalisation of RM4.44 billion while AAX fell 11.54% or 1.5 sen to 11.5 sen, valuing it at RM477.04 million.
theedgemarkets.com on Feb 1 had reported that the funds were used to sponsor an unnamed sports team jointly owned by two individuals identified as AirAsia Executive 1 and AirAsia Executive 2, but was legally unrelated to both airlines, according to UK court documents sighted by theedgemarkets.com.
"Between October 2005 and November 2014, AirAsia and AirAsia X ordered 406 aircraft from Airbus, including 180 aircraft secured during the indictment period by way of improper payment (made by EADS France SAS, later Airbus Group SAS), and the offer of a further improper payment.
"The improper payment consisted of US$50 million (and Airbus employees also offered but did not pay an additional $55 Million) paid to directors and/or employees of AirAsia and AirAsia X airlines as sponsorship for a sports team.
"The sports team was jointly owned by AirAsia Executive 1 and AirAsia Executive 2 but was legally unrelated to AirAsia and AirAsia X. The additional improper payment was prevented by the October 2014 freeze on payments to BPs [business partners]..." said the documents.
The Telegraph cited an email from one of the executives to a senior Airbus employee where the former said he was "fed up" and owed "four million already and I'm owed 16 million in total".
"This should have been paid ages ago when I bought the first 60 aircraft. I want my money," he said.
AirAsia and AirAsia X are among several airlines caught up in international investigations into Airbus' "endemic" scale of corruption across its international businesses, which involved a network of middlemen bribing officials in 20 countries to land aircraft contracts.
Meanwhile, Kenanga IB Research said following allegations found in high court documents related to Airbus' US$4 billion settlement with prosecutors of US, UK and France, that it made questionable payments linked to sponsorship of a sports team jointly owned by senior AirAsia executives to secure orders for aircraft, AirAsia responded in its website vigorously denying allegations of any wrongdoing.
"Besides corruption allegations, also weighing down AirAsia currently is the negative impact that the worsening Wuhan virus outbreak has on air travel.
"For these reasons, our target price is cut from RM1.70 to RM1.33 based on 8x FY20E EPS. Reiterate Market Perform," it said.