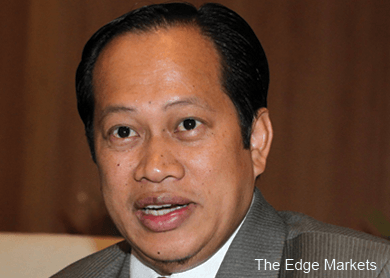 KUALA LUMPUR: Deputy Finance Minister Datuk Ahmad Maslan told Parliament that 1Malaysia Development Bhd (1MDB) did not use the RM540 million loan granted by Export-Import Bank (Exim Bank) to buy land in Pulau Indah from Tadmax Resources Bhd. 
Instead, he said 1MDB had utilised the borrowings from Exim Bank for the maintenance and upgrading of energy plants overseas. 
"There is a letter of support to Exim Bank. But the information I have at the moment is that it (loan) is for the maintenance and upgrading of energy plants overseas. That is the information I have now," said Ahmad at the Parliament lobby yesterday. 
Ahmad also denied that his colleague, Datuk Chua Tee Yong, Deputy Finance Minister II, had said the loan granted by Exim Bank was used for land purchase by 1MDB. 
"He (Deputy Finance Minister Datuk Chua Tee Yong) didn't say that the loan is to buy land," he added.
Exim Bank, which is wholly owned by the Ministry of Finance, was set up to promote reverse investment and export of strategic sectors such as capital goods, infrastructure projects, shipping, value-added manufactured products and to facilitate the entry of Malaysian companies to new markets, according to the bank's website. 
Any loans granted by Exim Bank to be used for land purchase would deviate from the main objective of the government-owned development financial institution. 
To recap, Tadmax is in the midst of selling a parcel of land to Ivory Merge Sdn Bhd, an indirect wholly-owned subsidiary of 1MDB, for RM317.33 million cash.
The divestment is perceived to be the lifesaver for Tadmax, as the sale proceeds would enable the company to settle all of its bank borrowings, and boost its cash coffer by RM50 million.
This article first appeared in The Edge Financial Daily, on June 18, 2015.