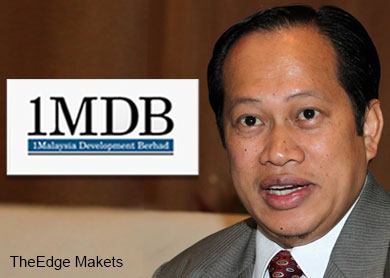 KUALA LUMPUR (Nov 12): The government did not issue any other letter of support to 1Malaysia Development Bhd (1MDB) except when raising the US$3 billion (RM10.02 billion) in bonds, said Deputy Finance Minister Datuk Ahmad Maslan.
"No other letter of support for 1MDB apart from the US$3 billion," Ahmad told a news conference at Parliament lobby today.
When asked how many letters of support that the government has issued to date apart from that to 1MDB, Ahmad said: "That's a different issue, (we will) deal with it (question) at another time".
He also reiterated that the government did not give any explicit guarantee for the US$3 billion bonds, which he had clarified in a statement that was issued last Saturday. Ahmad's statement was carried by The Edge Financial Daily yesterday.
"It is not a matter of technicality or semantics," he said, adding that the term explicit guarantee are legal terms under the Loans Guarantee (Bodies Corporate) Act 1965 (Act 96).
On the risks of 1MDB defaulting its RM42 billion loan, Ahmad stressed that the issue does not arise as 1MDB has some RM51 billion worth of assets, saying 1MDB "is more than capable of paying off the US$3 billion bonds".
When asked if he agrees that there is little difference between a guarantee versus a letter of support because at the end of the day the government is still liable for 1MDB's debts, Ahmad said a guarantee means that if 1MDB can't pay, " the bondholders can directly ask the government to pay back… that's the meaning of explicit guarantee." 
He added that under a letter of support, bondholders have to wait for 1MDB to restructure its assets to raise the money to pay them, and it is only if that doesn't work will the government be required to step in and pay.
"In my view, this is a big difference," said Ahmad.
He also explained that a guarantee must be gazetted while a letter of support need not be.
He also pointed out that 1MDB has land assets in the form of the Tun Razak Exchange project and the Bandar Malaysia development in Kuala Lumpur and will therefore have no problem selling them to raise cash if they have to.
On accusations by the opposition that he had misled the house, Ahmad said: "When I said (in Parliament last Thursday) that the letter of support (to 1MDB) did not exist, it was made in reference to the letter of support that gives an explicit guarantee by the government."
When asked if there were possibility that he was not aware of the letter of support issued to 1MDB for the US$3 billion bonds until it was raised in Parliament last Thursday, Ahmad said: "When I took the floor, I was well informed and went through all the questions and answers on 1MDB."
He also said that he was confident in his answer that the government did not issue any more guarantees to 1MDB other than the RM5.8 billion.
To date 1MDB has issued at least five tranches of bonds, including two 30-year Islamic Medium Term Notes totalling RM5 billion and three bonds worth a combined US$5.5 billion to its subsidiaries.