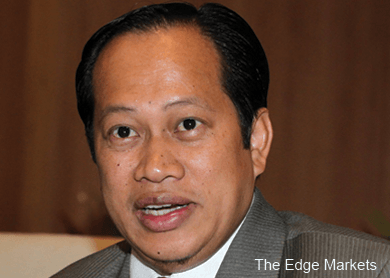 (April 13): Deputy Finance Minister Datuk Ahmad Maslan has denied owning a Rolex Submariner luxury watch worth between RM30,000 and RM40,000 as alleged by crime watch activist R. Sri Sanjeevan.
The deputy minister, who was criticised for his goods and services (GST) speech to Universiti Teknologi Mara students recently, said the "revelation" was seditious and that he never owned it.
"Seditious. All this is the work of the opposition. I never owned a Rolex Submariner and have never worn it. Mine is only a regular watch," he said in a message on his Twitter account today.
He also attached the photograph of him wearing the watch taken from Sanjeevan's Facebook page, who had uploaded a snapshot of Malaysian politicians wearing watches over the past few days.
Ahmad was listed as one of the leaders who owned luxury watches. Others included Home Minister Datuk Seri Ahmad Zahid Hamidi who was alleged to own three luxury watches namely, Richard Mille Felipe Massa (RM366,000), Richard Mille RM025 Diver (RM248,000) and Richard Mille M011 Flyback (RM480,000)
The wife of the prime minister, Datin Seri Rosmah Mansor was also featured in the list. She was alleged to own a collection of luxury watches - Hublot BB Black Magis 114 Diamonds with specially ordered "tutti frutti" band (RM792,000) and Richard Mille Lady RM007 Diamond Cruncher (RM486,000).
Sanjeevan, when contacted by The Malaysian Insider, defended his post and said that Ahmad could lodge a police report if he felt it was seditious.
Sanjeevan said he will offer himself to accompany Ahmad to lodge the police report to allow the Malaysian Anti-Corruption Commission to investigate the matter.
"Ahmad can lodge a police report and MACC can investigate. I can accompany him. But is he daring enough to lodge a police report?" Sanjeevan said.
At the same time, Sanjeevan said the revelation on the watch collection owned by the country's leaders has nothing to do with the organisation he is leading.
"All the photographs we uploaded are through our findings but it has nothing to do with MyWatch.
"Because I am MyWatch chairman, of course people thought that it was under the organisation. But it was just me. I do it on my own because I uploaded it on my own Facebook," said Sanjeevan. – The Malaysian Insider