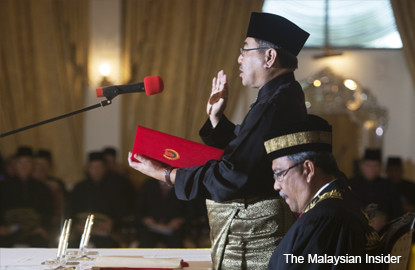 KUALA LUMPUR (Feb 4): Datuk Seri Ahmad Bashah Md Hanipah today took his oath as the 12th Kedah menteri besar, replacing Datuk Seri Mukhriz Mahathir who resigned yesterday.
The swearing-in ceremony was held at Istana Anak Bukit in Alor Setar this morning.
Ahmad Bashah, 66, took his oath in front of Kedah Regency Council chairman, Tan Sri Tunku Sallehuddin Sultan Badlishah.
The Kedah Umno deputy liaison chief was named the replacement for Mukhriz, two weeks after he led Umno chiefs and assemblymen to call for Mukhriz's removal.
MORE TO COME