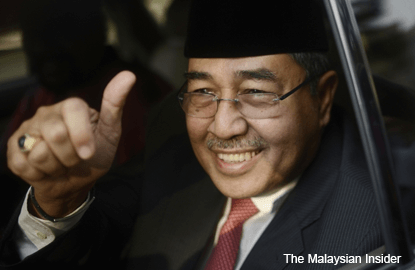 KUALA LUMPUR (Feb 3): Bakar Bata assemblyman Datuk Seri Ahmad Bashah Md Hanipah is the new Kedah menteri besar, after Datuk Seri Mukhriz Mahathir announced his resignation today.
State secretary Datuk Bakar Din said Bashah would be sworn in tomorrow morning at Istana Anak Bukit, Alor Setar.
The appointment ends more than two weeks of the state's leadership crisis following a revolt against Mukhriz.
Bashah, the Kedah Umno liaison deputy chairman, led the charge to remove Mukhriz on January 20.
He had accused Mukhriz of failing to unite the party leadership and machinery, and lacking strategy for Kedah Umno to face the 14th general election.
Bashah, 66, has been the Bakar Bata state representative since 1999.
He was made a senator for his appointment as deputy minister of domestic trade, cooperatives and consumerism.
Bashah had earlier denied eyeing the menteri besar post, saying as the Kedah Umno chairman during the 13th general election, he had given way to Mukhriz.
"I obliged and did not question because it was the prime minister's right. It was for the strength and interest of the party and country.
"At that time our aim was to win and wrest back power from the opposition," he said.
He said in the early stages after Mukhriz's appointment as menteri besar, Kedah Umno appeared to be very strong, but this changed months later when people "could hardly meet him".
"Either it was him who made it hard (for people to see him) or the people around him who made it difficult, because all appointments must go through his officers first.
"There was a time, at the (Kedah Umno liaison) committee meeting in Kuala Lumpur last year, 10 (out of 15) division leaders were absent, but no efforts were taken (by Mukhriz) to find out why," he said.