This article first appeared in Digital Edge, The Edge Malaysia Weekly, on May 31, 2021 - June 06, 2021.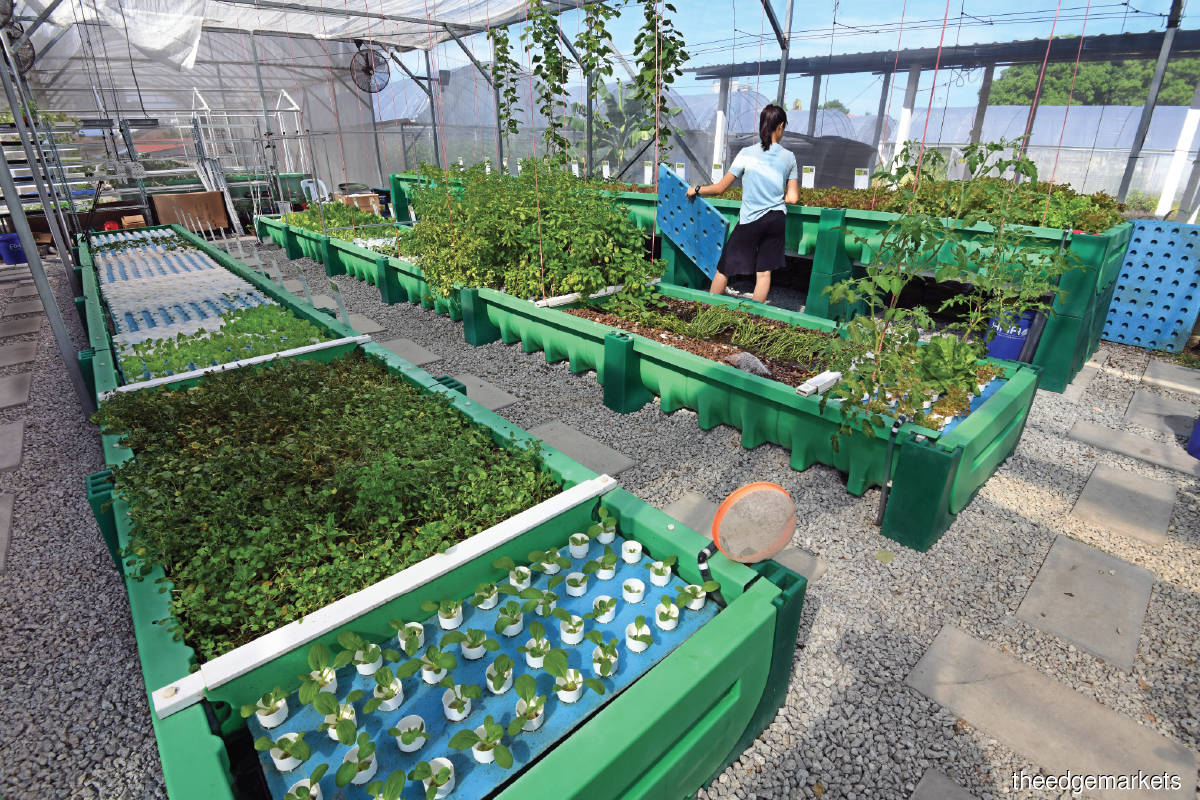 Remember FarmVille, the agriculture-simulation social network game that once had tens of millions of players glued to their screens every day, for hours at a time, tending cartoon patches of land?
Now that game has been brought off screen into real life. Well, not off screen exactly. Users can download the Aquaville app, select the type of plants they want grown and harvested for self-consumption, or donate the actual product. 
Envisioned by Alfred Chia Weng Yan, founder of Kon Nii Sdn Bhd, the web and mobile application is aimed at helping city farmers earn a stable income while offering equal opportunities for the disabled and providing access to safe food for consumers.
The science is clear. The growing population will necessitate a 30% to 70% increase in food production over the next three decades, but present methods of production will be insufficient to meet the demand.
"Regardless of how much you expand, places like Cameron Highlands won't be able to cope with the influx of food demand that is to come. It is only logical that farmers will make use of the space in cities as well.
"It doesn't help that the younger generation no longer wants to work in traditional farms or toil in the sun. In Europe, so much of the farming process has been automated, which got me thinking about establishing a subscription-based purchasing model that is also technologically advanced," he says.
Chia, who is also the founder of Aspire Asia Sdn Bhd that's behind Alfred — a property management app, also wanted to leave behind a legacy of good for his daughters, Kon Nii and Jaen Nii.
"With agritech and a whole lot of experimentation, we have vertical farming, hydroponics, aquaponics and whatnot, but agriculture is not exciting and it is not drawing enough attention.
"I kept thinking of FarmVille, how gamers would tend to their farms, digitally ploughing, planting and harvesting for entertainment. And, I thought, if people are willing to do it for entertainment, they wouldn't mind doing it for their own consumption or going a step further to donate the vegetables," says Chia.
"Through the app, we make it possible for customers to subscribe to plots. They can decide what to plant in their plot and then the farmer plants the desired vegetables, be it kangkung, spinach or cabbage.
"And through recurring business, farmers then earn sustainable income as consumers subscribe for six months or longer, which means farmers get paid in advance," shares Chia.
While this approach protects farmers and enables conscious consumption, it still does not make farming efficient.
So, Chia, who has been an IT consultant for nearly two decades, came out with a suite of technology solutions made up of IoT (Internet of Things) sensors and artificial intelligence (AI)-powered robotic cameras to automate the farming processes.
"We wanted to automate processes as much as possible, so it is easier for farmers to run their businesses. Right now, a lot of their time is spent on physical labour, so much of which can be automated," he says.
Chia assembled a team and began testing out several options and finally settled on a modified normalised difference vegetation index (NDVI) camera — which can monitor the growth and health status of agricultural produce — and uses AI to deduce the findings.
"We wanted to be able to alert farmers on the progress of their crops and sound the alarm if something was wrong. Currently, they are eyeballing everything, from the amount of water to how much light their plants are getting.
"The only way they will be able to tell precisely the health of their crops is if the plants are stunted or when the plants are dying. By then, it is too late. With AI, they will be able to detect problems much faster than the regular method," he says.
Apart from assessing the health of crops, the team started working on other areas that they could automate, including measuring humidity and pH levels.
"The biggest challenge in the smart farming industry is that there isn't much correlation between data derived from the sensors and how this data affects crops.
"For example, the sensors detect that the temperature in the greenhouse is 28°C and the pH level is 5, which is usually bad for most vegetables, but the plants are thriving according to the data. This is where the AI comes in to correlate the data and help us understand what we are missing.
"In a traditional setting, farmers would assume 28°C is bad for all vegetables and try to adjust what they can to save the crops. With AI, we are able to see that 28°C is good for cabbages but bad for spinach," says Chia.
The technology also reduces dependency on foreign labour, and provides better employment opportunities for the skilled workforce, he adds.
While the technology works for any form of agricultural method, Chia has decided to focus on urban farms to begin with.
He is currently running pilots with aquaponics system provider AHA Services (M) Sdn Bhd. The latter also runs a commercial aquaponics farm in Gombak and produces close to 40kg of leafy vegetables a week.
Yoon Wong, director of AHA Services (M) Sdn Bhd, was ecstatic when Chia proposed the subscription payment model — which solves the problem of inconsistent payments and reduces wastage — and a technology solution that saves her time.
At present, 70% of vegetables and fish subscribed are being supplied to care facilities for the mentally challenged, as subscribers have the choice of either donating their weekly supply or having it delivered for their own consumption.
Yoon, whose main income comes from supplying and maintaining the Modular Infinity Tank, a 5ft by 4ft tank used for growing vegetables via deep water culture and fish tanks, has agreed to experiment with the technology as it enables her to monitor the conditions of AHA Services' systems nationwide.
"If there is a problem with the system in Muar, I can get someone to address it immediately. In vertical farming, for example, water supply is crucial and if something goes wrong in a farm and the supply is cut, some plants can die overnight," she says.
Yoon got into aquaponics to promote better eating habits and a healthy lifestyle when some of her relatives, who were only in their 50s, died of cancer.
With aquaponics, she was able to grow chemical- and pesticide-free vegetables and harvest fresh fishes simultaneously.
"Each cycle is about six to eight months and after that, we introduce fishes. We can basically raise any freshwater fish from tilapia to a jade perch, and even freshwater barramundi. Some people are even growing crayfishes and freshwater clams," she says.
As the company provides end-to-end solutions from planting seedlings and harvesting the vegetables to switching out the fingerlings and cleaning, gutting and vacuum sealing grown fishes, a smart monitoring system is much needed, says Yoon.
"This is why having a smart monitoring system simplifies our work tremendously. That's less travel, which means both savings [in terms of money] and lower carbon emissions. I no longer have to travel to Terengganu as often when I can monitor the progress of the farm remotely."
Once 5G connection is available nationwide, Chia says they will be able to ramp up deployment and reach out to more farms inside and outside the capital.
As Aquaville is still in the testing phase, the subscription of a vegetable plot is RM50 while the technology solution is priced at RM500 a month.
Once they expand, Chia hopes to get more differently-abled people on board to monitor and manage the farms.
"The grand plan is to have vertical farms in shopping malls, where we get people to subscribe to plots and they have their names there. Even companies and restaurants can subscribe to the plots, and get their supply of leafy greens from aquaponics set-ups.
"This way, you know what you are eating, how it is grown and where it is coming from," he points out.