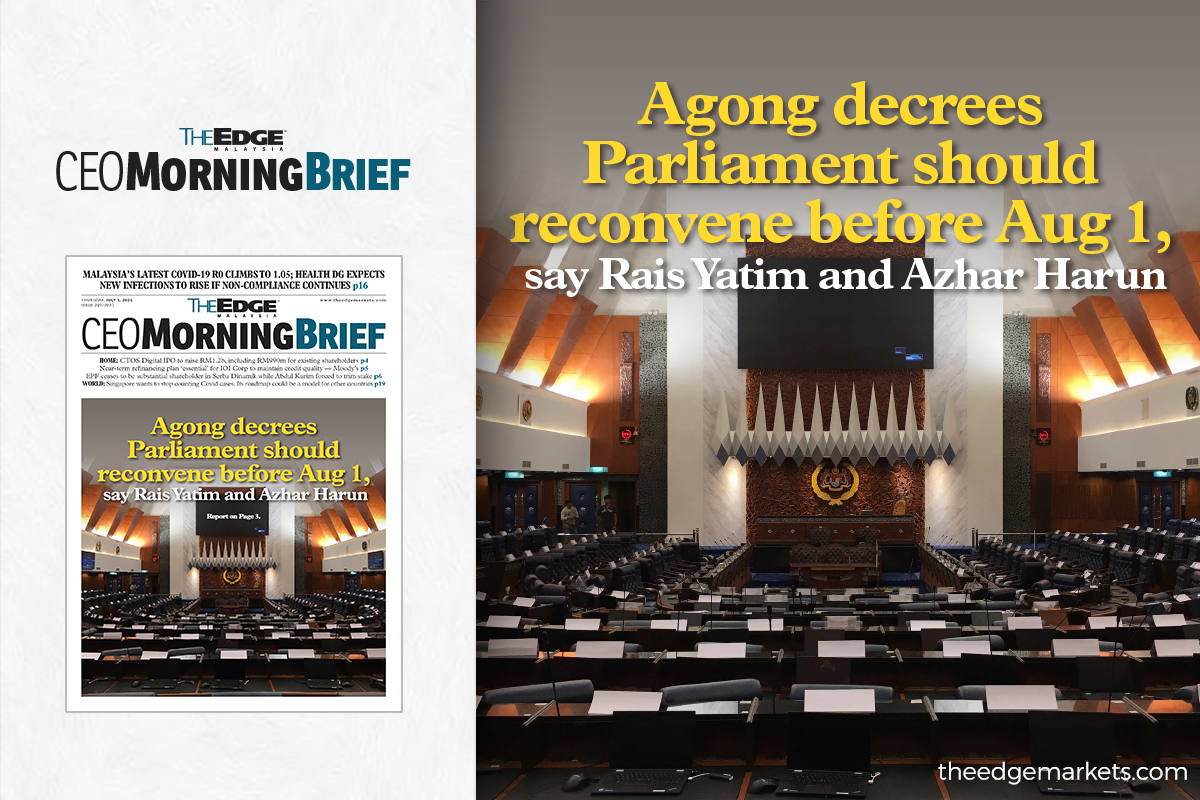 KUALA LUMPUR (June 30): Yang di-Pertuan Agong has decreed that parliamentary sittings should reconvene before Aug 1, 2021, according to Dewan Negara President Tan Sri Dr Rais Yatim and Dewan Rakyat Speaker Datuk Azhar Azizan Harun. 
In a joint statement today, the duo confirmed that they were granted an audience by the King yesterday, together with the Dewan Negara Deputy President and both Deputy Speakers of Dewan Rakyat, to discuss matters related to reconvening Parliament. 
"Both the Dewan Negara President and the Dewan Rakyat Speaker, as well as the deputies, upheld the decree by His Majesty Yang di-Pertuan Agong, and have expressed their full commitment and readiness of Parliament of Malaysia to reconvene parliamentary sittings as directed by His Majesty.
"The decree by Yang di-Pertuan Agong during the meeting has also been informed to the prime minister, and it was proposed to the prime minister that a special sitting be held before Aug 1, 2021 in accordance with the provisions of the law," they said. 
The Emergency Ordinance is due to end on Aug 1, subject to advice by the Special Independent Committee on the Emergency 2021 on whether it can be lifted earlier or later. 
Previously, Yang di-Pertuan Agong only decreed that Parliament should be reconvened "as soon as possible", without specifying any timeline, to allow lawmakers to debate the Emergency Ordinance and the National Recovery Plan. 
This came after the King held a series of meetings from June 9 to 15 with 18 political leaders, which then culminated in the Special Conference of Rulers meeting on June 16.
Parliament sittings have been suspended since the proclamation of emergency that came into force on Jan 11, which Putrajaya said would provide the government with the ability to mobilise all necessary resources to combat the Covid-19 pandemic.
To receive CEO Morning Brief please click here.