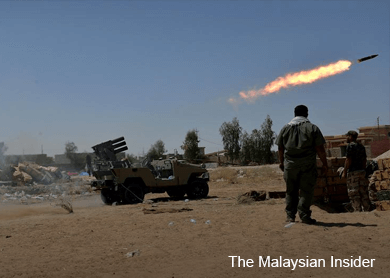 KUALA LUMPUR: Terrorist organisation Islamic State of Iraq and Syria (IS) is in "aggressive mode" in reaching out to the Malay-speaking communities by making reading materials in Bahasa Malaysia more accessible online.
It aims to spread its propaganda through a series of "localised news reports" and "articles" that glorify IS fighters, especially those from Malaysia and Indonesia, and share news of those from both countries who have migrated to Syria to take up arms with the group.
These "articles" are made available on IS Malay websites. They also share information on IS activities carried out in the provinces conquered.
One of these websites is Isdarat Daulah Islamiyah, a portal containing articles taken from the IS magazine Dabiq, which are translated into Indonesian and Malay for targeted audiences in both countries.
The IS online recruiters from both countries also use forums as well as blogs to reach out to the masses, telling their stories to evoke sympathy among Malay and Indonesian speakers.
Bukit Aman Counterterrorism Division principal assistant director Datuk Ayob Khan Mydin Pitchay said the IS recruiters would include articles on martyrdom and life with IS.
"They feed their sympathisers with fairy tales," said Ayob Khan.
It is understood that currently there are six to seven IS Malay websites, forums and blogs. 
Ayob Khan said these websites have their servers abroad to avoid detection by authorities in both countries.
The IS social media unit has also taken the initiative to include Malay subtitles in its radio programmes broadcast in English and Arabic through IS official radio station Al-Bayan, which has been available on YouTube since three months ago.
A check on YouTube, which provides access to recorded IS radio programmes, showed that they attracted between 700 and 2,000 visitors.
International Islamic University Malaysia's Political Science and Islamic Studies lecturer Ahmad El-Muhammady said the emergence of IS Malay websites indicated an "offensive approach", as they were intended to inform and dis-inform readers on developments in the IS-controlled territories.
Ahmad, who studied IS' ideological dimension and implication on its war operations and jihad, described this trend as worrying. — The Malaysian Insider
This article first appeared in The Edge Financial Daily, on June 17, 2015.