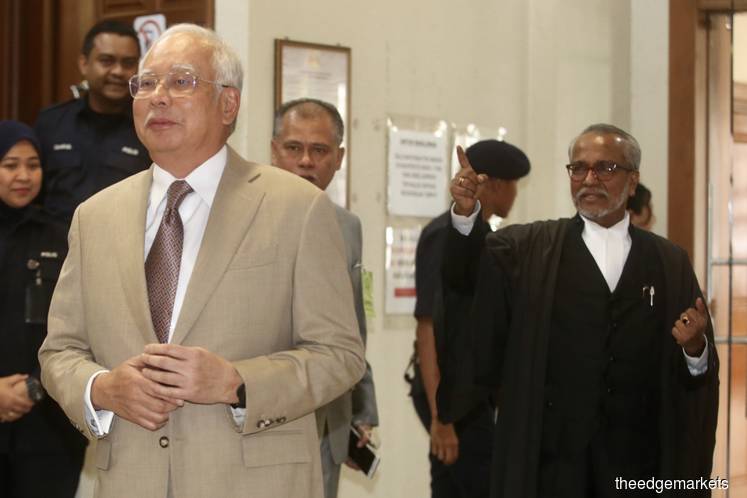 KUALA LUMPUR (April 17): The Attorney General's Chambers (AGC) needs to figure out what is the next course of action regarding the three additional counts of money laundering amounting to RM27 million of SRC International Sdn Bhd funds faced by former prime minister Datuk Seri Najib Razak.
Najib, 66, was slapped with seven charges relating to SRC funds totalling RM42 million on July 4 last year. He was then slapped with three more money laundering charges involving RM27 million of SRC funds on Feb 8 this year.
Initially, the two cases were supposed to be jointly tried as they involve the same subject matter.
However, the trial of the first SRC case has already commenced on April 3 and the prosecution missed the boat while waiting for the second SRC case to be transferred to the High Court.
High Court judge Mohamed Zaini Mazlan told the prosecution that the AGC needs to decide the next course of action for the second SRC case faced by Najib as he might be engaged in another case.
The case came up for mention for the second time before Justice Zaini today. Justice Zaini agreed to fix the case for further mention on May 17, for the prosecution to serve more documents to the defence team.
"I will give a date, one month. I believe the prosecution has ample time to decide the next course of action," Justice Zaini said.
Najib, who wore a beige suit today, made his appearance before Justice Zaini first before heading to another High Court for his first SRC trial.
For all three charges in the second SRC case, Najib was alleged to have been involved in money laundering by accepting a total of RM27 million, which were proceeds from unlawful activities, through his three AmPrivate Banking accounts.
The Pekan MP was alleged to have committed the offences at AmIslamic Bank Bhd, Ambank Group Building, No. 55, Jalan Raja Chulan on July 8, 2014, under Section 4(1)(a) of the Anti-Money Laundering and Anti-Terrorism Financing Act 2001.
He faces a maximum fine of RM5 million or imprisonment for up to five years, or both, if found guilty.
The case was transferred to the High Court following an application by the prosecution.