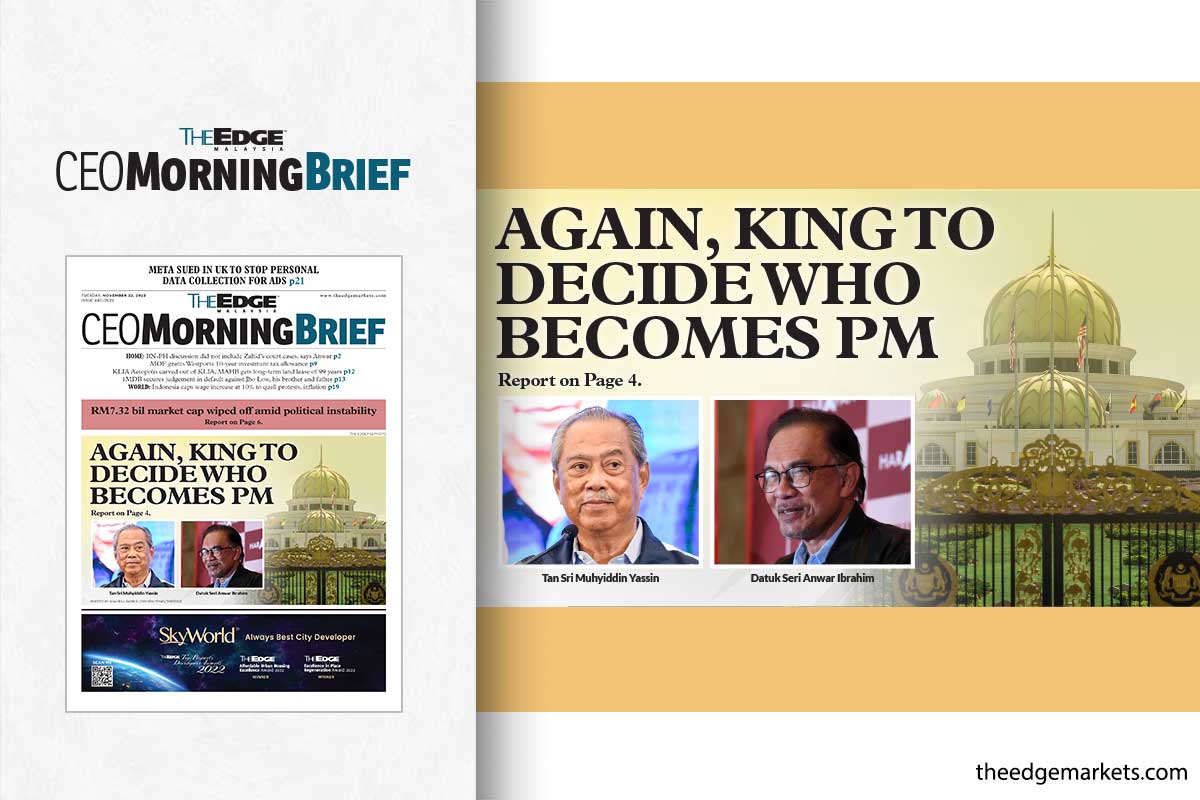 KUALA LUMPUR (Nov 22): For the third time in three years, all eyes will be on Istana Negara as the Yang di-Pertuan Agong Al-Sultan Abdullah Ri'ayatuddin Al-Mustafa Billah Shah is set to step in to determine who will be Malaysia's next prime minister.
This is in absence of a clear Dewan Rakyat majority among any political coalition, following the 15th general election on Nov 19.
As the two biggest coalitions, Pakatan Harapan (PH) and Perikatan Nasional (PN), both say they have the numbers and the documents to prove it, the King will determine who likely commands the majority support of MPs, based on his judgement as enshrined in the Federal Constitution.
At the heart of this is the allegiance of the 30 Members of Parliament (MPs) within Barisan Nasional (BN). This is because anyone who wants to form the Government will need to join hands with BN to cross the simple majority threshold of 112 seats in the Dewan Rakyat.
Scenario 1: Pakatan Harapan courts BN's support en-bloc
PH, the biggest coalition post-GE15, has entered into a "serious" phase of discussions with BN, it said on Monday (Nov 21).
The coalition, led by its PM candidate Datuk Seri Anwar Ibrahim, could form the Government if it could join its tally of 82 and the unlikely partner's 30 MPs for a total of 112.
While there is no confirmation from BN, its chairman Datuk Seri Ahmad Zahid Hamidi had said in a statement on Saturday (Nov 19) that the coalition is "ready to put aside our prior sentimental differences".
Zahid had also said that all BN MPs have signed an undertaking which gave him the mandate to make a decision on any political alliance — although he later said the decision will be made by the BN Supreme Council on Tuesday (Nov 22).
Just yesterday (Monday), the Perak state government was again formed by the PH-BN alliance, with Kota Tampan assemblyman Datuk Seri Saarani Mohamad from BN being sworn in at the Istana Iskandariah in Kuala Kangsar.
Pahang, which also has a hung state assembly, may follow suit, although PN had issued a statement saying it has appointed Tuan Ibrahim Tuan Man, the assemblyman for Chekah from PAS, to lead negotiations to form the state government.
However, the idea of a BN-PH pact was faced with protests, including by Ayer Hitam MP Datuk Seri Wee Ka Siong, as well as Umno senior leader and Sembrong MP Datuk Seri Hishammuddin Tun Hussein. BN's band of 30 includes 26 from Umno, two from MCA, and one each from MIC and PBRS.
Scenario 2: Perikatan Nasional has "more than 112" individual SDs
Meanwhile, PN secretary-general Datuk Seri Hamzah Zainudin said the coalition has submitted to the King "more than 112 statutory declarations (SDs)" from MPs who have given support to PN chairman Tan Sri Muhyiddin Yassin.
PN won 73 seats in GE15. By Monday, Gabungan Parti Sarawak (GPS) and Gabungan Rakyat Sabah (GRS) — the so-called "Borneo Bloc" with a total of 29 seats, have openly supported Muhyiddin — leaving the pact just ten seats short of having the majority in the Dewan Rakyat.
With just seven MPs unaccounted for in any coalition (Warisan, three; independents, two; and PBM and KDM, one each), the 112 SDs supporting Muhyiddin most likely include those signed by several MPs from BN as well.
However, BN's Zahid stated that any SD signed by BN MPs outside of party decision would be invalid. Earlier, he claimed that any MPs who go against party decision will lose their party membership, as well as their parliamentary seat, "in line with" the anti-party-hopping law.
King's due process in 2020, 2021
In the recent past following the Sheraton Move of February 2020, the King interviewed each individual MP in order to ascertain which prime minister candidate had the MP's support.
Not convinced that any candidate has the numbers, he later met with leaders of political parties with sitting MPs, before arriving at the decision to appoint Parti Pribumu Bersatu Malaysia's president Tan Sri Muhyiddin Yassin as the eighth prime minister.
Following Muhyiddin's resignation in July 2021, the King sought SDs among MPs to reveal their prime minister candidate. This was followed by an audience with each of the 114 MP, said to support Umno's Datuk Seri Ismail Sabri Yaakob as the ninth prime minister.
Scenario 3: Minority government?
Ahead of BN's decision on Tuesday, there are also calls among Umno division chiefs for BN to remain in the Opposition bloc. If this happens — and both PN and PH do not join hands — the conundrum could be resolved by the formation of a minority government, a political analyst said.
Political parties can sign a confidence and supply agreement (CSA), which entails Opposition MPs supporting the Government's budget bill and motions of confidence for the PM "as a temporary measure" until one side achieves a majority, the analyst added.
In the event of a minority government, it is likely that the PM will be appointed among the larger coalition — in the current situation, being PN, as the pact includes GPS and GRS for 102 MPs, as opposed to PH's 82.
Without the CSA and any clarity on the majority, any new government could certainly be tested by the Opposition when the Parliament is seated, and potentially face another deadlock. With the 2023 federal budget yet to be approved, Malaysia needs a quick resolution to the political impasse.
Get our comprehensive GE15 coverage here.