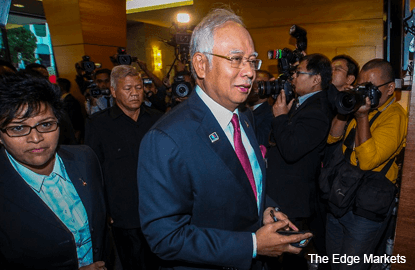 KUALA LUMPUR (Jan 26): The attorney-general (A-G) has spoken – there was no criminal wrongdoing when RM2.6 billion was found in Prime Minister Datuk Seri Najib Razak's private bank accounts.
Tan Sri Mohamed Apandi Ali, who is also public prosecutor, today told a packed press conference at his office in Putrajaya there was "insufficient evidence" to implicate the PM.
The upshot of what the A-G announced today boils down to this:
* Najib will not have to face criminal charges and can stay in the top job.
But it remains a tough, tough job for him to recover his reputation and standing among Malaysians. Every poll taken in the last few months shows that Najib's approval rating hovers between 21% and 25%, the lowest of any sitting PM of Malaysia.
The PM has lost the fight in the court of public opinion but perhaps leading Malaysia through choppy economic waters can help his regain the trust and respect of the voters.
* On the face of it, it may look like a bloody nose for the opposition.
But behind closed doors, opposition leaders believe a damaged PM leading the coalition into the next general election could turn out to be a good thing.
At the height of the expose on the RM2.6 billion donation, several opposition leaders were worried that forcing Najib out of power could result in a pyrrhic victory.
Why? Because his replacement would not be carrying his political and moral baggage and would present a more formidable foe at the polls.
Not so now. They will be facing a known quantity.
* In the past six months, there have been many versions, excuses and reasons about what the money was to be used for. Was it to fight the opposition or the Islamic State?
Today, we learnt that the sum of US$681 million (RM2.08 billion) deposited into the personal accounts of the prime minister between March 22, 2013 and April 10, 2013 was a personal donation to Najib from the Saudi royal family which "was given to him without any consideration".
And he later returned US$620 million (RM2.03 billion) to the Saudi royal family in August 2013 because the money was not utilised.
At least we know where the money came from, how much was kept and how much returned. It would suggest that money had to come from new sources for the 2013 general election as local sources had dried up or Malaysian businessmen did not think Barisan Nasional (BN) was a winning prospect then.
So, how will Umno and BN raise funds for their elections war chest in the future? After all, access to that kind of money did not gain them more votes – instead, they lost the popular vote.
For the past six months, and almost to the day the previous attorney-general was relieved of his office and two ministers were fired, Najib and his government have worked to resolve the 1MDB debt burden and questions over his own probity.
But the cost has been high, and will continue to mount until Najib and his ruling coalition can convince Malaysian voters that they are the best choice to keep Putrajaya.