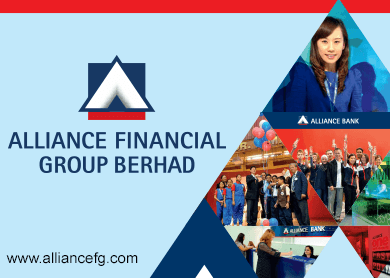 KUALA LUMPUR: Alliance Financial Group Bhd (AFG), the country's smallest banking group by assets, reported a 6.8% drop in first-quarter net profit from a year earlier, primarily due to higher allowance for losses on loans.
In a filing with Bursa Malaysia yesterday, AFG said its net profit fell to RM121.93 million or 8 sen a share in the three months ended June 30, 2015 (1QFY15) from RM130.81 million or 8.6 sen a share a year ago.
Revenue for 1QFY15, however, rose 2.3% to RM344.35 million from RM336.74 million in 1QFY14 on higher interest and Islamic banking income.
Its income statement showed that bad loan allowance rose to RM17.11 million in 1QFY15 from RM1.75 million in 1QFY14.
Nevertheless, the group said its total capital ratio remained sound at 13%, with a common equity tier 1 capital ratio of 11.1% as at June 30, 2015.
Current account and savings account (Casa) deposit grew by RM200 million, resulting in an improved Casa ratio to 34.5% as at June 30, 2015, from 32.5% as at March 31, 2015.
Looking ahead, Alliance said it will continue to leverage on its franchise strength to deliver sustainable profitability and to fulfil the financial needs of the business owners, their employees and their customers
"In this regard, the group will continue with its investments in brand building, human capital and infrastructure, as well as initiatives to re-engineer operations and expand delivery channels to enhance customer service," it said in a statement.
The group will continue to capitalise on its strength in the small and medium enterprise segment, as well as transactional and business banking to generate sustainable revenue growth. It will also centre its consumer banking around wealth management, cards and unsecured lending.
"The focus areas for the financial year ending March 31, 2016 (FY16) will be to improve asset efficiency as measured by risk-adjusted returns, ensure that deposit growth exceeds loan growth and continue to grow customer-based non-interest income," said AFG.
AFG shares closed unchanged at RM3.66 yesterday with a market capitalisation of RM5.67 billion. The stock has fallen 21% year-to-date, underperforming the FBM KLCI's 10% decline.
This article first appeared in digitaledge Daily, on August 19, 2015.