This article first appeared in City & Country, The Edge Malaysia Weekly, on November 11, 2019 - November 17, 2019.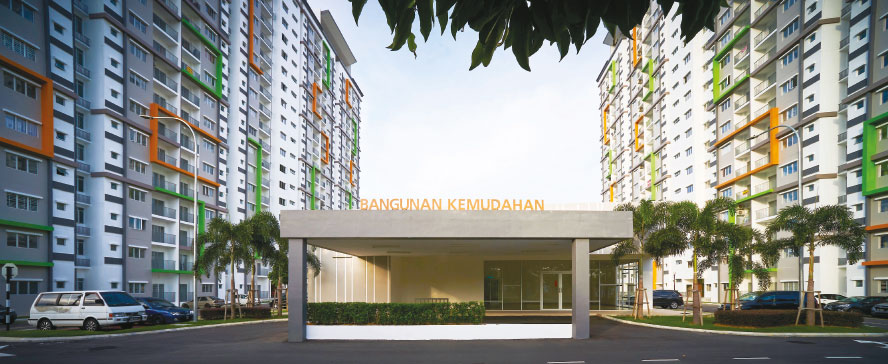 D'Cerrum Apartment consists of 635 units with a built-up of 949 sq ft, in two blocks of 19 storeys.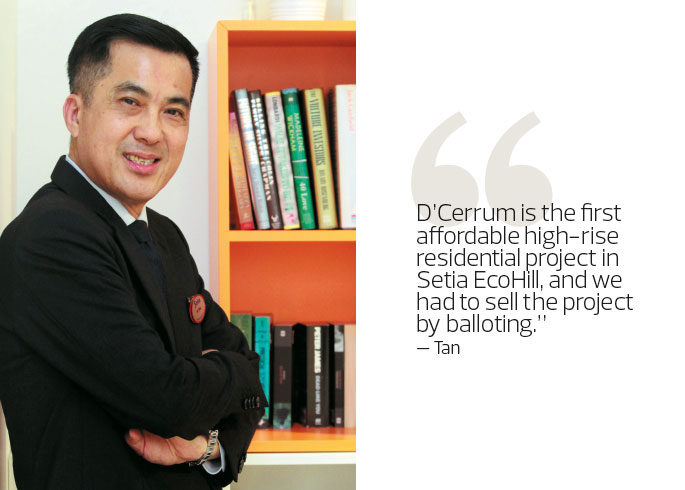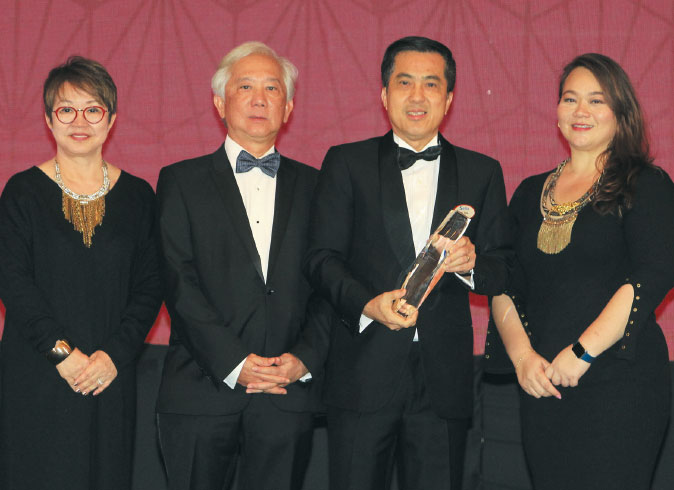 Tan with (from left) EdgeProp.my managing director and editor-in-chief Au Foong Yee, The Edge Media Group publisher and group CEO Datuk Ho Kay Tat and City & Country editor Rosalynn Poh. Picture by Mohd Shahrin Yahya / The Edge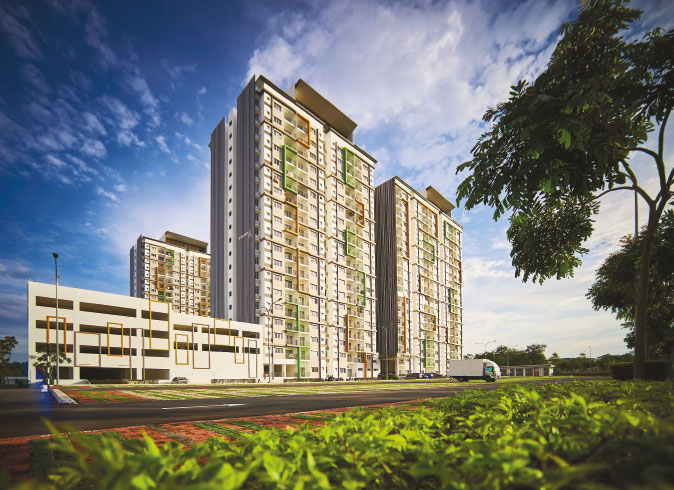 D'Cerrum Apartment's colourful façade was inspired by the undulating shape of the Titiwangsa mountain range. Pictures by Setia Ecohill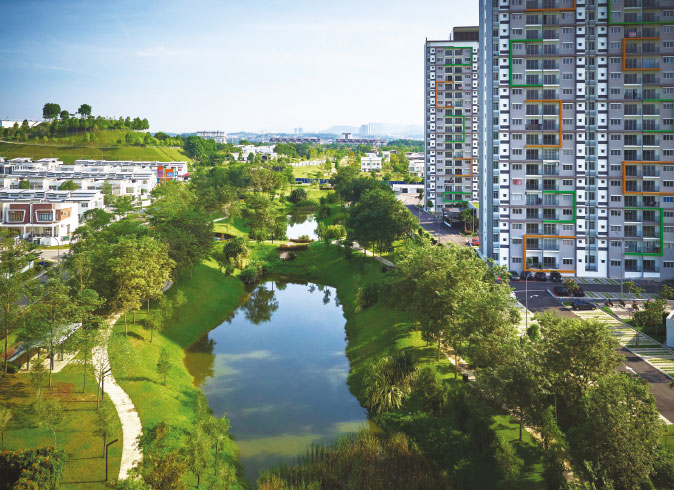 The development is next to Weeping Meadows Park.

The badminton court and gym are some of the facilities there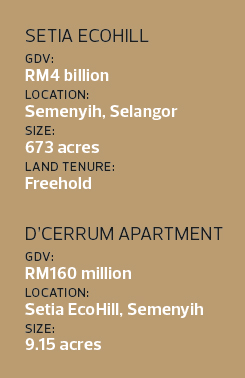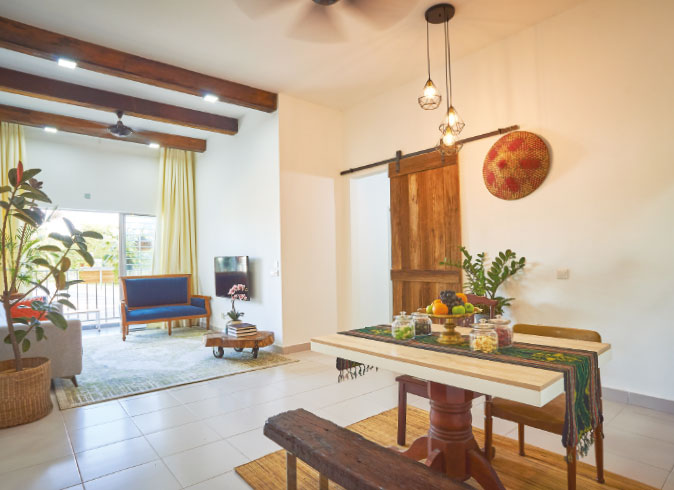 The living and dining area of a unit
Winner | D'Cerrum Apartment  | Setia ecohill SDN BHD
From afar, the simple and modern façade of D'Cerrum Apartment in Semenyih, Selangor, is easily identifiable due to the colourful detailing.
The façade's design was inspired by the undulating shape of the Titiwangsa mountain range, which can be seen from the apartment, explains Datuk Tan Hon Lim, the executive vice-president of the developer, S P Setia Bhd. D'Cerrum Apartment is developed by Setia EcoHill Sdn Bhd, a subsidiary of S P Setia
"The colours make the community area more lively and the façade modern-looking. Without the colours, it looks like any standard development," Tan says.
D'Cerrum Apartment is the recipient of The Edge Malaysia Affordable Urban Housing Excellence Award 2019. This award recognises outstanding affordable housing projects for the middle-income group that are wholly undertaken by property developers in the country.
"We are most definitely proud of this win," says Tan. "This [award] puts Setia as the benchmark for building high-quality, affordable urban homes for our customers."
Innovative low-cost, green solutions
The RM160 million development occupying a 9.15-acre freehold plot is part of the Setia EcoHill township in Semenyih, Selangor. Completed last year, D'Cerrum consists of 635 units with a built-up of 949 sq ft, in two blocks of 19 storeys. It was launched in 2015 at a selling price of RM262,000 to RM268,000. Its current average transacted price is RM320,000 to RM330,000. The maintenance fee at the medium-cost development is 19 sen psf.
The concept behind D'Cerrum was about changing the prevailing perception of affordable housing. S P Setia wanted to show that affordable housing can be a positive experience and successfully integrated into a mixed township development. Built for lower-income groups, D'Cerrum is part of S P Setia's corporate social responsibility projects, Tan says.
"We don't really focus on profit when we develop this kind of affordable apartments," he adds.
To keep the construction cost low, S P Setia uses the industrialised building system (IBS). The developer has been using its in-house IBS for its high-rise projects for the past 20 to 30 years. The system saves time, decreases the dependency on labour cost, increases construction speed and provides better quality development.
For D'Cerrum, the biggest challenge was designing the layout for its 9.15-acre plot, roughly the size of two football pitches. "The question was how to take full advantage of this maximum density of 70 units per acre that was mentioned in the approved plan while still fulfilling our aspiration to build affordable homes," Tan says.
The innovative solution, he explains, was to build a multi-storey covered car park that could provide each unit with two parking bays — one inside and the other open. "This reclaimed a significant portion of land that could be used for facilities and open spaces."
Another planning feature was to set apart the two blocks at a distance of exactly the height of the building, allowing a generous space in between for the facilities.
This arrangement also creates a wind tunnel effect to keep cool the open-air facilities area. "This will bring down the maintenance cost of the place, with low electricity usage, hence making it more sustainable," Tan says.
The buildings were also designed to allow cross-ventilation from the central void, along the corridor, to the air well and staircase. The stack effect allows hot air to rise and escape from the buildings through the air well.
Moreover, the buildings are north-south oriented and will not cast a shadow on each other. This ensures that residents enjoy maximum natural lighting during the day as well as natural ventilation.
The orientation also allows every unit to have a view of the Titiwangsa Range, the surrounding forest reserve, Setia EcoHill Park, Weeping Meadows Park or the swimming pool.
D'Cerrum offers condominium-like facilities such as a swimming pool, gym, multi-purpose hall, badminton court, children's playground and barbecue area.
Sold out at launch
With such facilities at those prices, the development received overwhelming response from the public, Tan says. All units were fully taken up on the launch day itself, upsetting some potential buyers who were not able to purchase a unit.
"D'Cerrum is the first affordable high-rise residential project in Setia EcoHill, and we had to sell the project by balloting," says Tan. "As this is an open-market project, there aren't any requirements or restrictions for buyers."
The development saw a good mix of homebuyers and investors, at "a 50-50 ratio", he says. Many were young people, couples and families, as well as upgraders who wanted to move into a gated and guarded residence. There were also those who bought for their own children.
The occupancy rate now is 20% to 30%, according to Tan, with 200-plus units undergoing renovation. "We foresee that in about one year's time, it will reach 50% to 60%."
Amenities close by include a hypermarket (Tesco), fast-food outlets (McDonald's and Pizza Hut), banks, clinics and educational institutions (SK Kampung Rinching, Nottingham University Malaysian Campus).
D'Cerrum is connected to the Kajang-Seremban Highway (LEKAS), North-South Expressway, South Klang Valley Expressway and Kajang Dispersal Link Expressway. The RM80 million Lekas-EcoHill link, constructed by S P Setia, provides direct access to LEKAS and was opened in August 2015.
Setia EcoHill, the township within which D'Cerrum is located, is a 673-acre, RM4 billion freehold development launched in 2013. Besides D'Cerrum, there are two other affordable housing projects for the open market, D'Cassia and D'Camellia, as well as a Rumah SelangorKu project, Pangsapuri Selangorku Kayangan.
Tan says the Pangsapuri Selangorku Kayangan is slated to be launched by the end of this year.
D'Cassia, which was launched slightly later than D'Cerrum, is also sold out, with all handovers completed, while D'Camellia, whose handover process began last month, still has a few unsold units.