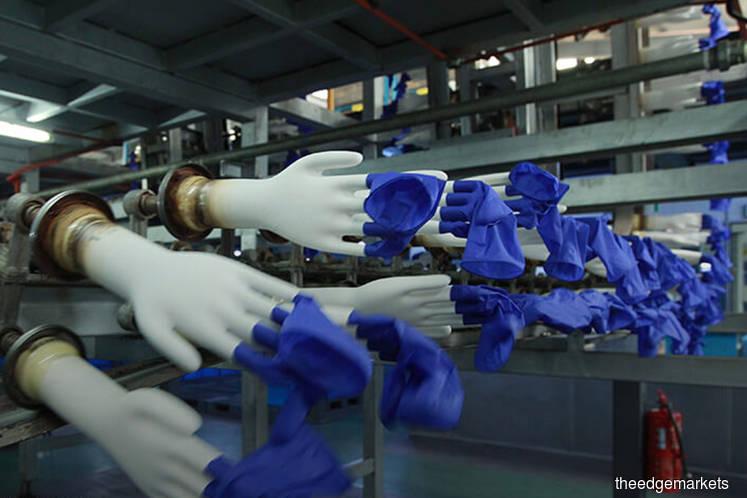 KUALA LUMPUR (Dec 6): Affin Hwang Capital has upgraded the gloves sector to 'Outperform' on optimism its prospects for 2020 will improve as demand from the US is expected to improve, while labour issues and higher production costs that emerged in the third quarter of 2019 (3Q19) are gradually resolved.
The research house has named Top Glove Corp Bhd (target price up 90 sen to RM5.20) and Kossan Rubber Industries Bhd (target price down 40 sen to RM6) as its top Buy picks for the sector.
In the 3Q19 earnings reporting season, the research house noted there were no winners amongst glove makers, where sector earnings fell below expectations, owing to the issues outlined above.
"We had underestimated the impact of the report relating to forced labour issues in the rubber glove sector, which we believe caused a 15%-25% shortage in manpower, post the hard cap on the allowable overtime for employees. The government's decision to freeze the recruitment of Bangladeshi workers due to concern over bonds related to debt, had worsened the problem. Some companies have started recruiting from other countries or received approval to recruit directly to address the problem. We are also expecting the government to re-open the recruitment soon, after rooting out the problematic recruitment agencies," Affin Hwang Capital analyst Ng Chi Hoong said.
The industry was also negatively impacted by the 5.3% hike in natural gas tariff in July, which is believed to have reduced gross profit margins by 0.5%-0.8% in 3Q19.
"Given that the impact of the gas price hike was across the board, we believe that the manufacturers have already started passing on the higher cost to customers. Hence, we are expecting margins to recover in 4Q19.
"As both were industry-wide issues, almost all the glove makers recorded declines in profit year-on-year for the 9M19. Due to the weak performance, we had cut our earnings forecasts for 2019-2022 by 5%-6%," Ng said.
With problems faced in the third quarter gradually being resolved, coupled with higher demand from the US, Affin Hwang said it believes the sector is poised for a better 2020.
"Given the better prospects, we think that sector valuations could re-rate as the earnings start to kick in. The sector is currently trading at around its historical average, which we believe is undemanding, given the improving prospects. In our view, the larger cap names are likely to move ahead of the smaller cap names, despite having slower earnings growth," Ng said.