This article first appeared in The Edge Malaysia Weekly, on January 6, 2020 - January 12, 2020.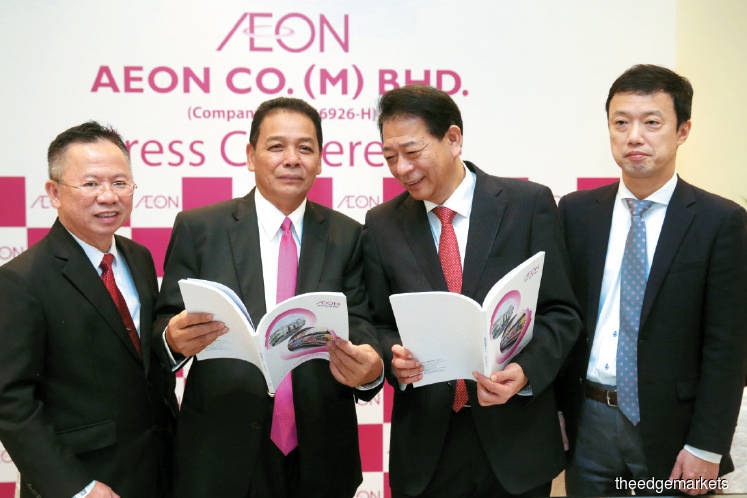 Photo by Sam Fong/The Edge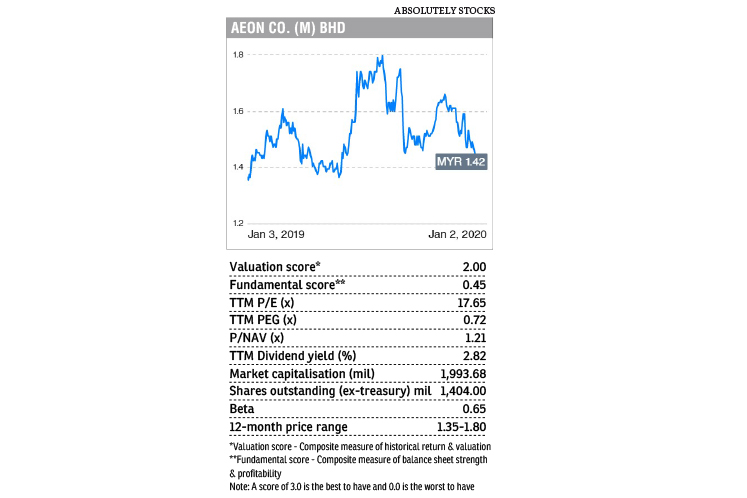 IT is no secret that things are getting tougher in the Malaysian retail space, with the latest data from Retail Group Malaysia pointing to a mere 1.8% sales growth in 3Q2019 against 6.7% in the same period last year.
Department store and supermarket operator AEON Co (M) Bhd, however, is still rated a "buy", favoured by five out of eight analysts who cover the stock, Bloomberg data shows.
RHB Research likes the fact that AEON is transforming its shopping malls to adapt to changing consumer demand. In a Nov 29 note, it pointed out that AEON's valuations are undemanding in view of its growth potential and status as the largest shariah-compliant mall operator in Malaysia.
At its closing price of RM1.42 last Thursday, AEON was priced at 18 times its earnings, with a market capitalisation of RM1.99 billion. RHB has a target price for the counter of RM2.05, or a 44% upside. The firm's target price implies a price-to-FY2020 projected earnings ratio of 24.5 times.
Compared wih its closing price of RM1.80 on July 26 last year, ­AEON's share price has declined by a fifth. The recent price weakness is an opportunity to acquire the stock, according to TA Securities, which has a target price of RM1.85 for the stock.
The brokerage says AEON's net profit for the nine months ended Sept 30, 2019, which came in below expectations, is forecast to improve in 4Q.
"The group's earnings tend to be back-end loaded in the fourth-quarter due to strong year-end festive season sales and year-end rebate. In the recent three years, fourth-quarter earnings accounted for 43% to 55% of the respective year's earnings," it says.
AEON reported a net profit of RM59.41 million in 9MFY2019, which was 15% higher than the same period a year ago, while revenue increased 3.9% to RM3.37 billion, mainly due to contribution from newly renovated stores. Same-store sales grew 1.8% during the period.
The group is expected to release its 4Q and FY2019 earnings results in the last week of February, according to Bloomberg.
Some brokerages are less bullish on AEON. One of them is MIDF Research, which cites the operator's cautious stance on expanding the number of its malls beyond FY2019, given the heightening competition from online retailers and consumers that have become more selective in their spending.
"In addition, we think that the bottom-line contribution from the property management segment will remain subdued as we do not foresee any avenue for the group to revise the rental rate upwards in the near term in order to maintain its occupancy ratio at the 90% level.
" However, we are cognisant of management's efforts [in] the refurbishment and maintenance of existing stores in order to stay relevant in the face of competition from surrounding areas. All things considered, we maintain a 'neutral' recommendation on the stock [with a target price of RM1.60]."
What AEON says
In a recent interview with The Edge, AEON executive director Poh Ying Loo acknowledges the tough retail climate amid waning consumer sentiment not just in Malaysia but also globally.
"Consumer sentiment has been affected by factors such as the higher cost of living, which impacts purchasing power. However, for us, this is not something surprising as AEON has been in Malaysia over the past 30 years, and we have gone through a few downturns, such as during the 1985 [recession], the 1997/98 Asian financial crisis and the 2009 global financial crisis.
"We have also experienced the tough times the retail sector has gone through, where we have seen some of our competitors consolidating while others have shut down their operations," he says.
Currently, AEON operates 35 outlets, 28 malls, 74 Wellness pharmacies, 42 Daiso stores and six MaxValu Prime supermarkets.
Around half of AEON's revenue is derived from its supermarkets, while its department stores and other concept stores make up the rest.
"This year, we are looking to open at least two more MaxValu stores. As for major openings [of outlets and malls], that would probably take place in 2021. We may also look at closing one or two smaller format stores this year but this would not impact our operations.
"We will also continue to refurbish some of our selected stores and malls. Some of these stores and malls are due for an upgrade and refurbishment as they age. We have in recent times refurbished our stores in Queensbay, Tebrau City, Bandar Utama and Taman Maluri, and you can see that whenever we make changes [to our stores], they attract more customers.
"We also have the competitive advantage in the sense that we manage and operate the malls, so we are able to leverage the synergies of the core businesses that we have," Poh says.
He believes the department store model is still relevant but that technology and social media are needed to create a certain perception of the store and business so that they appeal to the younger generation.
"Department stores can still be relevant in the current environment, but they have to be tweaked to match the current consumer lifestyle.
"Of course, this has to be backed by the correct assortment of merchandise that will be more suitable for the younger generation. There is always the need to refurbish, upgrade and change the layout of our stores, otherwise they look tired. No matter how loyal a customer is, if there are no changes or enhancements made, we will not see an increase in footfall," he says.
In its efforts to penetrate the e-commerce space, AEON Malaysia has a partnership with online grocery delivery company HappyFresh as well as popular e-commerce platform Shopee.
As for the adoption of the new standard on leases under MFRS 16, Poh says it does have an impact on the company as almost half of its outlets are on lease. "The impact will normalise after a certain number of years as it is more profound during the initial part of the lease."
On Jan 1, the group appointed Shafie Shamsuddin as its new managing director, replacing Shinobu Washizawa. Shafie had worked with French retailer Carrefour Group for over 16 years and was the managing director of Carrefour Singapore, Carrefour Malaysia and Carrefour Indonesia between 2005 and 2011 before he was appointed executive director of global talent management and organisational development at Carrefour Group.
Prior to joining AEON, he was CEO and president of the board of directors of PT Trans Retail Indonesia.