This article first appeared in City & Country, The Edge Malaysia Weekly, on December 16, 2019 - December 22, 2019.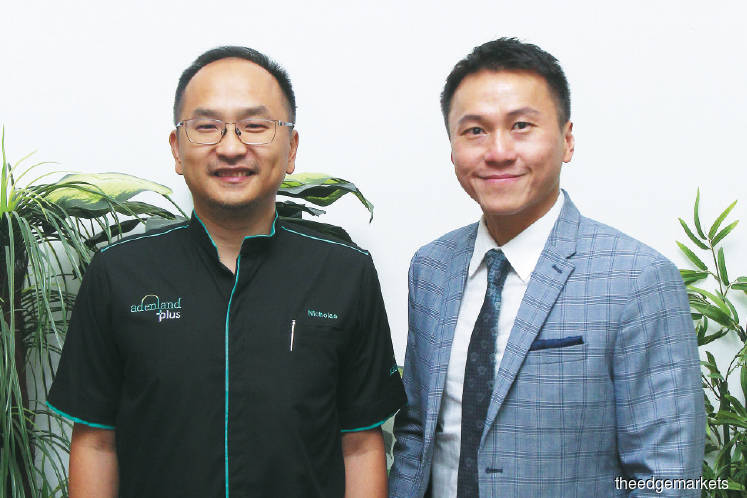 Chang (left) and Wong. Photo by Mohd Izwan Mohd Nazam/The Edge
Despite the challenges faced by the property market, Adenland Holdings Sdn Bhd appears positive on the development of affordable homes by offering value-for-money products to buyers.  
The group's forte is building affordable properties with facilities and amenities. "For the last two years, the property market has appeared stagnant. Hence, we have focused more on affordable houses instead of high-rises," says group CEO Nicholas Chang.
"Our group has grown from building houses to developing townships and commercial hubs. We have also appointed advisers to work on the proposed listing of the company on Bursa next year as we are at the correct stage of the life cycle to be listed," he adds.
Adenland was established in 2012 by its director Datuk Seri Eric Wong, a lawyer and Chang, a former banker. Prior to forming the company, the duo had collaborated successfully on several property investments.
In just five years, the group has kicked off a township development in Kuantan, Pahang, a mixed-use development in Rawang, Selangor, and two condominium projects in Damansara Jaya, Selangor, and Cheras, Kuala Lumpur.
Ongoing projects include Phase 3 and 4 of Taman Kuantan Jaya in Kuantan, Avia Plus at Rawang, Cora Plus at Damansara Jaya and Irama Bayu at Kota Kemuning, Selangor.
Maiden project in Kuantan
The Kuantan development, Taman Kuantan Jaya, is Adenland's maiden project. It has an estimated gross development value (GDV) of RM700 million and will be launched over seven phases. The first phase was launched in 2012.
The latest phase, Aman Plus 2 (Phase 4), was soft launched in August and has achieved a take-up rate of 60% to date. "Due to the high take-up rate, we do not foresee that it will be necessary to do an official launch," says Chang.
Occupying a 27.4-acre parcel at the 140-acre, leasehold Taman Kuantan Jaya, Aman Plus 2 has a GDV of RM133 million. It comprises 348 one-storey terraced, 2-storey terraced and 2-storey superlink houses.
The units are due for completion by 4Q2020. The 4-bedroom and 2/3/4-bathroom layouts have built-ups ranging from 900 to 2,450 sq ft. Some of the units have been allocated for the 1Malaysia Civil Servant Housing Development (PPA1M) scheme.
The selling prices of 1-storey terraced, 2-storey terraced and 2-storey superlink units start from RM260,355, RM389,980 and RM582,590 respectively. Under the PPA1M scheme, the selling prices of 1 and 2-storey terraced houses are lower at RM199,962 and RM299,150.
PPA1M is a government initiative launched in 2013 to provide affordable homes for civil servants at 30% below market price. "We put lots of effort into PPA1M as it is a build-and-sell concept. The houses we build are affordable and of good quality that also cater for the residents in Kuantan and its surrounding areas, first-time homebuyers and multigenerational families," says Chang.
The first phase, launched in 2012 and comprising 213 one-storey terraced houses with a GDV of RM50 million, was fully sold.
Phase 2, Aspen, with a GDV of RM100 million, was launched in 2015. It comprises 283 one-storey terraced, 2-storey terraced and villa houses. While the RM120 million Phase 3, Aman Plus 1, launched in 2018, consisted of 257 one-storey terraced, 2-storey terraced and superlink houses, both phases recorded sales of over 95%. Construction of Phase 3 is expected to be completed by the end of this year.
Chang remarks that the development itself is unique. "The community is surrounded by greenery; it comes with a two-storey clubhouse and a guardhouse. We are trying to add value to the buyers so they will feel that they are getting more than what they pay for," he says.
"The facilities [in the clubhouse] include two swimming pools, indoor and outdoor futsal courts, four indoor badminton courts, a function hall and a playground. The maintenance fee is RM100 per month and the clubhouse will be open to residents of the other phases," adds Chang.
"We want these to be our unique selling point. Hence, when buyers buy from Adenland, they know they will get something special."
Will the project sell? "We are confident of the success [of this development] because there is demand, by offering quality products at a reasonable price. We are bringing something new to the market that could [improve] buyers' standard of living. Most of our projects that were launched more than a year ago are more than 90% taken up," Chang says.
Meanwhile, Wong explains that the group intends to create a mini township with spacious layouts of modern interior design and full-fledged facilities. "Nobody has done this [kind of development] in Kuantan. For a comparable property in Kuala Lumpur, buyers will have to pay two times the price. Hence, the houses in Taman Kuantan Jaya will [have enhanced] future sale and potential value," says Wong.
"This project will keep us occupied for the next 10 years. Phase 5 is currently at the planning stage. It will comprise landed houses and townhouses. Other information is yet to be confirmed," Chang explains.
Upcoming projects
Elsewhere, the group will be redeveloping 160 acres of prime land in Kundang, Selangor, where the Kundang Lakes Country Club is located. It is about 22 minutes' drive from Bukit Rahman Putra in Sungai Buloh.
The RM1.5 billion mixed-use development will comprise landed houses, high-rises, a clubhouse, a hypermarket, a shopping mall and an international school. "The first and second phase will comprise 595 2-storey landed houses and will utilise 35% of the land," says Chang.
Chang and Wong see the potential of Kundang as many players such as Glomac Bhd, Gamuda Land, Mah Sing Group Bhd and Tan & Tan Developments Bhd already have developments in the area.
Moving forward, Adenland is looking to acquire land. "We are planning to acquire 108 acres for a mixed-use development in Rawang, 998 acres for a township development in Tanjung Lumpur, Kuantan, and 30,000 sq ft for a low-rise condominium in Damansara Jaya," says Wong.
The group now has a total of 449.46 acres of land bank in Kuantan (172 acres), Pahang (250 acres), Perak (27 acres) and the Klang Valley (0.46 acres) with an estimated total GDV of RM1.92 billion.
Wong says the group hopes to expand overseas to Myanmar in the near future. "Although we are comfortable at the moment, we felt that we still have room for expansion. Conditions may be tough, but then again it is during difficult times that there are more opportunities at more realistic prices."