This article first appeared in The Edge Financial Daily, on February 28, 2020.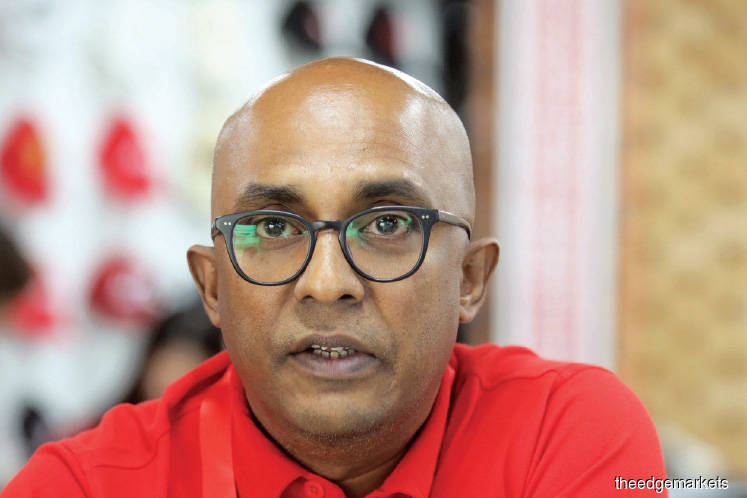 KUALA LUMPUR: AirAsia Group Bhd, Asia's largest low-cost carrier by passengers carried, has warned that it may not achieve internal projections for the year ending Dec 31, 2020 (FY20) as the airline industry has been severely affected by the Covid-19 outbreak since early this year.
AirAsia said due to health reasons and travel restrictions put in place by many countries, the demand for airline travel has seen a considerable decline and it is not spared the effects of Covid-19.
"We had a challenging start to 2020 with the Covid-19 outbreak, which disrupted some parts of our businesses due to travel restrictions, flight delays and cancellations. This has put a strain on the number of travellers and our capacity arrangements," said AirAsia president (airlines) Tharumalingam Kanagalingam, better know as Bo Lingam, who was appointed acting chief executive officer of the airline last month after founders Tan Sri Tony Fernandes and Datuk Kamarudin Meranun stepped down temporarily to facilitate an independent probe into Airbus bribery allegations.
Bo Lingam said measures to limit the downside impact from Covid-19 have been put in place including active capacity management since early February, aggressive marketing push to pursue market share, redeploying capacity to domestic and intra-Asean flights, as well as engaging and collaborating with industry stakeholders and authorities for incentives, discounts and rebates.
"Through these measures, in addition to stricter implementation of internal cost control, we believe we will recover as soon as possible and come out stronger as we have shown in previous aviation shocks," he said in a statement yesterday.
The airline has hedged 73% of FY20 fuel requirements at US$59.71 (RM250.78) per barrel and 19% of FY21 requirements at US$59.45 per barrel.
AirAsia fell into the red in FY19, mainly due to the absence of a RM1.1 billion gain in 2018. It posted a net loss of RM303.72 million for FY19 compared with a net profit of RM1.97 billion in the previous year.
The carrier was also impacted by the recognition of one-off costs, which includes consultant costs for sales and leaseback transactions of RM25 million, tax provision and payment for a subsidiary of RM49 million, discounting of a long-term receivable of RM40 million and share of losses in AirAsia India of RM280 million including recognition of prior year losses.
AirAsia also blamed the weaker performance on accounting treatment of its restructured aircraft ownership, moving from owning to leasing aircraft, despite recording similar cash outflow in either financing method.
"MFRS (Malaysian Financial Reporting Standards) 137 accounting treatment has resulted in a 43% increase in maintenance and overhaul costs, while MFRS 16 adoption negatively impacted the results by RM131 million in FY19," it said.
Revenue for the year, however, was up 17% to RM12.45 billion from RM10.64 billion in the previous year.
For the fourth quarter ended Dec 31, 2019 (4QFY19), AirAsia narrowed its net loss to RM384.48 million from RM394.97 million a year ago on the back of a 19% improvement in revenue to RM3.36 billion from RM2.82 billion for 4QFY18.
AirAsia's long haul affiliate AirAsia X Bhd (AAX) also foresees major challenges in the first half of 2020 posed by the Covid-19 outbreak.
"The outbreak has had an adverse impact on the sale of passenger tickets at AAX, with the biggest impact in the Chinese market. However, sales have also been impacted in Japan, South Korea and Australia and the company will have to bear the cost of ticket refunds for passengers who have cancelled flights to China," it said in a bourse filing yesterday.
AAX said passenger bookings in the forward months are also trending lower as a result of the outbreak which is impacting all tourism related businesses in the region.
"Fares are expected to be under pressure for the next couple of months as the company tries to stimulate air travel demand on the back of the outbreak," it warned.
On its part, AAX is launching extensive promotional campaigns and redeploying capacity into other core markets to counter the impact of the weak global economy, as well as the virus outbreak. "This strategy is aimed at stimulating price sensitive customers, maintaining a healthy load factor and supporting ancillary income."
AAX saw its four-quarter net loss widen 8.8% to RM95.81 million from RM88.05 million, on higher depreciation and finance costs with the adoption of MFRS 16 Lease which came into force on Jan 1, 2019.
Depreciation costs increased by 10 times to RM241.26 million in 4QFY19 from RM24.14 million a year ago, while finance costs more than doubled to RM100.37 million from RM47.96 million in 4QFY18. This was despite revenue for the quarter rising 3.6% to RM1.2 billion from RM1.15 billion a year ago.
Higher depreciation and finance costs also caused the airline's net loss for the full year FY19 to widen by 62.4% to RM489.48 million from RM301.48 million in the previous year, while revenue fell 3.9% to RM4.39 billion from RM4.57 billion in FY18.
Its depreciation costs for FY19 surged 7.2 times to RM922.19 million from RM127.27 million in FY18, while finance costs increased five times to RM354.01 million from RM70.61 million in the previous year.