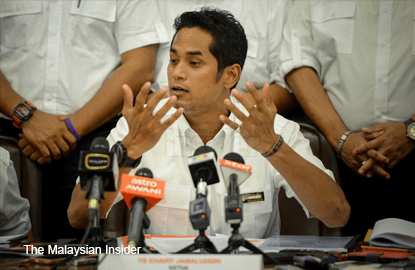 KUALA LUMPUR: Prime Minister Datuk Seri Najib Razak did not commit any crime by accepting the RM2.6 billion in political donations on behalf of Umno, says Youth and Sports Minister Khairy Jamaluddin.
Speaking to news portal Malaysiakini, Khairy said there was no law in Malaysia that prohibited political parties from receiving contributions from supporters.
Yesterday, the Malaysian Anti-Corruption Commission (MACC) announced that no funds from state investor 1Malaysia Development Bhd (1MDB) had been put into Najib's accounts at AmBank, saying the US$700 million (RM2.6 billion) had come from donors instead.
Allegations of RM2.6 billion in Najib's accounts first surfaced in a report by The Wall Street Journal (WSJ) on July 2, citing documents from Malaysian investigators.
The WSJ said the source of the funds was unknown, but had flowed through 1MDB-linked entities in various tranches, the largest of which — US$681 million — was channelled into Najib's accounts in March 2013, ahead of the general election in May that year.
The MACC yesterday said it had been investigating the allegation in addition to another probe into the Finance Ministry-owned SRC International Sdn Bhd, the 1MDB subsidiary which took a RM4 billion loan from government pension fund Retirement Fund Incorporated.
Najib denied taking 1MDB funds for personal use, but had not directly addressed the fund transfers.
The Umno Youth chief told the news portal that accepting political donations were practised by politicians regardless of their parties.
"Not only Umno and BN, politicians receive donations from their supporters to help them in political work. I am sure all the parties get contributions from friends and supporters," he was quoted as saying in the report.
Khairy also said whether the donations were put into personal or party accounts varied as long as they were held in trust by the personal account holder for the party. — The Malaysian Insider
This article first appeared in digitaledge Daily, on August 5, 2015.