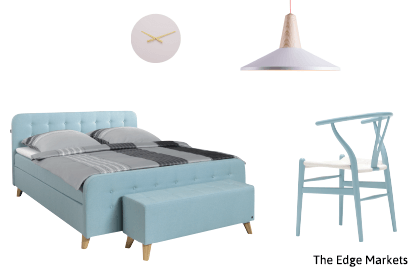 This article first appeared in haven, The Edge Malaysia, on Issue #77 February + March 2016.
The Pantone Colour of the Year sees the blending of two soft, subtle shades that evoke warmth, calm and tranquillity
COLOUR is serious business for the Pantone Color Institute — the authority on colour and provider of colour systems — which practices the annual ritual of informing the world about the "Colour of the Year". It is more than just predicting what shade will be trendy — for the colour experts, it's a symbolic selection, a hue that reflects the mood and attitude of the moment. 
This year, Pantone announced two colours — a warm rose hue and a cooler, tranquil blue. According to a press release, the Rose Quartz (Pantone 13-1520) is a persuasive yet gentle tone that conveys compassion and a sense of composure while Serenity (Pantone 15-3919) is weightless and airy, like the expanse of the bringing feelings of respite and relaxation even in turbulent times.
It sounds as if Pantone has prescribed the best colour remedy to what most of us suspect might just be a challenging year ahead. These two shades can stand alone or blend together beautifully, and in either way project a sense of wellness, order and peace. 
According to Pantone Color Institute executive director Leatrice Eiseman, the colour duet also represents something bigger and challenges traditional perceptions of colour association. She said in a statement, "In many parts of the world we are experiencing a gender blur as it relates to fashion, which has in turn impacted colour trends throughout all other areas of design. This more unilateral approach to colour is coinciding with societal movements towards gender equality and fluidity, the consumer's increased comfort using colour as a form of expression, a generation that has less concern with using colour as a form of expression, a generation that has less concern about being typecast or judged and an open exchange of digital information that has opened our eyes to different approaches to colour usage." 
In a time when calm, reassurance, security, order and peace are sometimes a tall order, Rose Quartz and Serenity make for perfect allies in the home. No need for a major overhaul — there are easy yet elegant ways to incorporate the two hues in your décor scheme. We shopped around the world for these chic finds to help spruce up your space.
Restful slumber awaits on this box spring bed from Tom Tailor's Home collection, with wooden feet, retro buttoned headboard and matching bench (tom-tailor.com)
| | |
| --- | --- |
| Add a touch of pop art with the Milano side table in lacquered velvet from VG New Trend (www.vgnewtrend.it) | The lampshade of this retro-looking Eikon Shell pendant lamp by Schneid Studio is magnetised to the socket, allowing you to change the style or shade of colour when you want (www.ksl-living.fr) |
| Go a little avant-garde with the Strappo washbasin from antoniolupi, made of Corian and is encased in the wall, brushed and plastered. It seems merged with the surface where installed and features LED lighting for added effect. (www.antoniolupi.it) | A beautiful combination of blush and brass, this Piper clock from Cranmore Home's Milk + Sugar collection makes a subtle statement (www.cranmorehome.com.au) |
| The profile of Softhouse's Amarillis armchair with small metal studs is a true classic, with wheels on the front wooden legs injecting a touch of contemporary style (www.softhouse.pisa.it) | Have an icon at the dinner table — Carl Hansen & Son presents Hans J Wegner's most celebrated work, Wishbone Chair, which channels 'Serenity' in this soft blue hue (www.spacefurniture.com.sg) |