This article first appeared in The Edge Financial Daily, on July 18, 2018.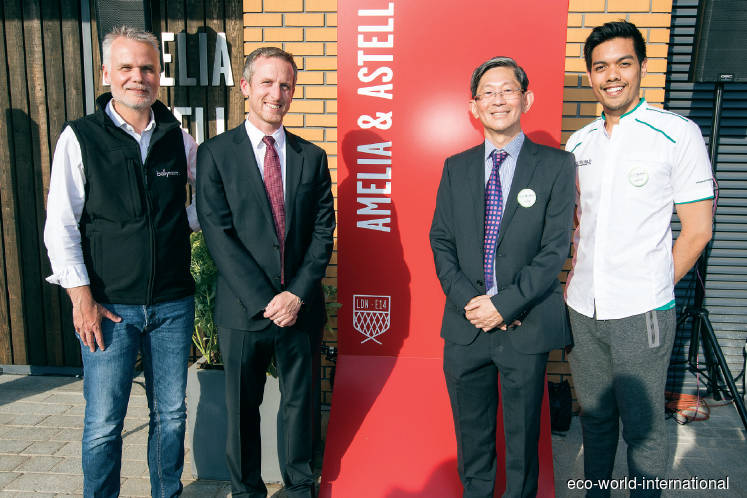 LONDON: Eco World International Bhd (EWI) has about 10,000 residential units in development in London, according to its chief executive officer and president Datuk Teow Leong Seng at a completion ceremony of the £100 million (RM533.01 million) Amelia, one of six residential blocks in its London City Island development, on Monday.
The units are made up of those in London City Island, Embassy Garden and Wardian London in a joint venture (JV) with UK property developer Ballymore, as well as another 12 projects with JV partner Willmott Dixon — another UK developer. The total estimated gross development value (GDV) of these 15 projects is close to £4.8 billion.
"Amelia is very important because it is our first completion. We (EWI) have sold RM8 billion worth of projects [in Australia and the UK], but we have not been able or recognise any revenue up to this point in time because of the accounting convention in Australia and the UK, which is on completion basis," said Teow.
Teow also highlighted that projects in London, which total 15 sites, will keep it busy for the next 10 years.
Moreover, half of the 12 projects with Willmott Dixon are developed for built-to-rent schemes where the buildings will be sold en bloc to institutional investors like pension funds, for yield purposes. Teow noted that negotiations are underway and further details will be forthcoming.
Meanwhile, Amelia, with its distinct yellow brick facade, is ahead of production schedule.
"We launched the 17-storey Amelia in May 2015 and today (Monday), three years later and six months ahead of time, we have successfully delivered on our promise to buyers," said Teow. "Amelia has achieved a take-up rate of 99% and the soon-to-be completed adjacent blocks of Mead and Modena are 95% sold."
Amelia's unit prices range from £300,000 for a suite to £1.2 million for a four-bedroom unit. The other unit layouts are one-, two- and three-bedroom. Built-ups range from 400 sq ft to 1,400 sq ft.
About 40% of the units were snapped up by Malaysians, said Teow.
Also at the completion event was John Mulryan, group managing director of Ballymore, who highlighted that the project is part of its goal to delivering much needed housing to London.
"The unveiling of the Amelia building at London City Island is symbolic of our commitment to delivering high-quality homes for Londoners. We look forward to welcoming new residents to the island and to see the already thriving community grow," he said.
Also gracing the event included Azrain Azlan, manager at EWI UK and Stevan Tennant, developments director at Ballymore, who both abseiled down the side of the building to officiate the completion ceremony.
London City Island sits on 12 acres (4.86ha) of 999-year leasehold land and will comprise 1,700 new homes once completed over two phases. Phase 1 was completed by Ballymore and EWI entered into a JV with Ballymore for Phase 2 that has an estimated GDV of £691 million and covers 5.95 acres.