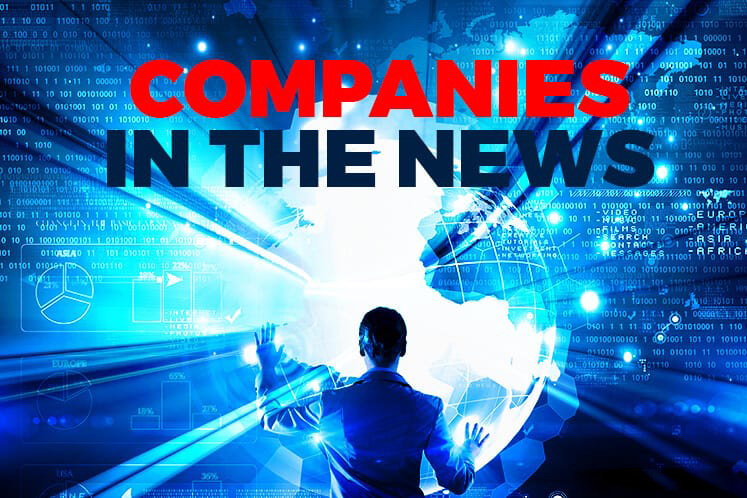 KUALA LUMPUR (July 5): Based on corporate announcements and news flow today, companies in focus on Thursday (Sept 6) may include: 7-Eleven Malaysia Holdings Bhd, Affin Bank Bhd, Gabungan AQRS Bhd, Hengyuan Refining Co Bhd, XOX Bhd, Nylex (Malaysia) Bhd, Ancom Bhd, Utusan Melayu (Malaysia) Bhd, Globaltec Formation Bhd, Censof Holdings Bhd and Dagang NeXchange Bhd (DNeX).
Berjaya Philippines Inc has increased its stake in 7-Eleven Malaysia Holdings Bhd by buying 6.5 million shares or a 0.58% stake. This brings its total to 18 million shares or a 1.59% stake in 7-Eleven Malaysia.
In a filing with the Philippine Stock Exchange today, Berjaya Philippines said it has paid a total of RM9.61 million or an average price of RM1.48 per 7-Eleven Malaysia share in purchases made in the open market during March 1 to Sept 3.
Affin Bank Bhd confirmed today it has awarded an RM505 million contract to IJM Corp Bhd for the construction of its 47-storey headquarters at Tun Razak Exchange (TRX) here.
Affin Bank said it has issued a letter of award to IJM Construction Sdn Bhd, a wholly-owned subsidiary of IJM Corp, for the proposed project.
IJM Construction has accepted the letter of award yesterday (Sept 4).
"The duration of the project is 26 months and is expected to be completed by December 2020," said Affin Bank.
Gabungan AQRS Bhd sees earnings picking up from the financial year ending Dec 31, 2019 (FY19), underpinned by better performance across all segments.
"Currently, our [construction] order book stands at RM2.4 billion, providing earnings visibility for the next three years. Thus, the earnings growth from FY19 to FY21 will be driven by our construction, property development and precast component manufacturing businesses," its chief executive officer Datuk Azizan Jaafar told reporters after the group's extraordinary general meeting yesterday.
Hengyuan Refining Co Bhd will invest US$48 million for the clean air regulation project to be executed within its refining complex in Port Dickson, Negeri Sembilan.
Hengyuan said it has approved the investment for the project, which is undertaken to ensure that the refinery's emissions comply with the clean air regulation requirements mandated by the Malaysian regulatory authorities.
"This is done via the installation of air pollution control systems at the Long Residue Catalytic Cracking Unit and Plat-2, and an emission monitoring system on HRC's flue gas stacks," it added.
XOX Bhd said it plans to undertake a 10% private placement in a third independent party investor to raise RM6.95 million for branding and marketing activity expenses.
The group said the activities are expected to garner more brand awareness from consumers and increase its subscriber base and market share.
XOX said its mobile network subscriber base has grown 37.4% to 2.39 million subscribers as at July 31, from 1.74 million a year ago, mainly due to marketing and branding efforts.
 
Industrial chemicals distributor Nylex (Malaysia) Bhd and media company Redberry Sdn Bhd — both subsidiaries of Ancom Bhd — are suing Utusan Melayu (Malaysia) Bhd for failure to refund deposits totalling RM18.5 million.
Utusan said it had been served on Sept 4 with a writ of summons and statement of claims from the parties.
Nylex is claiming that Utusan failed to refund the RM10 million deposit which had been remitted pursuant to letters of 'Advertising, Branding & Communication Exercise by Nylex Group of Companies through Utusan Malaysia & Mingguan Malaysia' dated Jan 29 and Feb 27.
Redberry's claim states that Utusan failed to refund the RM8.5 million deposit paid for "Advertising, Branding & Communication Exercise by Redberry Media Group through Utusan Malaysia & Mingguan Malaysia' dated April  30.
Globaltec Formation Bhd plans to consolidate the company's shares on the basis of 20 shares held on an entitlement date to be fixed, into one share, which could raise its share price to 90 sen from 4.5 sen now.
Concurrently, it plans to issue 67.27 million free warrants on the basis of one warrant for every four consolidated shares held on the entitlement date.
The investment services provider said the proposed share consolidation might increase the company's profile among investors and lead to more attention by research houses and fund managers.
Censof Holdings Bhd said it has no plans to divest its 16.22% stake in Dagang NeXchange Bhd (DNeX) as crude oil prices continue to gain strength.
Its managing director Ameer Shaik Mydin said the group is also expecting better dividend payouts from DNeX going forward as business environment improves.
"DNeX is in information technology and oil and gas and crude oil price is going up. We still hold a 16.22% stake (in DNeX). At this juncture, we are going to see what the dividends are that we are going to get. But we foresee there will be dividends because the oil price is improving. We will look at opportunities but as of now, (there are) no plans to divest," he told reporters after Censof's annual general meeting today.