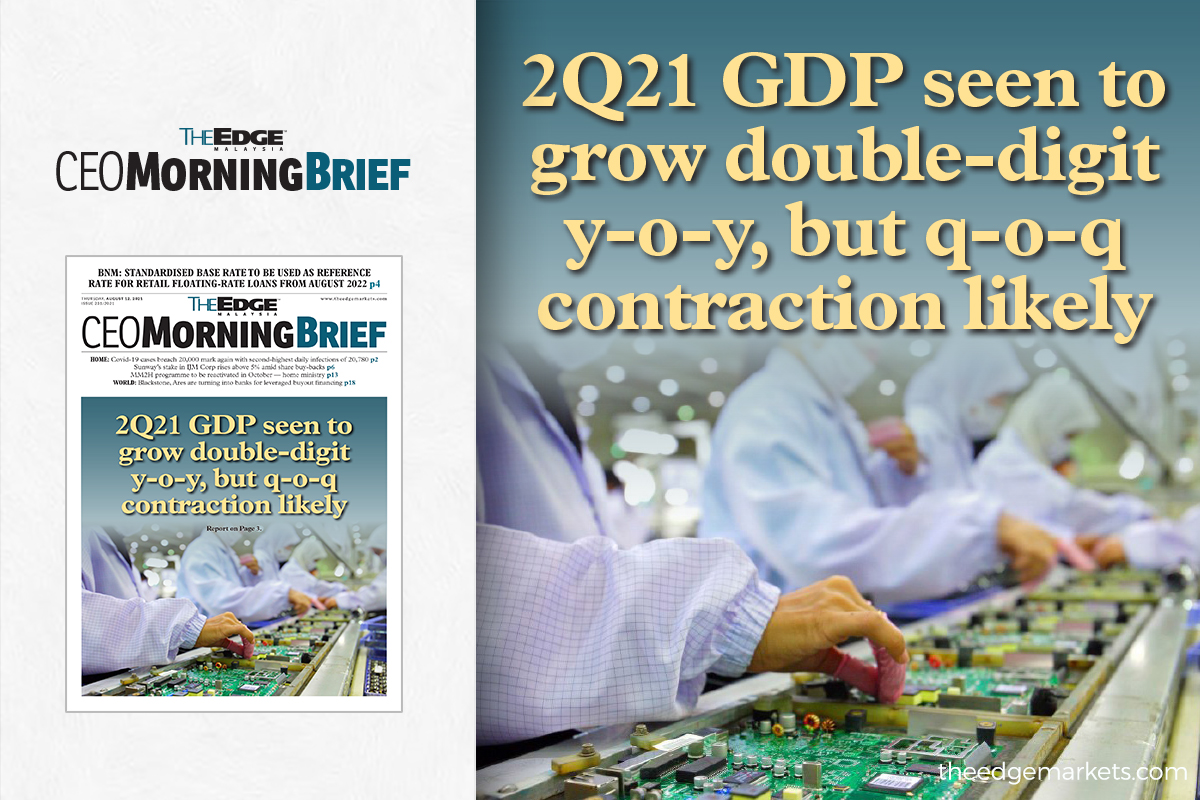 KUALA LUMPUR (Aug 12): Malaysia, which reported fourth consecutive quarters of economic contraction, is expected to see a strong double-digit growth in April-to-June quarter (2Q21) owing to low base effect and strong exports.
In contrast, the domestic economy is likely to register a contraction on a quarter-on-quarter (q-o-q) comparison due to the stricter lockdown in 2Q21 compared with the preceding January-March quarter.
Bank Negara Malaysia is scheduled to release 2Q21's gross domestic product (GDP) on Friday (Aug 13).
"Amid the economic scarring effects in June due to the Full Movement Control Order, we expect the Malaysian economy to stage a strong rebound at estimated growth of 16.8% year-on-year (y-o-y) in 2Q21, after declining by four successive quarters since 2Q20," said Socio-Economic Research Centre (SERC) executive director Lee Heng Guie when contacted.
Besides low base effect, according to Lee, buoyant exports, thanks to the strong turnaround in mining, manufacturing and construction sectors, as well as an improvement in the services sector are expected to have fuelled the economic growth in 2Q21.
UOB Malaysia economist Julia Goh forecasts a 17.5% y-o-y growth in 2Q21, mainly stemmed by low base effect as the domestic economy contracted sharply at 17.1%.
"All, but the agriculture sector, are expected to contribute to 2Q21 GDP gains, with manufacturing and services (i.e. wholesale & retail trade, ICT, finance & insurance, and transport & storage) sectors taking the lead," she commented in a note.
Among other economists contacted, RHB Research's Ahmad Nazmi Idrus expects 15% growth while MIDF Research's economist Abdul Mui'zz Morhalim sees 14.9%.
MIDF's Abdul Mui'zz said his double-digit growth estimate for 2Q21 GDP has imputed the expected weakness in domestic spending and the downward drag to growth following the imposition of Movement Control Order 3.0 and the total lockdown during 2Q21.
"However, excluding the base effect, our estimate for the GDP in the 2Q21 will be at 2.9% y-o-y, a weak growth based on the pre-pandemic growth experience (averaging at 4.9% in 2016-2019)," he added.
Contraction on a q-o-q basis
Economists are expecting the local economy to suffer a contraction on a q-o-q basis. Both UOB's Goh and SERC's Lee are anticipating the 2Q21 GDP to decline 1.8% q-o-q and 1.4% q-o-q respectively, citing that the main drag was the lockdown measures.
In the preceding January-to-March quarter (1Q21), the economy registered a 2.7% q-o-q growth but it shrank 0.5% y-o-y, albeit at a slower pace (4Q20: -3.4% y-o-y).
Looking at the q-o-q seasonally adjusted GDP figures last year, it varied between a contraction of 16.1% (2Q20) and a positive growth of 17.3% (3Q20), according to the data shown by the Department of Statistics Malaysia.
For the remainder of 2021, economists are expecting 3Q21 to hit a speed bump amid caveats and uncertainties arising from the ongoing lockdown measures and before rebounding in 4Q21.
"The Malaysian economy hits a temporary speed bump as disrupted by the prolonged pandemic and deeper economic scarring effects due to strict containment measures to contain the resurgence of new virus variants.
"Households and businesses turned more cautious in June and 3Q21 until more clarity on macro conditions and the virus path amid the acceleration of vaccination. We see a continued divergence in the recovery paths across businesses and economic sectors," said SERC's Lee.
He expects the continued "open and shut" strict containment measures to have a larger dent in the retail, food, accommodation and transportation (especially related to tourism) in July and August.
UOB's Goh concurred that Malaysia's economic recovery would be interrupted in 3Q21 given the prolonged lockdown and fluid domestic political situation.
"While the domestic vaccination programme has made significant progress to pave the way for a safe full reopening of the economy by year end, renewed external uncertainties (for example the US Federal Reserve's quantitative easing tapering and an expected slowdown in China's economy) have further clouded near-term growth prospects," she added.
Goh kept the 2021 full-year GDP growth forecast at 4% for now.
Meanwhile, MIDF's Abdul Mui'zz viewed that Malaysia could not afford a prolonged lockdown until year end as this will risk more adverse impacts on people's livelihood and business sustainability.
Abdul Mui'zz applauded the government's recent decision to relax restrictions for fully vaccinated people and allow more states to transition to phases two and three of the National Recovery Plan (NRP) as it will result in a gradual pickup in the country's growth momentum.
"We are also optimistic that the herd immunity will be achieved by the fourth quarter given the encouraging vaccination rate, as this will allow the economy to reopen later this year. Therefore, we see reduced likelihood for the full lockdown and tight restrictions to be prolonged in the coming months," he commented.
RHB's Ahmad viewed that while full removal of restrictions is not possible this year, the ease of restrictions over the next few months should allow for better functioning of the economy and lead to significant improvement in growth.
"Some pent-up demand should already start to happen in August with the dine-in and inter-district travels for some states. With the high vaccination rate and the change in threshold of the NRP, we believe reopening (for more states) will commence fairly soon."
Ahmad Mui'zz has kept annual GDP growth forecast at 5.4% for 2021.
To receive CEO Morning Brief please click here.