This article first appeared in The Edge Malaysia Weekly, on December 27, 2021 - January 09, 2022.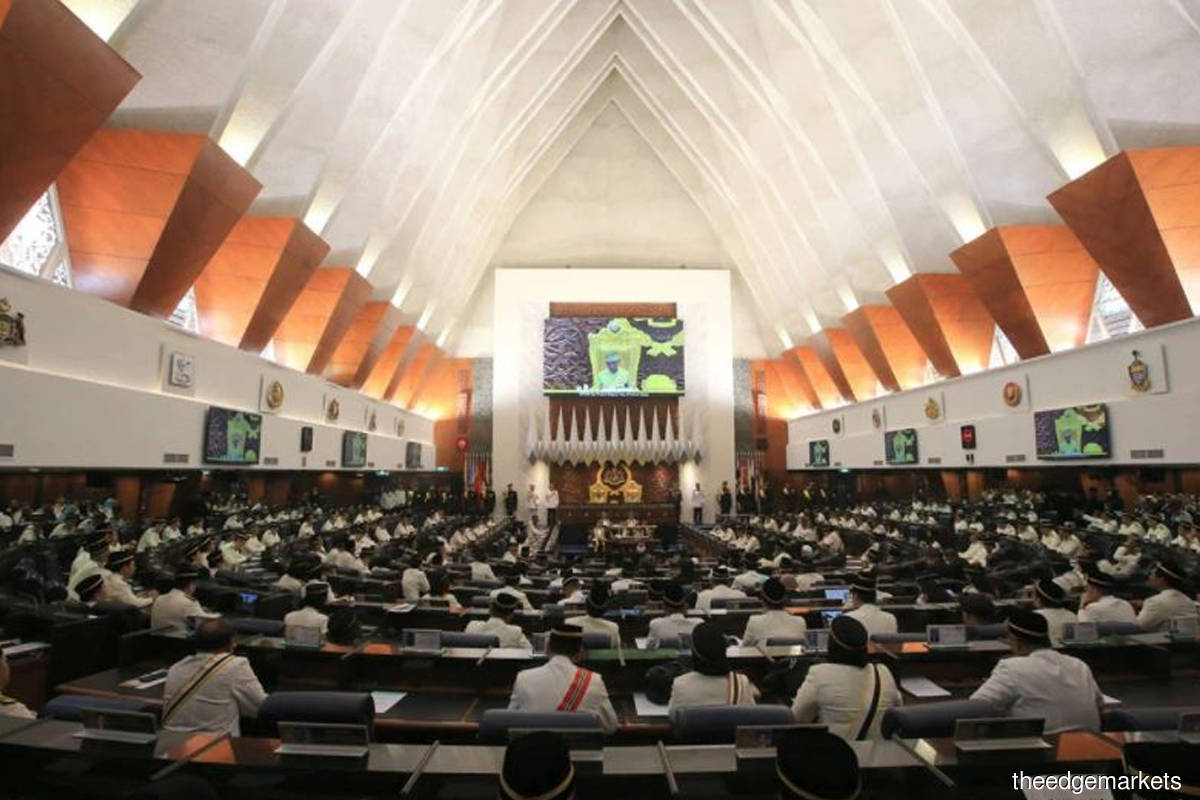 Whether it was individuals holding positions of power and deciding the direction or matters of the law or individuals who used to hold power, they found themselves under the spotlight this year
Tan Sri Idrus Azizan Harun
Ninth attorney-general
Tan Sri Idrus Azizan Harun was appointed attorney-general in March last year following the resignation of Tan Sri Tommy Thomas. The first year of his tenure was a relatively quiet one for the former Federal Court judge. He came under fire, however, on the issue of the emergency proclamation mooted by then prime minister Tan Sri Muhyiddin Yassin earlier this year.
Idrus is the elder brother of Dewan Rakyat speaker Tan Sri Azhar Azizan Harun, the relationship proving awkward when various motions were made against Idrus in the august house. At one point, opposition lawmakers questioned the legitimacy of various legislations passed by Muhyiddin's Perikatan Nasional government, as they argued that the Parti Pribumi Bersatu Malaysia president no longer commanded the majority of the house.
Through the Attorney-General's Chambers, Idrus managed to fend off each and every challenge to the emergency proclamation by political leaders, though actions by the Malaysian Bar and election watchdog Bersih 2.0 have yet to play out.
Idrus never explained his decision last month to drop the prosecution's appeal against the acquittal of former Federal Territories minister, Datuk Seri Tengku Adnan Tengku Mansor, over graft charges. He has kept mum despite being pressured by Malaysian Bar president AG Kalidas and several members of parliament to account for the inaction following a majority decision by the Court of Appeal.
What's more, all deputy public prosecutors are prohibited from informing the media anything about their cases as all comments are now to be directed to Idrus himself with regard to criminal prosecution and appeals. — By Hafiz Yatim
Tan Sri Azhar Azizan Harun
Dewan Rakyat speaker
Tan Sri Azhar Azizan Harun, who was named the Dewan Rakyat speaker when Tan Sri ­Muhyiddin Yassin took over as prime minister in 2020, became the target of opposition MPs' ire this year when attempts to test whether Muhyiddin had the confidence of the majority in the House came to naught.
As the year began, an emergency was declared in the effort to contain the spread of the novel coronavirus. In a televised address to announce the move, Muhyiddin said parliament would be suspended until Aug 1.
However, when cases rose to then record levels, threatening to overwhelm the health system, critics questioned whether the emergency was an effective measure against the pandemic. Members of parliament (MPs) called for a parliamentary debate on the government's response to Covid-19 and its economic impacts, and for the Muhyiddin administration to prove its legitimacy.
In June, Yang di-Pertuan Agong Al-Sultan Abdullah Ri'ayatuddin Al-Mustafa Billah Shah said in a letter that parliament should sit as soon as possible and that a stable, strong and effective government was needed to tackle the pandemic.
Following this, two motions of no confidence in Muhyiddin were submitted by opposition leader Datuk Seri Anwar Ibrahim and Gua Musang MP Tan Sri Tengku Razaleigh Hamzah. However, Azhar said he was powerless to speed up their motions before government business was dealt with.
He retained his position after Datuk Seri Ismail Sabri Yaakob succeeded Muhyiddin in August. Anger at Azhar's inaction led MPs to file 15 motions for the speaker to be changed. In a heated session in September, Deputy Speaker Datuk Rashid Haron told the House that all 15 motions were rejected because they did not meet with the requirements in the Standing Orders. — By Rash Behari Bhattacharjee
Datuk Seri Azalina Othman Said
Former deputy speaker of Dewan Rakyat, special adviser to the prime minister on law and human rights and member of parliament for Pengerang
Datuk Seri Azalina Othman Said was noteworthy for upholding the parliamentary norm when she resigned as deputy speaker of the Dewan Rakyat in August following the appointment of Datuk Seri Ismail Sabri Yaakob as the prime minister.
She was chosen for the post when Tan Sri Muhyiddin Yassin became prime minister in 2020 after the Pakatan Harapan government fell. The Pengerang representative was among 15 Umno MPs who later withdrew their support for Muhyiddin, leading to the collapse of his administration of 17 months.
She had hoped her resignation would give more room for the government and opposition to reset the Dewan Rakyat so that it could truly function as a forum for professional competition between parties on policies and governance.
Responding to public sentiment against party-hopping, she submitted a private member's bill to parliament in September that would provide for MPs to be dismissed if they switched parties. When the bill was rejected, Azalina submitted a second version with amendments that aimed to enhance its deterrent effect on party-hopping.
In December, Azalina was in the news for her defence of DAP MP Hannah Yeoh, who was criticised for wearing a headscarf to attend a function at a mosque. Saying that it was the responsible and professional thing to do, she commended Yeoh for not only serving her constituency but observing mosque etiquette.
"After 64 years of Merdeka, are we not ashamed to still resort to hateful politics using race and religion? Enough-lah," Azalina had tweeted. — By Rash Behari Bhattacharjee
Tan Sri Zeti Akhtar Aziz
Former governor of Bank Negara Malaysia
Tan Sri Zeti Akhtar Aziz was dragged into controversy this year due to her husband's alleged link to the 1Malaysia Development Bhd (1MDB) scandal.
Last month, the Malaysian Anti-Corruption Commission revealed that US$15.4 million of 1MDB-linked funds that it had recently recovered from Singapore were held by a company — Cutting Edge Industries Ltd — that was partly owned by Zeti's husband, Datuk Tawfiq Ayman.
The development raised questions as to how much Zeti, who retired from Bank Negara in April 2016 after 16 years as governor, knew about her husband's dealings.
In March, the police said they were investigating Tawfiq in connection with 1MDB funds, and it is understood that this is still ongoing.
Zeti, 73, is scheduled to be called by the prosecution in former prime minister Datuk Seri Najib's Razak's 1MDB-Tanore trial, to be its 26th witness.
Najib had, in relation to that case, filed an application with the Court of Appeal to obtain documents of companies believed to be related to certain people, including fugitive businessman Low Taek Jho, Tawfik and one of Zeti's sons.
The court fixed March 16, 2022, to hear his appeal.
This was after a High Court judge in July dismissed Najib's application, saying he could not see how obtaining the documents on Zeti and her family would be relevant to the defence's case. He also panned it as a "collateral attack" on Zeti and suggested that the defence could question Zeti when she is called to the witness stand.
Zeti retired from her role as chairman of Permodalan Nasional Bhd and Sime Darby Property Bhd in April and May respectively. — By Adeline Paul Raj
Tan Sri Tommy Thomas
Eighth attorney-general
Former attorney-general Tan Sri Tommy Thomas, who resigned from the post in February last year, still made the headlines this year.
After Datuk V Sithambaram and he led the prosecution to secure Datuk Seri Najib Razak's conviction in the High Court, his book, My Story: Justice in the Wilderness, was published in early January and immediately courted controversy as it mostly detailed his experience as a non-Malay AG post-Merdeka helming the Attorney-General's Chambers, and his experiences advising Tun Dr Mahathir Mohamad during the latter's second stint as prime minister.
In the book, Thomas explained his decision to charge former prime minister Najib; Najib's wife, Datin Seri Rosmah Mansor; and others in relation to 1Malaysia Development Bhd and its subsidiary SRC International Sdn Bhd.
He also wrote about his decision to prefer charges against former Asian International Arbitration Centre director Datuk N Sundra Rajoo, which also attracted attention as Sundra Rajoo had managed to have his criminal breach of trust charges set aside by the High Court. It was eventually affirmed by the Federal Court, which ruled he had immunity of action.
Following his win, Sundra Rajoo filed a RM10 million suit and sought an apology from Thomas for malfeasance in public office, malicious prosecution and false imprisonment.
Najib, too, has filed a defamatory suit against Thomas over his observations in his book regarding the Altantuya Shaariibuu murder following Chief Inspector Azilah Hadri's application for a review of his murder conviction and sentence.
Thomas' action to drop graft charges against former Penang chief minister Lim Guan Eng in relation to an undersea tunnel project was also widely questioned, especially as the DAP secretary-general was charged for graft soon after by Thomas' successor, Tan Sri Idrus Harun.
The outcome of some of these suits against Thomas at the High Court may be known next year. — By Hafiz Yatim
Datuk Seri Najib Razak
Former prime minister and member of parliament for Pekan
Datuk Seri Najib Razak went from "Malu Apa Bossku" to "National Embarrassment" this year, as the Court of Appeal upheld the High Court's guilty verdict on all seven criminal charges against him in the misappropriation of RM42 million belonging to SRC International Sdn Bhd on Dec 8.
Najib's popularity was riding high this year as he capitalised on the people's anger towards then prime minister Tan Sri Muhyiddin Yassin's leadership over the management of the Covid-19 pandemic and economic crisis. He positioned himself as the champion of the people through many of his Facebook posts.
However, the three-man appellate court were not swayed in ruling that Najib's abuse of power conviction was safe. In fact, one of the judges, Datuk Abdul Karim Abdul Jalil, described the financial and national scandal at SRC International as a "national embarrassment".
Najib decried the remark, saying that during his tenure, he had created wealth for the country. The Pekan MP filed and succeeded in obtaining a stay of execution from the Court of Appeal. He will be appealing his case at the Federal Court.
As such, his eligibility to contest in the 15th general election will depend on whether he succeeds in overturning his conviction at the Federal Court.
Following the Court of Appeal's decision, will Najib be able to retain the support of his followers?
His popularity especially on social media had prompted former two-time prime minister Tun Dr Mahathir Mohamad to voice his view that Najib is planning for a return to the premiership, if he manages to get his convictions overturned.
With Umno returned as the leading force in Datuk Seri Ismail Sabri Yaakob's government and the Barisan Nasional coalition's win in the Melaka state election, what will be Najib's chances to return to power? — By Kamarul Azhar
Datuk Seri Ahmad Zahid Hamidi
President of Umno, member of parliament for Bagan Datuk and former deputy prime minister
The corruption trial of Datuk Seri Ahmad Zahid Hamidi took centre stage this year, with the Umno president facing a whopping 47 charges involving RM31 million in funds of Yayasan Akalbudi, a charity arm he created.
During the trial, Zahid applied to Judge Datuk Collin Lawrence Sequerah for temporary release of his passport to enable him to go to Germany for medical treatment. This was also around the same period that former prime minister Datuk Seri Najib Razak, his wife Datin Seri Rosmah Mansor and lawyer Tan Sri Muhammad Shafee Abdullah — all of whom have pending criminal trials — were granted release of their passports to go overseas for various reasons.
The court was told that Zahid was suffering from back and neck pain and needed to see a leading specialist in Munich. This left many quarters, including opposition lawmakers, questioning the decision of the courts to let him go despite his facing criminal charges.
It should be noted, however, that the prosecution did not raise any objections to Zahid's application for his passport.
On the political front, Zahid is on the ascendancy, having led his Barisan Nasional party to a crucial state election win in Melaka. The state election was perceived as a litmus test of sorts for the country's political parties as a general election could be called next year.
On Jan 24, the court will decide whether Zahid needs to enter his defence which, if required, will entail his spending more time in court, and uncertainties hanging over his political career. — By Timothy Achariam
Datuk Seri Tengku Adnan Tengku Mansor
Member of parliament for Putrajaya and former Federal Territories minister
At the end of last year, a Kuala Lumpur High Court convicted former Federal Territories minister Datuk Seri Tengku Adnan Tengku Mansor of graft for receiving RM2 million from Aset Kayamas Sdn Bhd chair Tan Sri Chai Kin Kong. Adnan was sentenced to 12 months' jail and fined RM2 million.
A day before the judgment was handed down, he held a mass wedding for his son in front of the Palace of Justice — the Covid 19 pandemic notwithstanding — and gave food to Putrajaya residents via a drive-through. Adnan is the parliamentary representative for the constituency.
Sometime in mid-July, however, the 70-year-old Umno treasurer walked away free after the appellate court decided by a 2-1 majority to allow his appeal.
Justice Datuk Suraya Othman and Datuk Ahmad Nasfy Yasin were the two judges who ordered an acquittal of the veteran politician while Datuk Abu Bakar Jais dissented.
The majority found and accepted Chai's testimony that the money deposited into Ku Nan's business account was a political donation for Umno, and that the prosecutors had not cross-examined Chai on this issue.
In his dissenting judgement, however, Justice Abu Bakar ruled that the court should have looked at the overall picture and questionable receipts issued by Umno, as well as the manner of and testimonies that Chai's money deposited in Ku Nan's Tadmansori Holdings Sdn Bhd had not make its way to Umno.
The prosecution filed a notice of appeal three days after the Court of Appeal decision in July, but The Edge subsequently discovered that the appeal had been withdrawn.
There are two versions as to how the appeal was withdrawn: First, the prosecution had not filed the petition by the deadline, as the petition contained the grounds of appeal; second, a letter had been sent to the Federal Court informing it of the withdrawal.
To date, Attorney-General Tan Sri Idrus Harun — formerly a Federal Court judge — has kept mum on the issue despite adverse comments from Malaysian Bar president AG Kalidas and calls by several leaders of the opposition for him to clarify the matter. — By Hafiz Yatim
Datin Seri Rosmah Mansor
Wife of former prime minister Datuk Seri Najib Razak
A public figure who is used to the limelight, Datin Seri Rosmah Mansor found herself cast in a less flattering light when she took the stand after she was called to enter her defence in her ongoing solar hybrid project graft trial. Near the end of her testimony, she broke down and insisted that the charges against her were malicious. "This is zalim and kejam (cruel) to me and my family. This is a malicious and selective prosecution against me," she said before dissolving into tears. "I am sorry, your honour," she then apologised.
After her time on the stand, the prosecution, led by Datuk Seri Gopal Sri Ram, applied for and was granted approval to commence impeachment proceedings against her.
Justice Mohamed Zaini Mazlan also allowed the prosecution's application to cross-examine Rosmah's character on the charges she faces under the Anti-Money Laundering, Anti-Terrorism Financing and Proceeds of Unlawful Activities Act relating to bank deposits allegedly made by her aide, Roslan Sohari, into her account.
On a separate matter, Rosmah's request for access to her passport so that she could fly to Singapore to visit her daughter who had just given birth was granted by the court, outraging netizens and members of the opposition who pointed out the double standard.
Rosmah's husband, former prime minister Datuk Seri Najib Razak, and First Lady of Malaysia officer, Datuk Seri Siti Azizah Sheikh Abod, are her fellow witnesses. — By Timothy Achariam
Lim Guan Eng
DAP secretary-general and member of parliament for Bagan
The former finance minister had the chance to position DAP as a "kingmaker" in August. It was when Tan Sri Muhyiddin Yassin had reached out for the support of the party's 42 MPs so that Perikatan Nasional could remain in power in the face of adversity from Umno.
But Lim did not accept the offer despite early discussions conducted by representatives of both parties. Eventually, Muhyiddin gave up the premiership to Datuk Seri Ismail Sabri Yaakob, who is leading an Umno-led government.
As for Lim, he continues to face challenges on both the political and judiciary fronts.
The 61-year-old is facing two cases where he is charged with alleged corruption and money laundering involving projects in Penang. In one of the cases, his wife Betty Chew and a businesswoman have also been implicated together with him. Lim has claimed that the charges brought against him and his wife were politically motivated.
On the political front, Lim is heading a DAP that is losing the support of segments of voters that were with the party in the 2018 election. He is also confronted with a DAP that is seen as having two opposing forces within the party.
The old guards within the party feel that DAP is not "Chinese enough" and want it to be more aggressive in fighting for equal rights for all Malaysians. They also would like to see the party revert to standing on its own symbol instead of a united opposition front using the Keadilan logo.
The new leaders in the party feel that the party has to take a more moderate stance, taking cognisance of a growing percentage of Malay-Muslim voters and that DAP is an easy target of Bersatu, PAS and Umno.
They want the party to accommodate more non-Chinese candidates as they believe that the party has a better chance of countering attacks related to racial and religious issues.
Lim's tenure as party secretary-general should come to an end when the party holds its next national-level elections. DAP's parliamentary leader Anthony Loke is tipped to take over the most powerful position in the party while Lim may be made chairman.
In whatever position, the going is likely not going to be easy for Lim. — By M Shanmugam