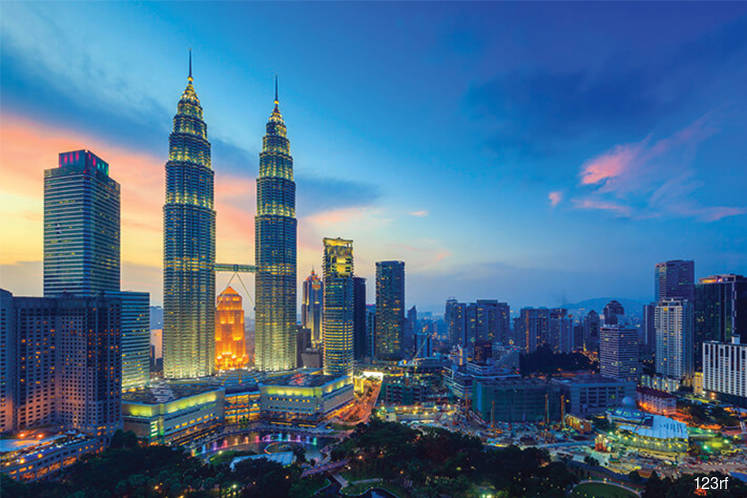 KUALA LUMPUR (Dec 11): TA Securities Research said 2018 is expected to be a mixed bag with the impending 14th General Election driving up the FBM KLCI in 1H18 before ending the year at 1,835, based on 16x CY19 EPS.
In his 2018 Annual Strategy report dated Dec 8, TA Securities' Kaladher Govindan said that on the local front, the resilient economy, corporate earnings recovery, crude oil price stability and FBM KLCI's undemanding valuation vis-à-vis regional peers are valid drivers for the equity market.
He explained that a Barisan Nasional (BN) victory would be another plus factor to hold up market sentiment momentarily on continuity in policy matters.
Kaladher said any rally could fizzle out in 2H18 without the active participation of foreigners as continued monetary tightening in the US and the beginning of similar measures in Europe will squeeze out liquidity in emerging markets.
He added that geopolitical shock represents a clear and present danger for financial markets, which can be amplified further if an anti-euro party wins the Italian election next spring.
On the local front, he advised investors to anticipate history to repeat itself in 2018 as investors seek abnormal returns during pre- and post-election.
"The FBM KLCI could peak in 1H18, presuming election is in March or April, on BN victory and vice versa," he said.
On the economic outlook, Kaladher said Malaysia's gross domestic product has outperformed expectations in the first three quarters and could average 6% this year.
"Our economic growth forecast for CY18 and CY19 is 5.4% and 5.1% respectively.
"Corporate earnings of FBM KLCI members are expected to grow by 5.1% and 7.0% (consensus 6.5% and 5.6%) versus the region's 11.7% and 11.1% respectively in the same period," he said.
On crude oil prices, Kaladher forecast average price of US$60/bbl and US$65/bbl in 2018 and 2019 respectively, backed by improved global demand and sustained production cuts after averaging US$55/bbl in 2017.
He highlighted that every US$1/bbl reduction in oil price could lower fiscal deficit by 2 basis points in 2018 from his forecast 2.8%.
The report said major short-term risks stem from external factors.
"Policy measures, protectionism, unfavourable election results and geo-political shocks in the Middle East and Korean Peninsula will increase market volatility. Rising crude oil prices and tax cuts in the US can induce greater monetary tightening," it said.
"For exposure, we recommend undervalued blue chips in banking, plantation, telco and utilities, stocks in the construction and building materials, consumer and media (especially stocks that will benefit from policy measures and FIFA World Cup) sectors, and small/mid cap plays with good fundamentals and earnings growth," said Kaladher.