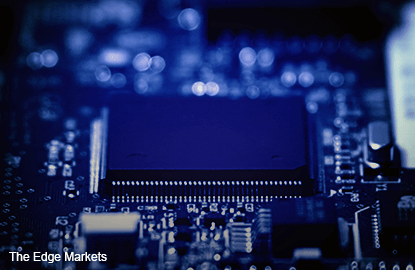 KUALA LUMPUR (Jan 11): 2016's global semiconductor merger and acquisition activity exceeded a staggering US$130 billion while China's rapidly growing integrated circuit (IC) production is forecast to reach more than 20% of global output in 2020, according to chief technology officer and senior vice president of worldwide R&D at Silicon Valley-based GlobalFoundries, Dr Gary Patton.
Patton said this when delivering his keynote address at the annual US-based Semiconductor Equipment and Materials International (SEMI) Industry Strategy Symposium yesterday in California.
In a summary of the address on the SEMI website, Patton identified five areas of semiconductor growth: IoT (Internet of Things), Automotive, 5G (mobile network), AR & VR (Augmented & Virtual Reality), and Artificial Intelligence.
From 2016 to 2025, Patton forecasted that semiconductor IoT content will grow from US$15 billion to US$62 billion, Automotive will grow from US$32 billion to US$51 billion, 5G will grow from US$0 to US$20 billion, AR/VR will grow from US$4 billion to US$131 billion, and Artificial Intelligence will grow from US$5 billion to US$50 billion.
For these different growth areas, Patton sees a variety of solutions, what he termed "the right technology for the right application." 
This includes FinFET, FD-SOI, and different technology nodes selected for specific applications.  DTCO (Design-Technology Co-Optimization), and collaboration with not just suppliers, but sub-suppliers, raw materials and components manufacturers were key tools for success with Patton calling for greater cooperation in working within SEMI's Semiconductor Components, Instruments, and Subsystems (SCIS) Special Interest Group.