This article first appeared in The Edge Malaysia Weekly, on December 30, 2019 - January 05, 2020.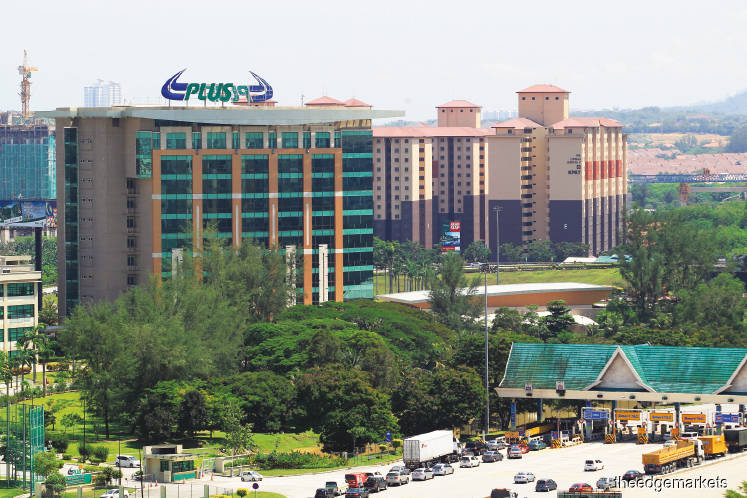 THE last decade ended pretty much the way it began — with corporates eyeing the lucrative PLUS Expressways Bhd.
But the intervening years amounted to a decade of two halves for major government-linked investment companies (GLICs) operating on Bursa Malaysia and the government-linked companies (GLCs) they control.
The first half was marked by a string of incidents and major corporate deals, with Permodalan Nasional Bhd (PNB) garnering its fair share of these.
First, a scandal exploded in 2010 at the PNB-controlled conglomerate Sime Darby Bhd amid huge losses at its energy and utilities unit. Founding CEO Datuk Seri Ahmad Zubir Murshid eventually left in disgrace and Tan Sri Mohd Bakke took over and, later, presided over the break-up of the conglomerate which was completed by end-2017, ten years after the mega-merger that created it.
Meanwhile, in 2011, PNB decided to take over majority control of S P Setia Bhd, long seen as one of the country's premier property developers. Tan Sri Liew Kee Sin, the face of the brand, retired and joined the board of of Eco World Development Group Bhd.
Another remarkable deal was a RM729 million share-plus-cash acquisition by Malaysian Resources Corp Bhd (MRCB) of the assets of Gapurna group.
As part of the 2013 deal, Gapurna's Tan Sri Mohamad Salim Fateh Din took the helm at MRCB when the Employees Provident Fund (EPF), which controls MRCB, decided to have an entrepreneur steer the ship.
In 2014, Malaysia Airlines — obviously floundering again and in need of yet another injection of funds — saw Khazanah Nasional Bhd calling time on yet another failed attempt to turn around the national airline and embarking on a fresh RM6 billion rescue plan (see "Navigating turbulence, tragedies and shifting runways").
That preceded the completion in 2015 of Khazanah's 10-year GLC Transformation Programme involving the G20 companies. It is worth noting that the 20 GLCs comprised not only Khazanah-controlled GLCs but also those controlled by other GLICs such as Lembaga Tabung Angkatan Tentera (LTAT), Lembaga Tabung Haji (TH), PNB and EPF.
Among others, the programme sought to strengthen governance and professionalism at the GLCs, including reducing the risk of political interference. Whether that particular objective was successful remains subjective.
In the second half of the decade, a common theme emerged: falling returns and sustaining good returns on investment became increasingly challenging, as was the case globally.
Politically, this was a problem as GLICs are expected to support the government/political narrative of economic growth and to improve national well-being.
The cracks began to show.  TH, for example, was paying dividends out of retained earnings, which led to Bank Negara Malaysia sending it a warning letter on the unsustainable practice in December 2015.
The issue preceded a swathe of historic changes at various GLICs. In 2016, PNB had its first leadership change in almost two decades as Tan Sri Abdul Wahid Omar assumed the chairman's role.
In the same year, TH saw Tan Sri Ismee Ismail leave the managing director's post after 10 years, amid the retained earnings controversy. Datuk Seri Johan Abdullah took over with a mandate to revive earnings and to reset the unsustainable payout ratios so TH could survive.
However, an unexpected change in the federal government in May 2018 resulted in an even bigger upending of the GLIC landscape. Many of the familiar mainstay corporate names were shown the door, including Tan Sri Azman Mokhtar (Khazanah) and Datuk Wan Kamaruzaman Wan Ahmad (Kumpulan Wang Persaraan [Diperbadankan] [KWAP]).
They were replaced by lesser-known faces and even relative outsiders in what was mooted as a political reset of GLICs and GLCs.
THE OLD GUARD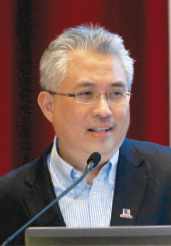 Tan Sri Azman Mokhtar
For a generation of much younger Corporate Malaysians, Azman had always been the face of Khazanah Nasional Bhd. His departure from the sovereign wealth fund in August 2018 dropped the curtain on more than 14 years in the driver's seat as he had assumed the managing director's role in 2004, as Khazanah's first professional manager, having made his name as an analyst.
At the beginning of the decade that just ended, he was midway through steering a GLC Transformation Programme that ended in 2015. The 10-year transformation programme was a follow-up to his call in 2004 for GLC professionals to "execute or be executed". Among others, the programme sought to instil a high-performance culture in GLCs.
The programme came amid further growth of Khazanah's net worth adjusted, which hit an audited RM115.6 billion as at Dec 31, 2017, or 3.5 times more than when Azman took over in 2004. The decade also saw the further execution of the special economic zone of Iskandar Malaysia in Johor, where Khazanah led the way with mixed results.
Overseas, Khazanah invested in foreign markets, including China, India, the Middle East and Turkey. A prominent example of its investment was in e-commerce firm Alibaba Group Holding, which eventually yielded over RM6 billion in gains.
But one particular puzzle continued to stump Azman — Malaysia Airlines. Having come up with the so-called Widespread Asset Unbundling programme to turn around the ailing airline prior to joining Khazanah, Azman continued attempting in the last decade to keep the carrier from stalling, but this time from the Khazanah hot seat.
Unfortunately, all his attempts were without success.
A few months after Pakatan Harapan's electoral win in May 2018, Azman stepped down in August alongside the rest of Khazanah's board to offer the new government a fresh start.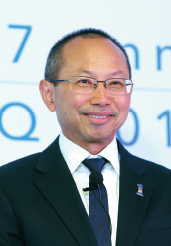 Tan Sri Abdul Wahid Omar
It was a roller-coaster decade for Abdul Wahid, who built on his reputation as a turnaround and restructuring specialist. He began the decade by steering Malayan Banking Bhd (Maybank) out of a challenging 2009 into record profitability the following year.
Pushing through a group-wide transformation at Maybank and leveraging various acquisitions across Asean, Abdul Wahid repositioned Maybank as a regional player, shedding its previously staid and stodgy image.
But after the general election in 2013, Abdul Wahid stepped back from the corporate landscape for national service: he became a senator and joined the Prime Minister's Department as minister in charge of the Economic Planning Unit.
In his own words, his mandate was "to apply the private sector perspective in government". Wahid served his full term and by 2016 retired from the Senate to take on a different challenge, PNB, becoming its first new chairman in two decades. It was an interesting turn of events given that PNB is Maybank's biggest shareholder.
His mandate: restructure and drive change to boost earnings and increase returns for PNB's unitholders, an important voting demographic.
The first stage of his six-year plan was to break up the Sime Darby conglomerate, demerge the oil and gas arm of UMW Holdings Bhd and split Chemical Company of Malaysia Bhd into two separate firms.
The media-friendly Abdul Wahid was an abrupt cultural change for PNB, which became more open and transparent. However, his three-year contract was cut short as the ground beneath GLICs shifted following the 2018 change of government. Abdul Wahid stepped down the following month to make way for former central bank governor Tan Sri Zeti Akhtar Aziz.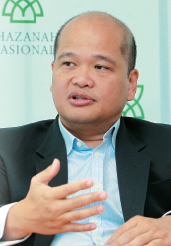 Datuk Shahril Ridza Ridzuan
A familiar name in the GLC landscape, Shahril kicked off the decade in transition. In December 2009, he had just left MRCB as managing director and joined EPF as deputy CEO, having overseen a number of MRCB's achievements, which included the successful development of KL Sentral as a commercial centre.
Fast forward 10 years later, and Shahril had risen to lead not one but two of the country's most important GLICs in close succession, remarkably surviving the culling of top GLIC and GLC leadership after the May 2018 change in government.
Soon after he joined EPF, the pension fund launched a takeover of MRCB. Already holding about 30% at the beginning of 2010, EPF's stake rose to 42% following a rights issue subscription, triggering a mandatory general offer.
By 2013, Shahril had succeeded Tan Sri Azlan Zainol as CEO of EPF. He was filling large shoes as Azlan ended his 12-year tenure at EPF in 2012, with the highest gross investment income, leading to its biggest dividend payout of RM27.45 billion.
However, Shahril rose to the challenge and by 2017, his last full year at EPF, the fund hit RM53.14 billion in gross investment income and RM44.15 billion in dividend payout, a historic high.
The new government then tapped him to lead Khazanah Nasional following a clear-out of the previous leadership.
Shahril's mandate was to reset Khazanah's commercial-driven strategy to be more in line with a traditional sovereign wealth fund and steer it back to playing a strategic developmental role on behalf of the Malaysian government and public.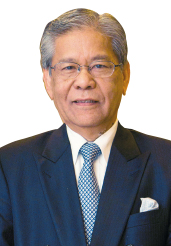 Tan Sri Lodin Wok Kamaruddin
A longtime household name in Corporate Malaysia, Lodin kick-started the decade with a bang. He led the Boustead group on an acquisition spree that included taking over a majority stake in Pharmaniaga Bhd from UEM Group.
The corporate manoeuvres were made in a quest for dividends and returns to shareholders, not least Boustead group's ultimate controlling entity, the Armed Forces Fund (LTAT), which Lodin had led as CEO since 1982. In 1991, Lodin was made managing director of Boustead group.
But the twin whammy of 2014's plunge in oil and crude palm oil prices led to heavy declines and even massive losses across multiple subsidiaries and Boustead Holdings, the flagship entity, saw its worst loss in 13 years in 2015.
Separately, Lodin also began the decade as chairman of 1Malaysia Development Bhd and stayed on as the scandal slowly unfolded until he led the entire board to resign en masse in early 2016.
In a rare interview in the later part of 2016, Lodin told The Edge that he and his board did their best to uphold governance standards at 1MDB. As for the Boustead group, he said at the time that a turnaround plan was underway to steady the ship.
People familiar with Lodin maintain that he fell victim to his own sense of loyalty when it came to 1MDB. Regardless, he was among key GLIC chiefs that departed Corporate Malaysia after the 2018 election.
Lodin's remarkable longevity at the top may never be seen again in the domestic corporate landscape — his rise and fall at LTAT and Boustead group occurred under the same prime minister, Tun Dr Mahathir Mohamad, 3½ decades apart.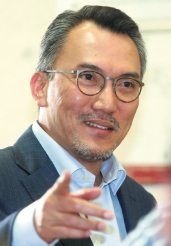 Tan Sri Ismee Ismail
Having assumed the helm of TH in 2006, the first half of the last decade saw Ismee's tenure as managing director and CEO winding down and eventually ending under a cloud of controversy, the severity of which was only understood much later.
Depositors of the pilgrims' fund were happy that Ismee sustained high returns despite an increasingly turbulent investment landscape. In 2010, TH's returns were 5.5% compared with 3.25% in 2001. By 2012, returns had risen to an impressive 8% and, in 2014, 8.25% — the highest since 1998.
But a letter of caution from Bank Negara to the government in December 2014 shed light on the true situation — TH had in fact been paying out more dividends than it earned since 2012, resulting in depleting reserves that eventually turned negative.
By then, TH was also mired in another controversy as it had acquired land from 1Malaysia Development Bhd at 43 times the latter's original acquisition cost.
It is worth noting that Ismee was also a non-executive director of 1MDB as well as chairman of SRC International Sdn Bhd. Both 1MDB and SRC International are central to corruption charges against former prime minister Datuk Seri Najib Razak.
In mid-2016, Ismee left TH and stayed largely under the radar until the court hearings involving 1MDB and SRC International. After his departure, the TH strategic narrative changed to revitalising investment performance while reducing depositors' expectations vis-à-vis returns.
Tellingly, after May 2018, the new government revealed numerous damaging issues in TH that necessitated a RM10 billion bailout programme to restore the fund's financial health.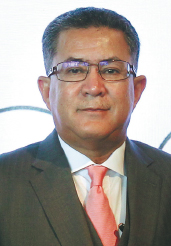 Datuk Wan Kamaruzaman Wan Ahmad
When the decade began, Wan Kamaruzaman was several years into his role in the Treasury Department of EPF. Just days before the 2013 general election, he was appointed CEO of KWAP.
Wan Kamaruzaman took the helm of a fund desperately trying to grow its asset base faster than the government's growing pension liabilities so KWAP could start shouldering some of the financial burden as soon as possible.
Every civil service salary bump shifts the goal posts higher for KWAP and its mandate appears nigh impossible. But KWAP can only do its best, Wan Kamaruzaman told The Edge in a 2017 interview.
Over the past decade as the 1MDB and SRC International scandal continued, KWAP also surfaced via multiple connections.
The first occurred before Wan Kamaruzaman's time — KWAP lent a total of RM4 billion to SRC International in 2011 and 2012, and where the money went to is now the subject of a criminal trial involving former prime minister Datuk Seri Najib Razak.
As for Wan Kamaruzaman, under his watch, KWAP acquired a building and land parcel in 1MDB's Tun Razak Exchange to be developed as the fund's new headquarters. To be fair, KWAP paid 15% less than the pilgrims' fund did in the latter's controversial acquisition in the development, although KWAP's price was still 30 times what 1MDB originally paid for the parcel.
Five months after the 2018 general election, Wan Kamaruzaman stepped down from the hot seat, though he had stated at the time that he did not intend to call time yet on nearly four decades in finance and investment.
THE OUTSIDERS
The 2018 general election changed the music in the game of musical chairs involving GLCs and GLICs of Corporate Malaysia that saw the exit of many of the old guard and the rise of new faces, which included relative outsiders, signalling the new government's intention to reset the institutions.

Tunku Alizakri Raja Muhammad Alias
Four years and eight months into his stint as deputy CEO (Strategy) at EPF, Alizakri was called to step into the hot seat as his predecessor Shahril left for Khazanah Nasional. For Alizakri, it was the culmination of a career that had taken him to various institutions, including Bank Negara, the Iclif Leadership and Governance Centre, Digi Telecommunications, Maybank and Sime Darby.
Alizakri inherited a well-run organisation that had turned in a robust investment performance over the years. Although he has yet to fully outline his vision for EPF, snippets of his thoughts across speeches and events indicate an inclination towards the social welfare of EPF members alongside financial returns.

Jalil Rasheed
Only 38 years old when given the nod to helm PNB as its CEO in August this year, Jalil's appointment took many in Corporate Malaysia by surprise as he had mostly been based overseas. His résumé was stellar — a London School of Economics graduate, he rose to become CEO of Aberdeen Islamic Asset Management before joining Invesco in 2013 as its CEO (South Asia).
Moreover, he was brought in midway through a transformation programme that was introduced by former chairman Wahid and Jalil's own predecessor. However, his credentials as a global fund manager underscore PNB's intention to build its overseas investment capabilities.
Datuk Seri Zukri Samat
For much of the last decade, Zukri was managing director of Bank Islam up to June 2017, when he ended a 12-year stint in the role. But when the new federal government needed to clean up TH, he was called out of retirement in July 2018 to steer the pilgrims' fund through the restructuring.
Zukri inherited a fund whose liabilities exceeded assets by RM4.1 billion. TH cannot legally give hibah (dividends) in this state and had illegally paid hibah since 2014, it was revealed. By early 2019, Zukri had successfully overseen the divestment of TH's troubled assets to the government at book prices.
The divestment at book prices, despite underwater market valuations, meant TH's financial health was restored and it could legally resume paying hibah to depositors. However, 13 months into his two-year contract Zukri stepped down for health reasons and left at the end of August.

Syed Hamadah Syed Othman
As the KWAP hot seat was vacated, Syed Hamadah's appointment as CEO represented the entry of another relative outsider to a key GLIC position. Prior to taking on the role from Nov 1, 2018, Syed Hamadah was a director at Actuarial Partners Consulting Sdn Bhd, a pension and social security consultancy.
At Actuarial Partners Consulting, Syed Hamadah specialised in various facets of pension reform and other issues and had been heavily involved in past reviews of the pension, social security and healthcare system in Malaysia. While he has remained under the radar since taking the helm at KWAP, time will tell whether he is able to make his mark on the GLIC and take it to greater heights.