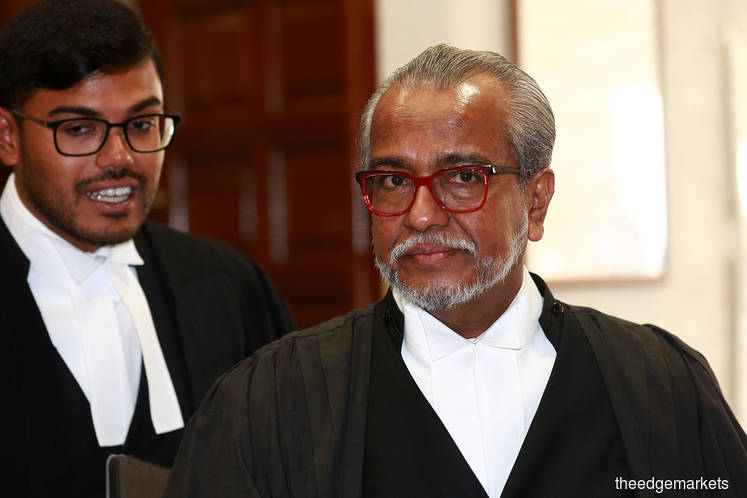 KUALA LUMPUR (Sept 19): An email between PetroSaudi International (PSI) executives in August 2010 which touched on points discussed with alleged 1Malaysia Development Bhd (1MDB) fiasco mastermind Low Taek Jho — better known as Jho Low — indicates that former prime minister Datuk Seri Najib Razak was also manipulated by the fugitive businessman, claimed Najib's lawyer Tan Sri Muhammad Shafee Abdullah.
From the email between PSI executives Patrick Mahony and Tarek Obaid, it is shown that the duo plotted with Jho Low not to tell Najib that 1MDB will incur a US$500 million loss on investment from 1MDB-PSI business collaboration.
Instead, they would convince Najib of how important it was for 1MDB to quickly invest another US$500 million with them.
Shafee cited The Edge Weekly cover story in June 2018 "How PetroSaudi executives plotted what to tell Najib", which published the email.
"Things were done behind the PM's back in complete dishonesty by Mahony, Obaid and Jho Low… This is an example of what you meant, that Jho Low was a master manipulator," said Shafee during the cross-examination of Najib's former special officer Datuk Amhari Efendi Nazaruddin.
"I am suggesting there was the possibility that your own prime minister was being manipulated," Shafee added.
"I agree… There's a possibility," Amhari replied.
Amhari also agreed with Shafee that in his witness statement, he referred to only Jho Low as a 'master manipulator' while Najib was not involved in the manipulation of 1MDB.
Previously, Amhari testified that he was one of the two officials in the Prime Minister's Office (PMO) who frequently met Jho Low in secret meetings on 1MDB matters.
Amhari also testified that Najib instructed him — as the sole secret envoy for the then-prime minister — to go to China to facilitate 1MDB's bailout, and to Abu Dhabi to resolve 1MDB's debt woes with Mubadala Investment Co in a bid to prevent the dispute from landing in the International Arbitration Court.
It has been reported that Najib was informed about what Jho Low did in relation with 1MDB since as early as March 2015, but did not act upon the information provided.
Amhari denies Jho Low-1MDB documents kept for 'insurance'
At the trial today, Amhari disagreed with Shafee's allegation that he purposely kept 1MDB-related documents that were given to him by Jho Low as insurance in case the 1MDB fiasco blew out in the open.
Jho Low had instructed Amhari to shred all documents in relation to their discussions, but Amhari kept some in his cousin's property along Persiaran Tropicana.
The documents were eventually seized by the Malaysian authorities after the last general election in 2018.
"You decided to work with MACC (the Malaysian Anti-Corruption Commission) so that your own problems will be treated leniently, for offences that you obviously did," said Shafee.
The Edge Financial Daily reported on June 26, 2018 that one of Najib's special officers had received RM62 million originating from 1MDB from the former premier through digital media agency Orb Solutions Sdn Bhd from 2011 to 2014.
The 1MDB-Tanore trial revealed that Amhari was the founder and the largest shareholder of Orb Solutions.
"I mean, you are still not charged. This is a tit-for-tat, where you provide some information for them that would incriminate my client," said Shafee. Amhari disagreed.
Najib faces four charges of abuse of power and 21 counts of money laundering involving billions of ringgit in 1MDB funds.
The trial continues.
The Edge is reporting the proceedings of the 1MDB-Tanore trial live.
Users of The Edge Markets app may tap here to access the live report.
See also:
Cover Story: How PetroSaudi executives plotted what to tell Najib
Arrested over RM62 million?