This article first appeared in The Edge Malaysia Weekly, on September 30, 2019 - October 06, 2019.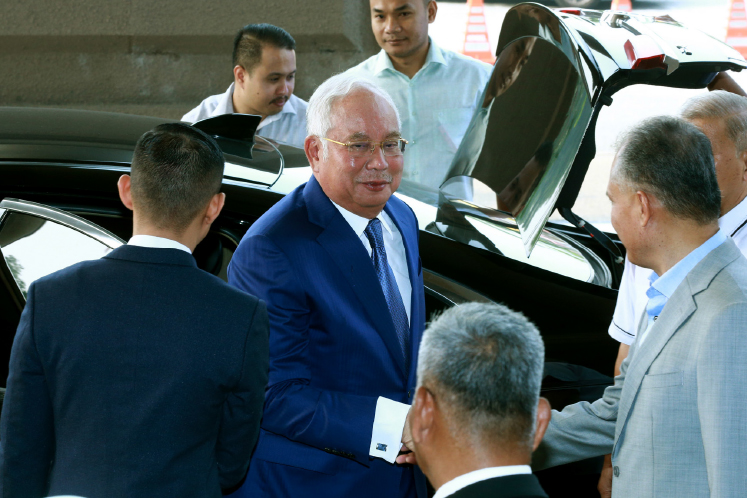 Photo by Sam Fong/The Edge
FROM the get-go, and contrary to his previous assertions that he was unaware of the dubious transactions in 1Malaysia Development Bhd (1MDB), Datuk Seri Najib Razak sought to hide the irregular, wrongful activities of the state investment fund from public scrutiny, a witness in his trial testified last week.
Using all the powers vested in him as prime minister and finance minister, Najib prevented an audit of 1MDB by the National Audit Department (NAD) following the termination of the Terengganu Investment Authority in 2009 and transfer of its ownership to 1MDB.
A company under Minister of Finance Inc, 1MDB was then in its first year of operation but already bleeding red ink badly, and an audit would have posed a "political risk" to Najib, who was also chairman of the board of advisers at 1MDB, said former 1MDB CEO Datuk Shahrol Azral Ibrahim Halmi, the ninth prosecution witness.
On the instructions of alleged mastermind Low Taek Jho, better known as Jho Low, whom the prosecution contends acted in cahoots with Najib to misappropriate billions of 1MDB's funds, Shahrol said he wrote a letter to the NAD stating that Najib did not consider an audit to be necessary and that Ernst and Young would be appointed external auditors.
"The letter stated that the takeover of the Terengganu Investment Authority to become 1MDB was done on an 'as is where is' basis, and because of that, it would not have to be audited or a due diligence conducted by the National Audit Department," said Shahrol.
He added that 1MDB's injection of US$1 billion — raised from a RM5 billion Islamic medium-term note issuance — into a joint venture with PetroSaudi International (PSI) in September 2009, had yielded zero returns while the acquisition of independent power producers had saddled it with further debts.
Moreover, of the sum invested, US$300 million went to PSI while the remaining US$700 million went to Good Star Ltd, a company owned by Jho Low — a fact Shahrol claimed he had not known until he was informed by the Malaysian Anti-Corruption Commission in 2015.
Last week, the prosecution produced documents showing that Good Star had transferred US$10.17 million to Red Granite Pictures. In 2011 and 2012, Najib's stepson, Riza Shahriz Abdul Aziz, was a director of the Los Angeles movie company.In an interview with Sinar Harian last November, Najib had said he was unaware of the problems and insisted the board of directors, auditors and Goldman Sachs were to blame for not alerting him to the illegal activities taking place in 1MDB.
Pushed to the wall in 2015, following reports that RM2.6 billion had been deposited in his personal bank accounts, Najib finally allowed the NAD to conduct an audit of 1MDB, only to classify the report under the Official Secrets Act. The report was only declassified last year.
In October 2009, because 1MDB's board of directors were unhappy with the joint venture, Shahrol said, he informed Najib of the lack of progress in the PSI joint venture and the board's request for the diverted US$700 million to Good Star to be returned. However, he was told a valuation of the joint-venture assets was not necessary as the joint venture was a government-to-government deal and involved the government's reputation.
In spite of 1MDB's dismal performance and mounting debts, Najib saw fit to give himself a generous allowance. In June 2010, the 1MDB board passed a directors' circular resolution that Najib, as chairman of the board of advisers, would get RM120,000 annually and the other members of the board of advisers, RM96,000 each. Shahrol told the High Court that Najib approved the amount in his capacity as chairman of the board of advisers.
He also testified that on a visit to London in 2011, Najib received an expensive watch from PSI co-founder Tarek Obaid at a meeting at Four Seasons Hotel. He said they did not discuss bringing 1MDB's US$1.83 billion, which was invested together with PSI, back to Malaysia, although that was supposed be the key purpose of the visit.
Shahrol further revealed that Najib had faked 1MDB minutes in April 2011, drafted by Jho Low, that gave the go-ahead for 1MDB to lend another US$750 million to PSI as part of a murabaha financing agreement even though the joint venture had yet to bring any returns to 1MDB.
Shahrol maintained that he had not attended such a meeting. The minutes included instructions on a proposed takeover of UK-based Maybourne Hotel Group via a joint venture with Aabar Investments PJS Ltd.
"I would like to state that the suggestion for Maybourne was not planned or discussed by the 1MDB board, and I believe that Jho Low only wanted to use 1MDB's name to bid for the hotel," Shahrol said, adding that he felt 1MDB was too invested overseas and ought to focus on Bandar Malaysia and Kuala Lumpur International Financial District (now called Tun Razak Exchange).
Following PSI's suggestion to increase 1MDB's investment in the joint venture (termed as a loan of US$750 million), Shahrol said Najib recommended tapping the Social Security Organisation for funds. However, this did not materialise. In the end, 1MDB lent the joint venture US$330 million, which it obtained from a RM2.5 billion syndicated loan from AmBank and Standard Chartered Bank.
Shahrol will continue his examination-in-chief on Monday.