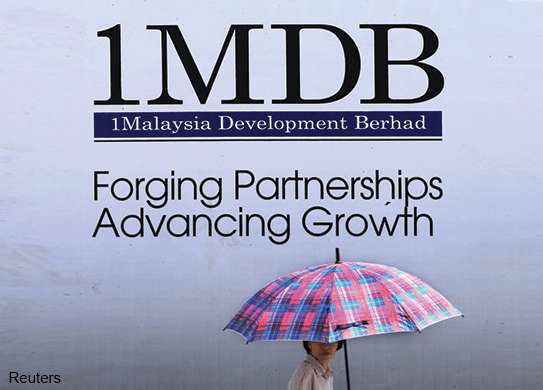 KUALA LUMPUR: 1Malaysia Development Bhd (1MDB) said today that it had "conversations" with Fitch Ratings prior to the latter's revision of Malaysia's credit rating outlook from 'negative' to 'stable' on June 30 (Tuesday), to discuss 1MDB's current situation.
"In relation to 1MDB, we had conversations with Fitch in advance of the upgrade, in which we discussed the company's current situation and provided confidence on the measures being taken.
 
"We were open about the challenges we face, outlined our efforts to reduce the company's debt as presented in our rationalisation plan, and provided information on the various actions that have already been taken including the repayment of a RM3.6 billion loan in June," said 1MDB president and group executive director Arul Kanda Kandasamy.
In the same statement, Arul said he was proud that Fitch had revised the country's credit rating outlook and said that the recognition was a "result of an independent review by an external party and represents recognition of the growing strength of the Malaysian economy".
 
He further said that the outlook revision is evidence of the government's success in ensuring the continued economic stability of the country. 
"The Ministry of Finance and Bank Negara in particular have done a commendable job in highlighting the positives of our economic success story," he added.
On June 30, Fitch had affirmed Malaysia's credit rating at 'A-' and revised its outlook to 'stable', saying that Malaysia's fiscal finances have improved since last year with the general government deficit falling from 4.6% of gross domestic product (GDP) in 2013 to 3.8% of GDP in 2014, and general government debt-to-GDP ratio declining from 54.7% at end-2013 to 53.9% at end-2014, as per Fitch's estimates.
However, it had also noted that federal government debt and explicit guarantees had continued to rise, saying that total federal government explicit guarantees as at end-2014 rose to 16% of GDP from 15.4% a year earlier.
"Fitch continues to believe that Malaysian sovereign is incurring additional contingent liabilities beyond explicit guarantees because of quasi-fiscal operations of state-owned entitty 1MDB. Fitch thinks there is a high probability that sovereign support for 1MDB would be forthcoming if needed," its statement had further read.