This article first appeared in The Edge Malaysia Weekly, on January 28, 2019 - February 03, 2019.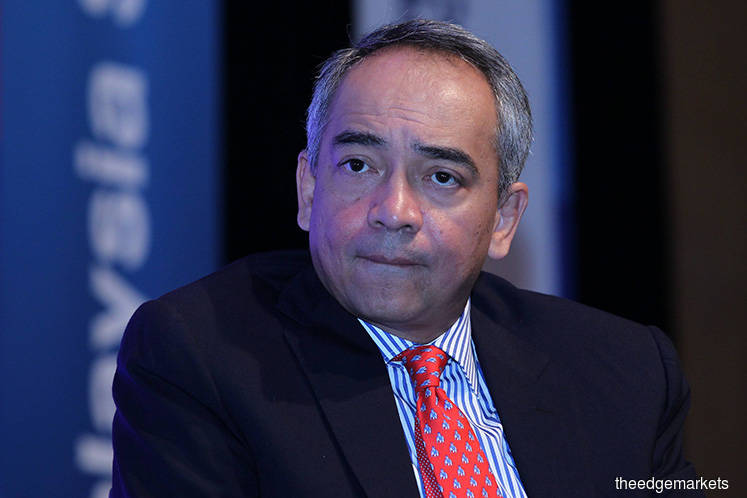 BLOOD is thicker than water. Yet, Datuk Seri Nazir Razak said he too feared for his life when there was a crackdown on critics of 1Malaysia Development Bhd (1MDB), which was started by his elder brother Datuk Seri Najib Razak in 2009.
"Suddenly, there was a clampdown on 1MDB investigations. The Edge editor was held overnight. The Edge was suspended for a few weeks. At that time, I began to also fear for my safety," Nazir revealed in the 86-minute documentary The Kleptocrats: The billion-dollar scandal that shook Hollywood, which follows the investigations conducted by foreign journalists from The New York Times, The Wall Street Journal (WSJ) and The Hollywood Reporter.
While questions had been raised back home for some time, tensions mounted in July 2015, soon after WSJ's expose on July 2, 2015, that directly linked Najib to 1MDB. Citing documents from a Malaysian government probe, WSJ said investigators had traced US$681 million (RM2.6 billion) from 1MDB flowing into the personal bank accounts of the former prime minister.
"I happened to be on holiday and over breakfast, I picked up the WSJ and I was stunned. US$681 million … I fell off my chair, to be honest," Nazir told the interviewer.
It was also in late-July 2015 that Tan Sri Muhyiddin Yassin was replaced by the then home minister Datuk Seri Ahmad Zahid Hamidi as deputy prime minister. Four other ministers were also dropped following a Cabinet reshuffle. Former Attorney General Tan Sri Abdul Gani Patail, who had led a high-level probe into allegations of 1MDB money appearing in Najib's personal accounts, was also replaced.
The Edge Weekly and The Edge Financial Daily, which had scrutinised all 1MDB transactions since 2013 and detailed how Jho Low and PetroSaudi cheated Malaysia of US$1.83 billion cash, was slapped with a three-month suspension order by the Home Ministry on July 24, 2015.
The documentary also featured The Edge Media Group publisher and CEO Datuk Ho Kay Tat's statement back then: "We will not apologise because we have not done anything wrong. We stand by everything we have published. And I would like to add one thing: none of the articles [on 1MDB] we have published have been challenged."
 
The Red Granite link to Penthouse 76B 
The Kleptocrats opens with a scene at a party in Cannes Film Festival in 2011 by Red Granite Pictures — founded by Najib's stepson Riza Aziz and Joey McFarland — whose résumé, according to a Feb 8, 2015, article in The New York Times by Louise Story and Stephanie Saul, neither had the income or experience to bankroll The Wolf of Wall Street.
Story, one of the documentary's executive producers and writers, related how a deed for Unit 76B penthouse at The Times Warner Center, purchased through a shell company called 80 Columbus Circle (NYC) LLC, stoked her interest to delve deeper into the foreign money that was coming into very expensive real estate in the US.
"A young Malaysian man, who came to the showing of this unit, told people he was buying the unit on behalf of a group of investors, including the prime minister of Malaysia. That young man was Jho Low," Story said in The Kleptocrats, relating how it was then that she knew it was a two-headed investigation. Her investigations into real estate transactions also connected Jho Low to Riza.
"I read The New York Times article. I was shocked but also extremely embarrassed. I didn't know Jho Low. I think I shook his hands a couple of times but I didn't know him but the idea that he was in some way linked to my brother and potentially spending Malaysian taxpayers' money really disgusted me," Nazir said in the documentary.
Story's secret Hollywood source also played a recording that showed how confident McFarland was of the deep pockets available to back Red Granite. Story also related how she and Saul had staked out the Mandarin Oriental in New York in September 2014 when both Jho Low and Najib were in town for the UN General Assembly, with the documentary providing video footage of them arriving within minutes of each other and proceeding upstairs for a "short social gathering".
We are none the wiser on the whereabouts of Jho Low from the documentary. Neither do we know who will play the fugitive financier in the upcoming movie Billion Dollar Whale, although the co-authors, WSJ's Tom Wright and Bradley Hope, were also interviewed in the documentary.
Yet, even those familiar with 1MDB transactions and have seen pictures of Jho Low spraying expensive champagne at parties with Hollywood celebrities and models may not have heard him ordering "100,000 bottles of Cristal champagne for everyone", the world's most expensive champagne, because he's "got a lot of sh** coming from Saudi and Malaysia".
An interview with Robin Leach, ex-host of Lifestyles of The Rich and Famous, who spoke about Jho Low's 30th birthday bash in Las Vegas in 2012, for instance, related how it was "a spectacle in every sense". "It was the best and the most expensive party that Las Vegas has ever seen … to do what they did, Ferris wheel, an arcade, security, food, the drinks, the gifts, the stars, the celebrities, that must have cost US$100 million," Leach said in The Kleptocrats, describing Jho Low as "Mr Money Bags" and "super-rich playboy billionaire".
The documentary also featured a conversation between The Hollywood Reporter and Robert De Niro, who said he did not know how his son Rapheal reportedly sold US$55 million worth of New York real estate to Jho Low.
 
Jho Low vs the 'real' Wolf of Wall Street 
The Kleptocrats also feature Gregory Coleman, ex-FBI special agent, who arrested Jordon Belfont, the "real" Wolf of Wall Street played by Leonardo DiCaprio in the movie bankrolled by Red Granite, which thanked Jho Low in the movie credits. "The parallels between Jho Low and Jordon Belford in The Wolf of Wall Street are amazing… If it was proven that money was embezzled from the government of Malaysia, transferred around the world and ultimately to the funding of a movie about the story of a man who stole money and moved it around the world, that's the ultimate irony," Belfont said in the documentary.
The Kleptocrats also had footage of Aziz standing next to McFarland as the latter described The Wolf of Wall Street: "I think whenever we're dealing with a young person who's put in a position to make an enormous amount of money and doesn't have the discipline to control it, there is a little bit of empathy that you feel … but at the end of the day, you know, we all have to pay for the actions we do and that's kind of how our story ends."
Red Granite has agreed to pay the US government US$60 million to settle a civil lawsuit that sought to seize assets allegedly bought with stolen money from 1MDB.
Najib, who has been charged with multiple counts of money laundering and criminal breach of trust,  has pleaded not guilty.
The ordinary, brave Malaysians
Beyond the glitz and bling, the documentary also featured how ordinary Malaysians decided enough was enough after they received information on 1MDB. Apart from Bersih's Maria Chin Abdullah and human rights advocate Ambiga Sreenevasan, The Kleptocrats also features an interview with student activist Anis Syafiqah, who related how she was being followed as she organised the #TangkapMO1rally in 2016 and had hoped she would be safe until after the rally was done.
"It hit me hard. Small country like Malaysia became known because of global corruption. I drive my eagerness to know more about Malaysia's political landscape," she told interviewers.
There was also good soundbites from cartoonist Zunar, who was hauled up for drawing political cartoons: "You can ban my books, you can ban my cartoon but you cannot ban my mind. I will keep drawing until the last drop of my ink."
There is, of course, Tony Pua, who was not only outspoken as a member of the Public Accounts Committee (PAC) looking into 1MDB, but had in March 2010 raised the first question on 1MDB in parliament on the US$1 billion loan for PetroSaudi International. "Malaysians by and large have been desensitised to corruption but the scale of it is waking people up," said Pua, who also helpfully calculated how a US$27 million diamond could pay more than 3,000 teachers for one year.
In The Kleptocrats, Nazir also told interviewers that he "had always asked why 1MDB was not subject to the same oversight as the rest of the government companies" and how he and his other brothers met Najib to relay their concerns over how things at 1MDB "conflicted with some of the values that [their] father had: public service, integrity, frugality".
"It is very, very hard to describe … Najib is my brother. He will always be my brother and I love him as my brother. We are a close-knit family but it seems to me that his promise that he would look into it and make sure there was no impropriety act in 1MDB was not happening. What I then decided to do was to campaign to get various influential people to also look into 1MDB. I went to see politicians from both sides and really urged everyone to make sure that this is properly investigated and the rule of law applies."
The documentary did not state who Nazir met. Those who have been paying attention, however, know Prime Minister Tun Dr Mahathir Mohamad was among the people Nazir met on 1MDB.
"The pressure on us was growing but The Edge did not back off. I discussed the situation with Najib's brother Nazir, who had been working closely with me since 2014 to find ways to uncover the shenanigans at 1MDB so that action could be taken. Nazir was also under a lot of pressure to back off," The Edge Media Group chairman Tong Kooi Ong wrote in November 2018 after Najib said he did not know Jho Low had cheated Malaysia of billions of dollars through transactions done by 1MDB.
"We agreed that we needed to seek help from Tun Dr Mahathir and flew to London in April [2015], where he was at the time, to brief him. We felt only Tun Dr Mahathir could do something."
Could Nazir have done more to put a stop to what was going on? "I ask that every day," he tells The Edge.
---
The Kleptocrats: The billion-dollar scandal that shook Hollywood, directed by Sam Hobkinson and Havana Marking, is available on Astro First, Astro On Demand and Astro Go until April 17, 2019, according to its website. Non-Astro subscribers can watch the documentary on njoinow.astro.com.my. 
Save by subscribing to us for your print and/or digital copy.
P/S: The Edge is also available on Apple's AppStore and Androids' Google Play.