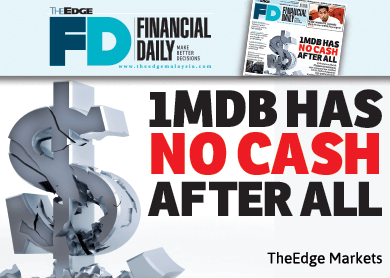 KUALA LUMPUR: There is no cash after all in 1Malaysia Development Bhd's (1MDB) Singapore bank account.
That was the shocking revelation by Prime Minister Datuk Seri Najib Razak (pic) yesterday in response to a parliamentary question asked by DAP lawmaker Tony Pua.
Pua asked whether Bank Negara Malaysia (BNM) had been informed by the authorities in Singapore that the bank statements of 1MDB and its subsidiary (Brazen Sky Ltd) at the Singapore account of Swiss bank BSI had been falsified and whether there was US$1.103 billion (RM3.99 billion) in cash in the account as previously stated.
"1MDB has explained that the redeemed investments of 1MDB [from the Cayman Islands] are in the form of assets in US dollars in a bank in Singapore for the purpose of balancing the liability of the company's US dollar," said Najib in his written reply to Pua.
Najib, who is also the finance minister, told Parliament in March that the cash redeemed from the funds that were kept in the Cayman Islands is now with BSI Singapore. In his written reply yesterday, he said the answer he gave in March is now "amended".
1MDB president and group executive director Arul Kanda Kandasamy also said that 1MDB had placed its funds in the form of US dollar cash in Singapore instead of Malaysia as 1MDB planned to use the money to service its US dollar-denominated debt.
In an immediate response, Pua yesterday lashed out at the prime minister and Arul, accusing them of lying when they said in March that the money redeemed from the Cayman Islands was in cash.
"This is an admission that it has no cash in BSI Bank Singapore. It's paper, not cash. What they did was they shifted the paper assets from Caymans to Singapore," said Pua, a strident critic of the state investment arm, at the Parliament lobby yesterday.
Pua demanded to know the real value of the paper assets as he believed that it was the reason 1MDB was having problems servicing its debts.
"1MDB had lied to the people by claiming they have a lot of cash in the account. I want 1MDB to explain this because all along we have been led to believe there is cash in the bank account," he said.
He said this was also the reason why the troubled company had sought loans from tycoon T Ananda Krishnan's company Tanjong plc and the government as it no longer had any money.
Tanjong arranged for private investors to come up with RM2 billion as a form of refinancing or rollover to help the debt-laden company while Putrajaya gave a RM950 million loan in March.
As on whether BNM had been informed by its Singapore counterpart that statements which showed there was cash in the BSI account were faked, Najib cited an international protocol called Egmont Principles of Information Exchange, which prevented any information on any investigation from being revealed without the consent of Singapore.
Criticism has been mounting over the finance ministry's wholly-owned investment vehicle, established in 2009, which has chalked up debts of up to RM42 billion, backed by Putrajaya.
Scrutiny has grown more intense following news portal Sarawak Report's recent exposés, which piled pressure on Najib and prompted opposition politicians, former and current Umno leaders including long-serving former prime minister Tun Dr Mahathir Mohamad and anti-graft non-governmental bodies to demand a thorough investigation into 1MDB.
Dr Mahathir has asked for an independent commission to conduct an investigation while Deputy Prime Minister Tan Sri Muhyiddin Yassin has suggested that a forensic audit be done going back all the way to 2009.
Throughout all this, Najib and 1MDB have insisted that all was fine with the company.
This article first appeared in The Edge Financial Daily, on May 21, 2015.