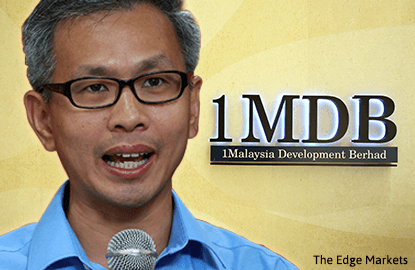 KUALA LUMPUR (July 26): The DAP's Tony Pua said Prime Minister Datuk Seri Najib Razak should stop pulling the wool over the rakyat's eyes with purported social welfare programmes by 1Malaysia Development Bhd (1MDB) which he said were in reality funded by the Malaysian tax-payers.
It had been reported that Najib had said that 1MDB Foundation sponsored RM10.4 million for 1,100 pilgrims to go to for pilgrimage this year.
Pua, who is DAP national publicity secretary and MP for Petaling Jaya in a statement today said the 1MDB Foundation contribution to social welfare is a farce designed with the specific intent to mask the fact that 1MDB has made billions of ringgit of losses, as a result of an alleged international money laundering exercise involving the Prime Minister himself.
Pua said that if 1MDB had made real profits and subsequently allocated part of these profits to charitable causes, then the efforts by the state-owned company should be applauded.
"However, 1MDB which had funded itself entirely by debt by borrowing at its peak, RM55 billion ringgit, never made a sen of cash profits in its entire 6 years of existence.
"This means that 1MDB had effectively paid for its "immense contribution to social welfare programmes" with borrowings as a public relations exercise to repair the damage to its reputation caused by its massive losses and scandalous misappropriations," he said.
Pua claimed that worse still, because 1MDB was cash-strapped and unable to fulfil its debt obligations on a timely basis, government agencies were forced to step into bail out 1MDB.
"For example, Tabung Haji – the pilgrimage fund, was called upon to acquire a piece of 0.64 acres of land from 1MDB in Tun Razak Exchange for the exorbitant price of RM188.5 million or approximately RM2,774 per square feet in 2015.  1MDB had earlier acquired the land from the Government at the bargain basement price of only RM64 per square feet," he said.
"It is of the greatest irony the Datuk Seri Najib Razak boasted of 1MDB's RM10.4 million contribution to the 1,100 pilgrims – who were supposed to be funded by Tabung Haji, when Tabung Haji has been ripped off of more than RM184 million from the above transaction alone," he said.
Pua added that the United States Department of Justice had now provided clear evidence of how US$731 million belonging to 1MDB was deposited in the Prime Minister's personal bank account between 2011 and 2013. 
"Hence it is clear that what has been distributed to the poor in Malaysia is dwarfed by what Datuk Seri Najib Razak received," he claimed.
"Therefore we call upon the Prime Minister to stop putting on a false front on 1MDB.  The public relations exercise is doomed to fail because the facts and evidence of the multi-billion dollar embezzlement from 1MDB is clear for all to see," said Pua.