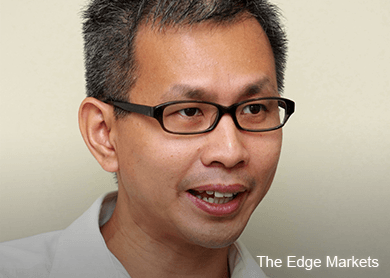 (May 20): DAP's Tony Pua said today 1Malaysia Development Berhad's (1MDB) US$1.103 billion Cayman Islands funds, currently kept in BSI Bank Singapore, were paper assets following a written reply from Putrajaya that the redeemed money was an asset in US dollars.
In a reply to the Petaling Jaya Utara MP yesterday, Finance Minister Datuk Seri Najib Razak said the balance of the investment redeemed by 1MDB were assets in US dollars for the purpose to balance its liabilities which were also in dollars.
Najib had, last March, in a parliamentary reply to Pua said the redeemed money was in cash form.
"This is an admission that it has no cash in BSI Bank Singapore. It is an admission that the whole redemption of its investments in Caymans is bullshit.
"It's paper, not cash. What they did was they shifted the paper assets from Caymans to Singapore," said Pua, a strident critic of the state-investment arm, at the Parliament lobby today.
Pua demanded to know the real value of paper assets as he believed that it was the reason 1MDB was having problems servicing its debts.
"1MDB had lied to the people by claiming they have a lot of cash in the account. I want 1MDB to explain this because all along we have been led to believe there is cash in the bank account," he said.
He said this was also the reason why the troubled company had sought loans from tycoon T. Ananda Krishnan's company Tanjong PLC and Putrajaya as it no longer had any money outside of Malaysia.
Tanjong had arranged private investors to come up with RM2 billion as a form of refinancing or rollover to help the debt-laden company while Putrajaya had approved a RM950 million standby credit facility for 1MDB, of which RM600 million has been used.
Criticism has been mounting over the Finance Ministry wholly owned investment vehicle, established in 2009, which has chalked up debts of up to RM42 billion, backed by Putrajaya.
Scrutiny has grown more intense following news portal Sarawak Report's recent exposes, which piled pressure on Prime Minister Datuk Seri Najib Razak and prompted opposition politicians, former and current Umno leaders including long serving former prime minister Tun Dr Mahathir Mohamad and anti-graft bodies to demand a thorough investigation into the fund.
The Auditor-General is currently looking through 1MDB's books, with a preliminary report expected to be submitted to the Parliament in June, while the Public Accounts Committee (PAC) started its investigation into the company yesterday. – The Malaysian Insider