Most of the unsold completed units were high-rise residences. Photo by Bloomberg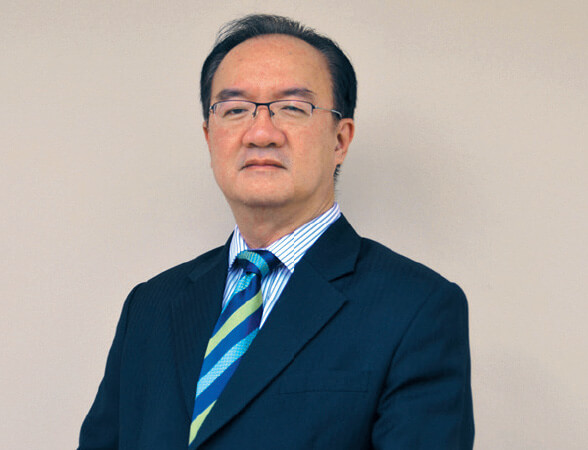 Tan: The property market does not operate in a silo. Its dynamics depend on the economic, political and social environments.
Click / Tap image to enlarge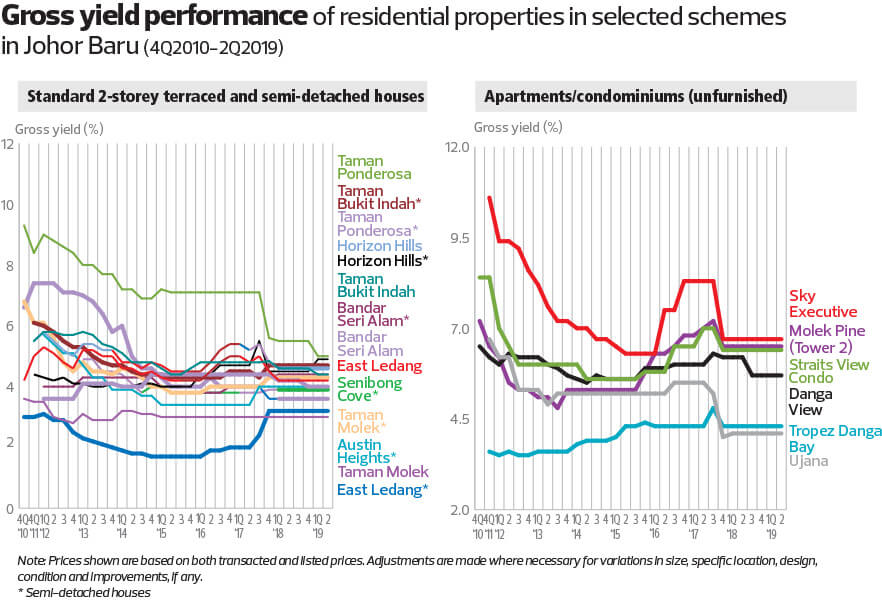 This article first appeared as 'Johor Baru market remained static in 2Q2019' in City & Country, The Edge Malaysia Weekly, on August 5, 2019 - August 11, 2019.
The Johor Baru property market remained stagnant in 2Q2019, with an overhang in high-rise developments. "The property market is undergoing a very challenging time, especially high-rise residences that include apartments, serviced apartments and SoHos (small office/home offices)," says KGV International Property Consultants (Johor) Sdn Bhd executive director Samuel Tan in presenting The Edge — KGV International Property Consultants Johor Baru Housing Property Monitor 2Q2019.
"As at 2Q2019, there were about 13,000 overhang units, out of which about 11,000 units were high-rise apartments, serviced apartments and SoHos," says Tan.
"Most of the unsold completed units were high-rise residences — about 85% of the total unsold stock. In view of the weak sentiment, local buyers' preference for landed properties and the higher threshold of RM1 million for foreign buyers, the market will take some time to 'self-regulate' before market dynamics move towards a healthier equivalent," he says.
 
"There were not many launches in the quarter as many developers were concentrating on clearing their existing stock. The resale and rental markets were also relatively quiet. The Johor property market has been in the doldrums since 2016."
How to stimulate JB's property market?
He also highlights the extension of the stamp duty exemption. "The stamp duty exemption, a concession initiated under the Home Ownership Campaign (HOC), has been extended until the end of the year. The concession is only applicable for properties bought from developers [registered under HOC] that are priced from RM300,000 to RM2.5 million. The stamp duty is only exempted for the first RM1 million and thereafter, the stamp duty is 3%."
"In addition, to help first-time homebuyers, stamp duty for properties that are priced up to RM300,000 will be exempted if the sales and purchase agreement is signed before the end of 2020. The properties can be bought from developers or the resale market," he adds.
"These measures will help developers to move unsold stock but it is not a game-changer that will resolve the oversupply issue in Johor Baru. The right pricing and products is still key. The [stamp duty] concession extended to first-time homebuyers of houses costing less than RM300,000 is more relevant for small units and those on the outskirts. A more effective and less administratively cumbersome policy measure would be to extend the stamp duty exemption up to RM1 million for both new and resale properties."
He says more can be done to invigorate the market. "For example, the amendment to the Real Property Gains Tax Act 1976 (RPGT Act) to impose a 5% tax on gains even for residents holding properties for more than five years is draconian and against the very spirit of the Act to curb speculation."
"It has become akin to a form of income tax. It is unfair for genuine owner-occupiers and long-term investors. We hope the authority will seriously consider doing away with the 5% tax," says Tan.
The Johor government is in the final stages of revising its quit rent rates, says Tan. "The last revision was done in 2004. While we understand that the revision is being made to boost the state's economy, development and growth as well as increase revenue, the timing is not good. Any rate increment will just add to the [public's] overall tax burden and unbearable inflation in recent years. Consequently, it will increase the abnormally high cost of living."
"The property market does not operate in a silo. Its dynamics depend on the economic, political and social environments," says Tan. "Nevertheless, despite all the bumps in recent years, the market appears relatively resilient. There are still buyers for properties with the right pricing and positioning."
"We implore the authorities to take a holistic approach in looking at the myriad policies, especially those that allow foreign buyers to purchase properties costing more than RM1 million, RPGT, stamp duty, quit rent and affordable housing as well as the need for a centralised agency to oversee matters related to property," says Tan. "A people-centric and business-friendly approach is all the more crucial in bad times like these. We cannot afford to have piecemeal policies that are impractical, not well-thought-out and dished out with political undertones. Government intervention  without judicious consideration or proper consultation with relevant stakeholders is detrimental," he adds.
Two long-awaited catalysts for JB's property market
Tan highlights two long-awaited catalysts — the Johor Baru-Singapore Rapid Transit System (RTS) and Kuala Lumpur – Singapore High Speed Rail (HSR). "The two catalysts are under cost-rationalisation review. Nevertheless, the federal and state governments are implementing smaller measures to curb traffic congestion within the state and on the Causeway. The Bus Transit System (BTS) will be ready by 2022 and [there are plans to build a] pedestrian walkway on the Causeway," says Tan.
"Progress is rather slow but hopefully, the governments will speed up the implementation of the RTS and HSR once the green light has been given. Baby steps such as BTS in the city and building of a pedestrian walkway on the Causeway can be implemented fast and at a low cost. They should be expedited to improve the mobility of residents and visitors. The RTS is an effective mode of transport that should be given emphasis as the Causeway has become a bottleneck for humans as well as trade. The RTS will open up a lot more spin-off opportunities across sectors such as residential, retail, industrial, tourism, F&B and entertainment."
Meanwhile, the state government has announced that it will deliver 100,000 affordable houses by 2023. Under the Rumah Mampu Biaya Johor (RMBJ) scheme, houses offered are priced at RM42,000, RM80,000 and RM150,000 each.
"The target of 100,000 units is perhaps too ambitious," opines Tan. "It works out to about 20,000 units per annum from 2019 to 2023. The question that we need to ask ourselves is, 'Are we short of affordable houses or quality affordable houses that match our people's needs?'"
"It would be unwise to keep building affordable houses without a holistic approach. We need to assess the supply and demand of such houses in specific locations and preference of end-users," says Tan.
"Many existing affordable housing schemes are saddled with issues such as low occupancy rates, occupancy of foreign workers or abandonment," he highlights.
"It is time for the authority to have a centralised body or statutory board that integrates the duties of various agencies and takes the lead in deciding the quantity, location and types of affordable houses."
"Singapore's Housing Development Board (HDB) is a model that we should learn a thing or two from in enhancing our affordable housing in terms of policy and execution," he adds.
Tan also highlights the pollution in Pasir Gudang. "The contamination of Kim Kim River and the mysterious air pollution in the Pasir Gudang vicinity, east of Johor Baru, have caused hundreds of students to fall ill."
"This is a wake-up call for the government and people. Environmental hazard has culminated in a disaster and, hopefully, it is not something that is irreversible and will not spread to other areas. This is mainly due to lack of control and enforcement by the authorities as well as the reckless and greedy stance adopted by errant manufacturers," says Tan. "It warrants a holistic approach that relooks policies and enforcement action to safeguard our environment. The authorities should take strict action by imposing heavy penalties on the culprits, companies and individuals responsible, closing down illegal factories and initiating both civil and criminal charges in serious cases," he stresses.
"The property market in the vicinity will be affected as potential buyers have a 'clear and present' risk factor to consider before signing on the dotted line."
Tan also highlights other market determinants such as the trade war between the US and China. "The on-and-off trade war initiated by the Trump administration is the major uncertainty affecting economy. The trade war has been weaponised by the Trump administration not only towards China but also other long-time allies like Europe, Mexico and Japan."
"The trade war appears to be a prolonged one, with both the Republican and Democratic camps adopting a similar anti-China stance on the issue of international trade. The difference between the two camps is the extent of antagonistic actions," says Tan. "The truce after the recent G20 Summit is likely to be a temporary one and will not soothe market sentiment for long. Businesses and manufacturers, especially MNCs, would have to devise strategic contingency plans by building their plants in multiple countries instead of concentrating on a single node," says Tan.
"Southeast Asian countries, including Malaysia, are likely to benefit, albeit just in the short term, from this trade war as a result of plant relocation and trade diversion," says Tan.
"We note that enquiries for factories and warehouse spaces have increased. Nonetheless, no country wins in a prolonged trade war," he adds.
Meanwhile, US interest rates are heading south. "This is a reversal from the bullish mood a year ago. The Federal Reserve appears to have turned dovish in view of the initial sign of a growth slowdown in the US. The Fed is likely to reduce the interest rate by 0.25% to 0.5% this year, based on recent reports," says Tan.
"The Malaysia Overnight Policy Rate (OPR) would have to drop should the Fed lower its interest rate. Lower interest will help both existing and would-be house buyers. Lower interest rates will give those who have committed to a few properties and have maximum gearing a much-needed breather," adds Tan.
New launches in 2Q2019
There were only two new launches in 2Q2019. "The first launch is a landed scheme known as Mahligai at Taman Nusa Damai and the other is a serviced apartment known as The Spacy Residency at Taman Century," says Tan.
"For Mahligai, which comprises 163 double-storey terraced houses, about 50% of the non-bumiputera units have been sold. Prices start at RM560,000 for a land area of 1,400 sq ft and built-up area of 1,729 sq ft," he says.
"There are 995 serviced apartments in The Spacy Residency. The units range from 645 to 907 sq ft with a gross selling price of RM950 psf. We were informed that about 20% have been booked," says Tan.