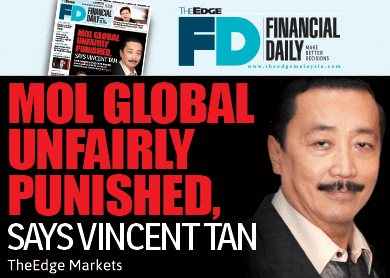 KUALA LUMPUR: Tan Sri Vincent Tan Chee Yioun feels that the share price of Nasdaq-listed MOL Global Inc, in which he personally holds a majority stake, has been unfairly punished by "unhealthy speculation".
After the announcement on a sharp fall in earnings on Monday, Tan issued a statement to express his confidence in MOL Global's prospects and its management.
In a statement yesterday, Tan said, "I have the utmost confidence in the management and MOL [Global], and none of these unfortunate events alters my very positive view of the underlying business of MOL.
"I have communicated my support to the management team at MOL, and while I know they are currently working very hard on addressing the issues that have arisen, I have encouraged them to continue to remain focused on executing their business plans."
Tan explained that MOL Global has encountered some difficulties over the last several days relating to an accounting error at its Vietnam subsidiary, a delayed earnings release, trading halt and the departure of its chief financial officer, Allan Wong.
"The timing of Allan's departure for personal reasons, which unfortunately coincided with the delay in the earnings release, has resulted in some unhealthy speculation on the company's financial numbers, and the stock price has been, in my view, unfairly punished," he said.
Tan also noted that he was supportive of MOL Global's decision to implement a share buy-back plan, as the stock was significantly undervalued currently.
MOL Global's share price rebounded 116%, or US$1.96 (RM6.75) to close at US$3.65 on Tuesday — giving it a market capitalisation of US$246.39 million.
The stock, which made its debut in the United States on Oct 9, took a nosedive when news on the company failing to release its financial results on time spread in late-November. The stock plunged to US$1.69 on Monday from a peak of US$8.86 on Nov 20, wiping out a market capitalisation of about US$484 million in a span of three weeks.
On Monday alone, MOL Global tumbled more than 60% after it announced that the company's profit attributable to shareholders shrank 61.5% to RM3 million for the third quarter ended Sept 30. It attributed the large profit contraction to the rapid shift in consumer gaming habits, who are now playing more games on their smartphones, rather than online.
Its revenue, however, rose 5.6% from a year earlier to US$14.5 million.
This article first appeared in The Edge Financial Daily, on December 4, 2014.