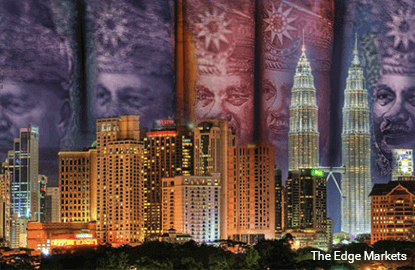 This article first appeared in The Edge Financial Daily, on March 15, 2016.
KUALA LUMPUR: Malaysia, the only country among six  Asean nations that is expected to experience a drop in gross domestic product (GDP) growth this year, according to the Institute of Chartered Accountants in England and Wales (ICAEW), faces growing risk of a ratings downgrade.
In a statement yesterday in conjunction with the release of its latest Economic Insight: Southeast Asia report, ICAEW said the country is expected to see growth declining to 4.2% following the 4.7% recorded in 2015. Some recovery, however, is expected in 2017, when growth is expected to hit 4.6%.
"The continued weakness in oil prices and the vulnerability of the ringgit to currency outflows leave the central bank little room to manoeuvre," it said.
The report stated that after a disappointing 2015, growth is expected to improve across most of Asia ex-China in 2016, with the exception of Malaysia.
Commissioned by ICAEW, the report is undertaken quarterly with a focus on Indonesia, Malaysia, the Philippines, Singapore, Thailand and Vietnam to provide its 145,000 members with the latest snapshot of the region's economic performance.
"In Malaysia, despite the prospect of weaker domestic demand and ongoing external risks, the authorities have limited policy room to boost growth. The latest drop in the oil price is undermining the fiscal position and the central bank also has little room for manoeuvre given the vulnerability of the currency to capital outflows.
"The long-running scandal over state investment company 1MDB (1Malaysia Development Bhd) is also eroding confidence and contributing to risk aversion across the country. With the government facing substantial challenges, the risk of a ratings downgrade is growing," the report read.
As such, it noted that near-term prospects appear worrying in Malaysia, with growth expected to slow in 2016 as it contends with a terms-of-trade shock from lower oil prices as well as a weak political environment, which is hampering domestic demand.
Additionally, although non-performing loans remain low in most Asian countries at 1% to 3% of total loans, there is risk that financial distress could quickly escalate if macroeconomic conditions worsen, it noted. The greatest threats, it said, lie in consumer debt.
"Rising household debt has been prominent in driving up overall private debt ratios in many countries in recent years, and household debt ratios look high in several countries — especially debt/disposable income ratios. Debt/income ratios are close to or above 150% in Singapore and Malaysia and are well above 100% in Thailand," it noted.
The report, which focuses on the effects of slower growth in China on the region, noted that the impact will vary across Asean nations. China is the largest trading partner for Singapore, Malaysia and Thailand, and is the second-largest trading partner for Indonesia and the third-largest for the Philippines and Vietnam.
Malaysia and Singapore "are likely to be more vulnerable to weaknesses in the Chinese economy due to their place in the regional supply chains for electronic goods", it said.
The declining demand and prices for commodities will also be a cause for concern. Although Singapore ranks highest on the measure of commodity exports as a percentage of GDP, this mainly reflects the country's role as a regional trading hub.
"The resource-rich economies of Malaysia and Indonesia have a much higher share of commodities in total exports," the report noted.
"More worryingly, Malaysia has succumbed to the classic 'resource curse', whereby rising commodity prices force up the exchange rate, making it more difficult to successfully develop other export sectors. As such, Malaysia is more exposed to the negative shock to prices from the commodity down cycle," it added.
Countries like Indonesia, the Philippines and Vietnam, meanwhile, are less exposed to manufacturing sectors where China has excess capacity, it noted, as their wage competitiveness also means that developments in China should not significantly constrain their continued industrialisation.
ICAEW regional director for Southeast Asia Mark Billington said "a deeper-than-expected slowdown in China will be the key threat to Asean economies", along with more acute financial market volatility and a tightening of financial conditions as industrialised countries normalise monetary policy.
"This will be particularly painful for countries with high debt levels," Billington added.