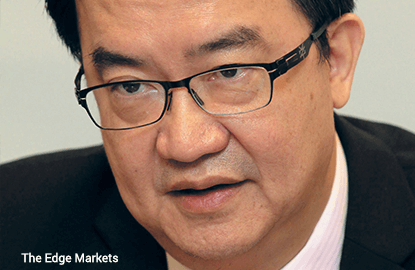 This article first appeared in The Edge Financial Daily, on March 4, 2016.
KUALA LUMPUR: Malaysia's general insurance industry is forecast to post moderate growth in gross written premiums of between 2.5% and 3.5% this year amid a challenging operating environment, said the General Insurance Association of Malaysia (Piam).
Gross written premiums grew 2.3% last year, a sharp decline from the 5.9% seen in 2014.
"The slower growth rate is not unique to the insurance industry. Other sectors and businesses are in the same position. Declining oil prices and volatile currency fluctuations have caused uncertainties in the operating environment," Piam chairman Chua Seck Guan told a media briefing to announce the industry's 2015 results yesterday.
He said the industry will continue to be impacted by economic headwinds such as the slower projected gross domestic product growth of 4% to 4.5% in 2016 for Malaysia, dampened commodity prices and the spillover effect from the implementation last year of the goods and services tax.
"We are forecasting a growth range of 2.5% to 3.5% for the general insurance industry. Of course, this will depend on how the segment does in the second half of the year. For the first half, the outlook does not seem very bright," said Chua.
He said the challenges greatly affected the motor insurance business, which accounts for approximately half of the general insurance market share. The motor class saw its losses increased to RM292 million in 2015, from RM166 million in 2014.
"These factors had a significant impact. In 2015, car sales did not record [any] growth, and the trend is expected to continue this year as car sales for the first two months of the year were not encouraging," he said.
Chua expects the performance of the motor insurance segment to be worse this year compared with 2015, as insurers are now unable to claim back their input tax credit of 6% that they paid for claims. This will cost the industry an additional RM150 million.
The weakened ringgit also drove up costs for imported spare parts, while the inflationary nature of healthcare will continue to raise costs due to bodily injury claims.
"The motor class will continue to be very challenging in 2016. The industry is finding ways to improve and contain some of these costs by using technology to [make] the claims process more [efficient], and to address ... fraudulent claims," said Chua.
In 2015, motor insurance continued to be the major driver of growth with a market share of 46.3%, with gross written premiums increasing 2.1% to RM8.1 billion from RM7.9 billion in 2014.
However, in terms of financial performance, Piam chief executive officer Mark Lim said general insurance companies saw lower underwriting profit of RM1.46 billion for the year, compared with RM1.49 billion in 2014.
"This segment continued to incur a loss due to higher claims for the year, which rose 5% to RM5.29 billion from RM5.04 billion in 2014. Claims have been increasing year after year.
"On a per day basis, companies in Malaysia are paying a staggering RM14.5 million for motor claims on property damages, bodily injuries and motor thefts," he said.
On the detariffication of the motor insurance class, Lim said Piam  is still in talks with Bank Negara Malaysia, adding that an announcement should be made soon by the regulator. The targeted implementation date is sometime in mid-2016.
"Most markets have seen the detariffication of motor insurance, so it's about time for Malaysia to go into detariffing," he said.
Meanwhile, Chua said Piam requested for a period of nine to 12 months' lead time to meet the requirements, which could mean that full implementation of detariffication will only be seen in early 2017.