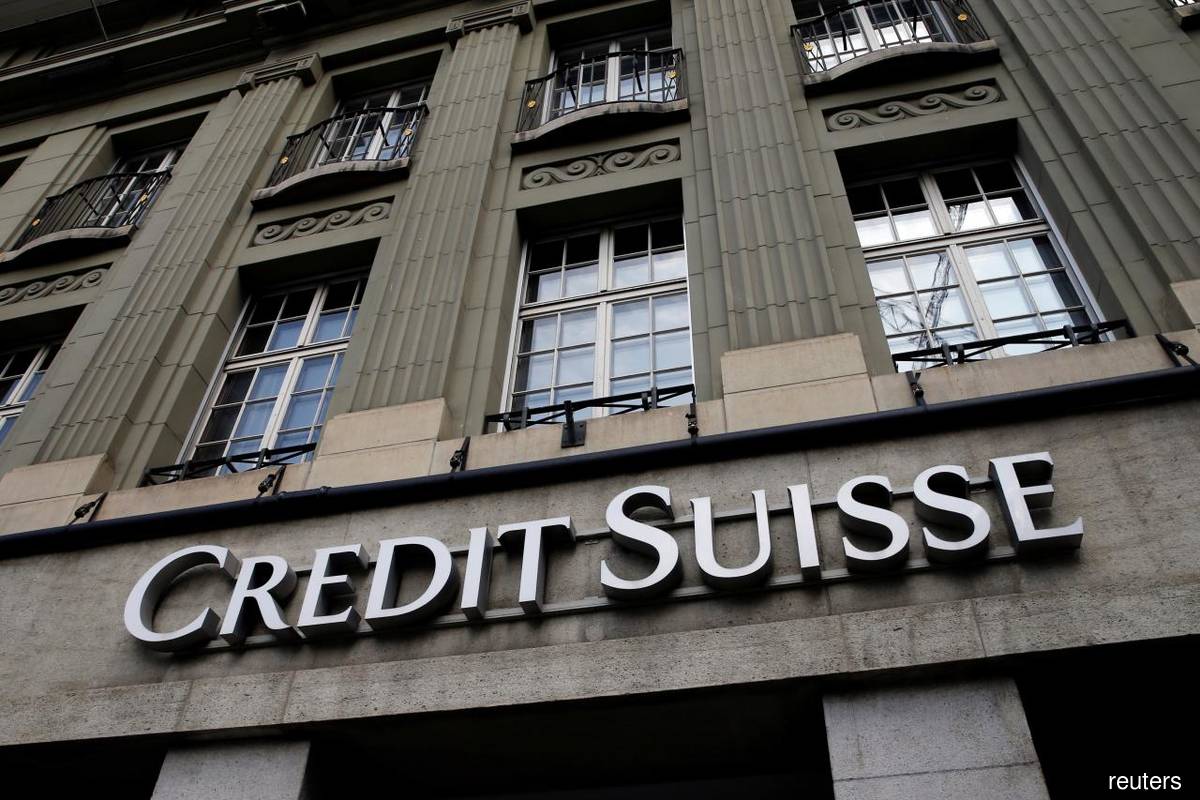 (March 18): Goldman Sachs Group Inc strategists lowered their overweight recommendation on European bank debt, citing a lack of clarity around Credit Suisse Group AG and pressures on the region's lenders. 
Credit Suisse's bonds and the bank's market value plunged this week as a crisis of confidence in the lender erupted. A 50 billion franc (US$54 billion or RM242.94 billion) credit line from the Swiss central bank wasn't enough to allay concerns. 
"The Swiss National Bank's decision to provide Credit Suisse with significant and inexpensive liquidity fell short of stabilising sentiment," Goldman strategists including Lotfi Karoui wrote in a note on Friday (March 17).
"Until more clarity is provided on the bank's future path, we think the performance of the broader European banking sector will remain pressured, and recommend shifting back to a neutral allocation on banks." 
UBS Group AG is exploring an acquisition of all or parts of Credit Suisse at the urging of Swiss regulators, said people with knowledge of the matter. It's unclear if a deal will go through, the people said. The banks' boards expect to meet separately this weekend to weigh the idea of a combination, the Financial Times reported. 
The shock collapse of California's Silicon Valley Bank this month has sent tremors through the global financial system, engulfing Credit Suisse, which has struggled since posting a 7.3 billion franc loss last year. A more forceful policy response is likely needed to bring some stability in Europe's banking sector, according to the Goldman strategists. 
In the US, concerns about regional banks are unlikely to morph into a systemic shock, although the likelihood of a credit crunch from tighter lending standards has increased, the Goldman strategists wrote. 
First Republic Bank, another California lender, was cut to junk by Moody's Investors Service on Friday, a day after a US$30 billion rescue that the rating agency warned could weigh on the lender's profit outlook. 
Read also:
UBS, regulators race to seal Credit Suisse deal as soon as Saturday — FT
Deutsche Bank eyeing some Credit Suisse assets — sources
Credit Suisse talks extend into Sunday as markets await deal
BlackRock says not participating in any Credit Suisse takeover plan
UBS exploring Credit Suisse deal in crisis combination — sources