This article first appeared in City & Country, The Edge Malaysia Weekly, on February 27, 2023 - March 05, 2023.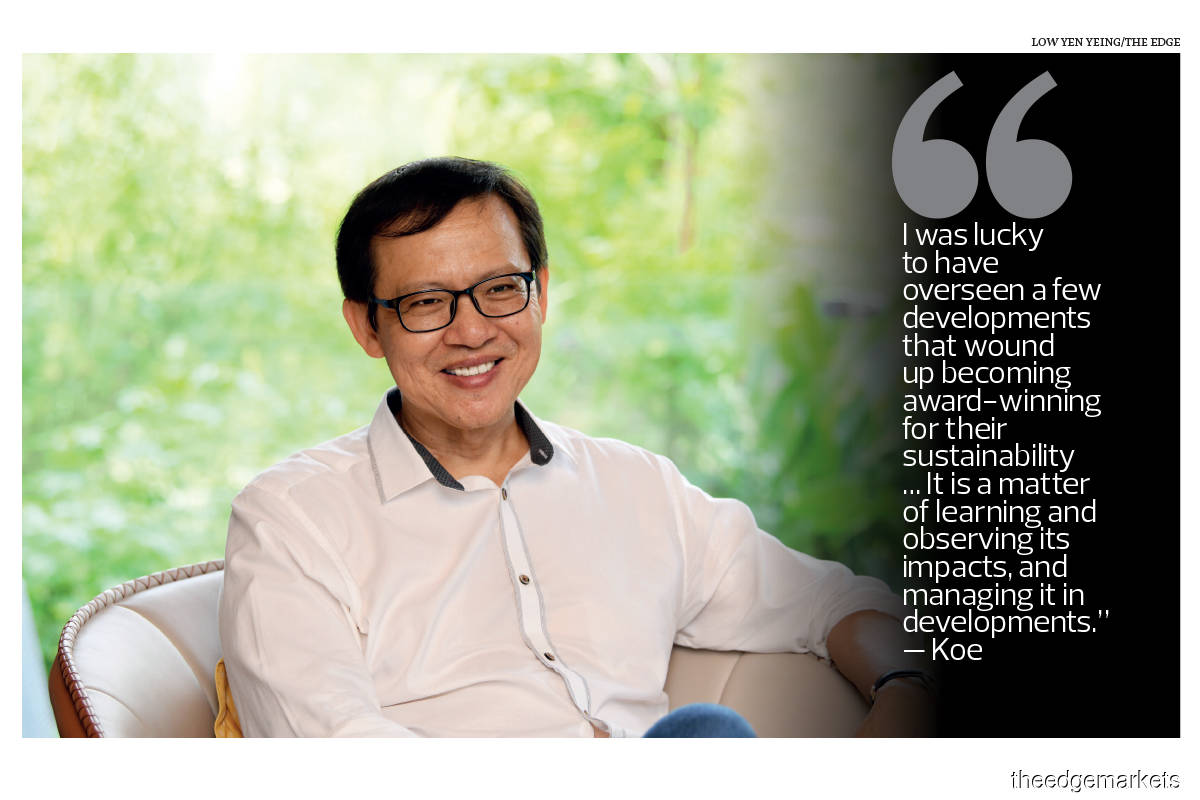 Having just returned from one of his many trips to London, an animated Datuk Seri Koe Peng Kang, FIABCI Malaysia's immediate past president, shares his latest travel experiences, all of which relate back to one of his passions — sustainability.
"I had a brilliant chat with King Charles [and his cohorts] on sustainability and all its intricacies at the recent reception at Buckingham Palace. We were sharing our insights, and I think Malaysia is comparable with the foreign markets, as far as sustainability is concerned," says Koe, adding that the event was held to celebrate British East and Southeast Asian communities in the UK.
Formerly S P Setia Bhd's deputy president and chief operating officer, Koe had been instrumental in placing green initiatives and directions for the townships of Setia Alam, Setia Eco Templer, Setia Eco Glades, and several developments under the group. He has also been a long-time advocate of sustainability and green initiatives.
"I brought back seeds [of plants such as Cleome, Mexican sunflower and so on] from the UK, Portugal and even Japan, and have cultivated them here at my home … We are blessed with our tropical weather and should really embrace the natural surroundings and terrains here," says Koe, as he shares his passion for biodiversity and botany in the comfort of his home in Setia Alam.
Koe and his family take us on a brief tour of their verdant garden and backyard, which are filled with butterflies, bees and birds. This environment, he says, exemplifies "what a sustainable township should be. It is multifaceted; sustainability is not just about offering the right, green infrastructure … it also boils down to other aspects such as feature usability, connectivity, and it encompasses a lifestyle."
Sustainable must-haves
Koe gives an overview of the sustainability elements in the developments as they evolved. "When we started the journey at Setia Alam about two decades ago, it was out of genuine interest. At that time, we used to call it 'ecologically designed', and we labelled it as such (without employing consultants).
"There are four stages in implementing sustainable efforts. It first stems from the personal level, followed by corporate, industry and community levels. I was lucky to have overseen a few developments that wound up becoming award-winning for their sustainability … It is a matter of learning and observing its impacts, and managing it in developments," he shares.
Koe believes that forests, waterways and natural terrains should be kept in their original form, and developments should be approached and built to co-exist with them. A good example of this would be the township of Setia Eco Templer, which has been named the Best Planning Project under the Malaysian Institute of Planners. "The key is to maintain its topography. Engineering should be able to provide the right solutions to build upon the topography."
He shares his experience in building Setia Eco Glades. "It has unique features and we have learnt how to capitalise on them without destroying nature, and transplanted about 1,500 trees (which was the biggest transplanting operation in the world). Subsequently, in 2007, we fitted solar panels. Today, Setia Eco Park produces the highest solar energy (about 2MW) in Malaysia."
He asserts the importance of sustainability for the future generation. "This needs to be done for generations to come … these facilities [such as the solar panels] would have to transcend time. It should be an environment where the young and old can co-exist. The older generation should be able to live with sustainable, assisted living features as well.
"Sustainability should be attainable for the masses [be it medium-cost housing or high-end ones] and should be spread to the entire society through our education. The priority should be the concept over the cost," says Koe. "It is a necessity, especially with the effects of global warming, flooding and so on, [and] it is imperative that sustainable features be included in all developments. We are running out of time."
It is also about placing and integrating all the features in one place, remarks Koe. "The sustainable features at home and the workplace should be nearby for residents; hence, it's crucial to look at creating more job opportunities surrounding the townships. Transport should also be enhanced to ensure better connectivity … When everything is in one place, one township, the lifestyles of the residents would immensely improve and, hence, be more sustainable."
Integrated lifestyle, and the way forward
Delving further into the subject, Koe maintains that certain sustainability compliances should be augmented and improved. "In terms of waste segregation, it should be a standard practice in all developments."
At the corporate level, the infrastructure can be put in place but the attitude of maintaining its environment must come from the end-users, he asserts. "Perhaps the government and the authorities can step in, mitigate and place more initiatives and offer incentives for builders and residents. To this day, it is not a practice at the municipal levels."
In terms of cost, sustainable features should ideally make up between 5% and 10% of the total cost, says Koe. "It is a matter of changing the mindset [of all stakeholders] in the long term."
He opines, "The government should run more sustainability-themed programmes, and put more emphasis on the values that are derived from green energy, which is the way forward. They also need to oversee further the overall infrastructure of future developments to ensure better drainage, sustainable features, and less impact on the environment."