This article first appeared in City & Country, The Edge Malaysia Weekly, on February 20, 2023 - February 26, 2023.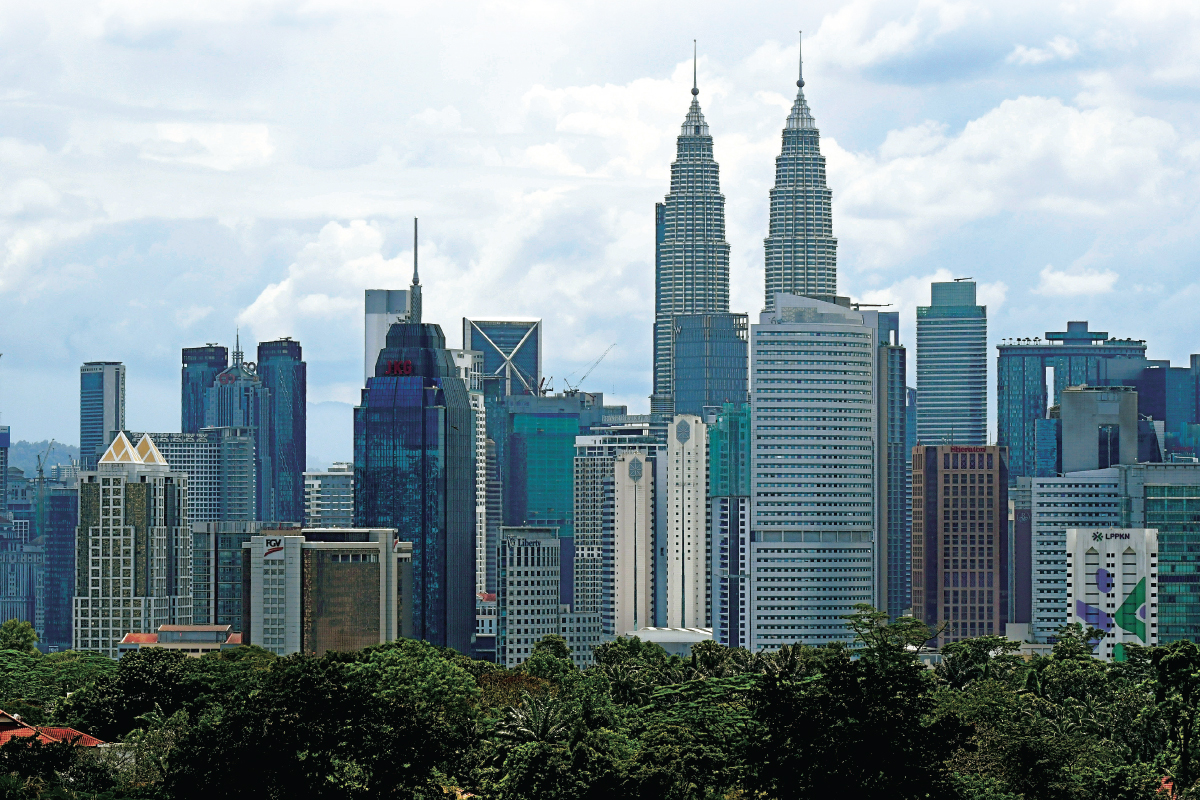 The Malaysian property market is expected to recover to pre-pandemic levels next year despite the headwinds, according to Association of Valuers, Property Managers, Estate Agents and Property Consultants in the Private Sector Malaysia (PEPS) executive committee member James Wong.
Speaking at a press conference for the 15th Malaysian Property Summit 2023 (15MPS) on Feb 8, Wong explained that this was because of the return of foreign buyers amid political stability in the country following the recent formation of the unity government.
"It will take time for the new government to introduce policies or reforms … We expect the property market to recover by 2024. [This year] will be a year of consolidation for the property market. Napic (National Property Information Centre) figures show that volume and prices have increased even though there are many domestic and international headwinds. Also, Malaysia is unlikely to face a recession," he said.
Napic director Aina Edayu Ahmad concurred, saying that market activity in 3Q2022 was more positive than the previous year, but it had yet to return to pre-Covid levels.
On the country's residential property overhang, Aina pointed out that the overall situation had improved in 3Q2022 to 29,534 units, from 34,092 units in the previous quarter. "The overhang had been absorbed gradually … But the economic [situation] is important and we are waiting to see the 4Q2022 report by Bank Negara Malaysia," she added.
Aina was one of the speakers at 15MPS, organised by PEPS. The event, with the theme "A New Dawn", was held at Sunway Pyramid Convention Centre.
In her session titled "Overview of the Malaysian Property Outlook", Aina pointed out that the 29,534 overhang units were valued at RM19.95 billion. Condominiums and serviced apartments were the biggest contributors to those figures.
The majority of the overhang units (31.6%) were priced between RM500,000 and RM1 million, while those priced above RM1 million constituted 15.1% of the total overhang. The latter segment contributed the highest value at RM8.65 billion, or about 43%.
Johor has the highest number of overhang properties (5,348), followed by Penang (5,222) and Selangor (4,386).
Aina was concerned about the "core overhang" units, or those that remain unsold five to 10 years after their launch, as "no market would absorb the numbers if they have been there for more than five years".
States with the most unsold properties of five years and above were Penang (3,981), Selangor (3,297) and Johor (3,221). Kuala Lumpur had 2,966 of such units.
"Something is not right about the projects. It could be the location, price or design," she said.
Another issue Aina mentioned was the number of transactions in the residential property sector. She pointed out that like those in 2012, residential property transactions in 9M2022 were dominated by units priced RM300,000 and below. Such a scenario raises questions about the country's efforts to transform into a high-income nation, as there seems to be no indication of higher purchasing power after a decade.
In his opening remarks, PEPS president Subramaniam Arumugam proposed that the government reintroduce the Home Ownership Campaign for both the primary and secondary markets, together with a reduction in the Real Property Gains Tax rates to help developers move unsold stock. 
He also urged a relook at the new Malaysia My Second Home policy framework, which has affected foreigners' sentiments about investing in the country. The relook would be necessary to attract quality foreign investors without compromising on the country's ability to compete with its neighbours in the effort to place Malaysia at the forefront, he added.
Subramaniam foresees environmental, social and governance (ESG) issues remaining a top priority on the agenda of real estate owners and investors. "The government should continuously promote and demonstrate its commitment to ESG values through its policies, regulations and decision-making," he said.
Better planning to cater for B40 and M40
The first panel discussion at the summit focused on the residential property sector. Moderated by PEPS past president Datuk Mani Usilappan, the panel comprised The Star columnist Pankaj Kumar, Ho Chin Soon Research Sdn Bhd chairman Ho Chin Soon and Henry Butcher Malaysia chief operating officer Tang Chee Meng.
Ho talked about three issues: the declining population growth rate as the nation moves towards developed status; Greater Kuala Lumpur achieving mega-city status; and the shift in Greater Klang Valley's centre of gravity towards the south.
Meanwhile, Pankaj noted that there were fundamental issues in the property sector that needed to be addressed, including the relatively high compliance cost, affordability, as well as oversupply and overhang.
"On top of these issues, the residential property sector has been plagued with poor product quality, lack of a maintenance culture, complaints falling on deaf ears and cartel-like agency operations suppressing rents and capital values," he said.
"Also, the property ecosystem is at its limit as far as lending activities are concerned. Malaysia needs to restructure the regulatory framework with a one-stop agency for all approvals and tighter control."
Speaking on the topic of housing affordability in Malaysia, Tang said the reasons that housing was not within reach of the B40 and M40 (bottom 40% and middle 40% income groups) include rapid urbanisation that had led to an increase in demand for housing; high and rapid escalation of land cost, especially in major urban centres; high construction costs; high compliance costs; mismatch between supply and demand; inability to secure housing loans; low profit margins of affordable housing discourages private developers; insufficient and inaccurate data and analysis to guide effective long-term planning and implementation; and the fact that the M40 is often ineligible for public low-cost housing but, at the same time, are unable to afford housing supplied by private developers.
"To alleviate the housing affordability problem, the government can make available more and cheaper land for building affordable housing through the sale of land and/or joint ventures with private developers and by improving public transport to encourage people to live further away from the city, reducing development costs like compliance costs, construction costs and building material costs, expediting and/or shortening the processing time for development and plan approvals, introducing policies/initiatives to encourage the development of affordable housing, as well as making it easier for people in the B40/M40 to own homes through special financing schemes, financial assistance on down payments, loan guarantee schemes and other schemes like RTO (rent to own) arrangements," he added.
Stronger performance in the mid term
In the second panel discussion on the commercial property sector, CBRE | WTW chairman Foo Gee Jen noted that Malaysia had seen a quicker rebound in 2022 compared with other countries. However, investment activity in Asia-Pacific had been losing momentum since the second half of the year and there were concerns about an oversupply of logistics, retail and office space.
For CBRE, the retail segment is the favourite this year as it has rebounded strongly post-pandemic. The research firm thinks the rebound will be better than seen by the industrial property sector.
"Logistics rents are normalising as people start going back to shopping malls. The hotel occupancy rate is returning to pre-Covid levels," he said.
Foo was the moderator of the panel discussion. The panel comprised Sunway Malls & Theme Parks CEO H C Chan, JLL Property Services (Malaysia) Sdn Bhd country head 
Y Y Lau and Malaysian Association of Hotels president Datin Christina Toh.
Chan noted that there were three major indicators for Sunway Group's retail performance: car count, footfall and sales per sq ft. For 2022, the performance of the group's mall and theme parks improved 50% from 2019. 
"Then, in the first month of 2023, we obtained double-digit growth — about 12% — compared with 2022. Recovery is the trend now … People feel safer to come to public spaces," he said.
Chan added that the gross domestic product growth of the country was crucial as it would determine the business at shopping malls, which is driven mainly by local consumption.
Commenting on the office sector, Lau observed that market indicators had increased across all three submarkets — KL city, KL fringe and decentralised areas. The office market is also recovering as the absorption rate in 2022 was close to that in 2019.
"Also, there are three keywords that we have been hearing since the pandemic, which are flexi, ESG and well-being. The office is no longer considered an office; it is a workplace — where you work, socialise and anything else. It is no longer a hardware; it has become a 'life'," she said.
Toh, meanwhile, noted that the average daily rate of hotels in Malaysia had steadily increased post-pandemic. However, the industry still faces several challenges.
"These challenges include the electricity tariff, price hikes, tourism tax, regional competition, illegal competitors and home sharing as well as manpower shortage," she said, adding that there was a need to legislate the Airbnb industry to ensure fair competition.
Consolidation for further growth
The third panel discussion was on the industrial property sector. The panel comprised AREA Management Sdn Bhd executive chairman Datuk Stewart LaBrooy, Knight Frank Malaysia head of land and industrial solutions team Allan Sim Song Len and CJ Century Logistics Holdings Bhd executive director Edwin Yeap. The moderator was MacReal International Sdn Bhd founding partner and principal Michael Kong.
LaBrooy highlighted three broad topics, with the first being supply chain trends that were hit badly when the pandemic struck. "Companies are now investing in new technologies and have new contingency plans to make supply chains more robust."
He spoke about seven disruptive trends in 2023 that warehouse solutions will help navigate. The first is inflation, which is "affecting consumer spending and squeezing margins, making it harder to make money. Supply chain teams need to focus to become more efficient, agile and resilient".
The second is labour shortage, which automation will address, he highlighted. The third is the rise of 3PLs (third-party logistics providers) that provide efficient services. 
The fourth is having too much supply of items that were over-ordered, but he said that issue will be ironed out soon. The fifth is automation; the sixth, data security, which will be heightened over time; and the last, sustainability, as more companies are embracing ESG policies and industrial properties must follow suit. 
LaBrooy believes that with strong e-commerce growth, there will not be an oversupply of industrial properties. In fact, he says, "there is a lot of headroom to grow this business". 
Next up was Sim, who provided information on land values and rental rates of industrial land and products. Overall, values and rents have increased, according to a sample of three key locations — Penang, the Klang Valley and Johor — from 2012 to 2022. 
In Penang, industrial land rose to an average of RM120 to RM140 psf in 2022, as opposed to between RM50 and RM70 psf a decade ago. Rental rates had gone up an average of RM2 to RM3.50 psf from RM1.30 to RM1.60 during the period. 
In the Klang Valley, industrial land values reached RM180 to RM250 psf in 2022, from RM85 to RM100 psf in 2012. Rental rates have risen to RM1.80 to RM2.40 psf on average from RM1.40 to RM1.80 psf about 10 years ago. 
In Johor, industrial land rose to an average of RM45 to RM55 psf from RM20 to RM30 psf, while rents were going for RM1.30 to RM1.50 psf on average from 80 sen to RM1 psf a decade ago.
Sim also highlighted that industrial building design trends include large or mega distribution centres as well as several levels that allow for cross-docking, where one facility is able to unload incoming delivery vehicles and load those materials on outbound delivery vehicles.
Nowadays, tenants require buildings with the latest fire-fighting system — Early Suppression, Fast Response (ESFR) — and building specifications are now changing. One aspect is the ceiling height, with some companies asking for higher ceilings so they can have higher floor loading that allows for automation and, possibly, accommodate robotic stacking. 
The last to present on this topic was Yeap, who is with a logistics service provider specialising in integrated logistics, oil logistics and procurement logistics services. His experience concurred with the information and data provided by LaBrooy and Sim. 
CJ Century Logistics currently operates 4.5 million sq ft of warehouse space across Malaysia, with an average occupancy rate of 95%. Some of its 30 warehouses nationwide are 100% occupied. Its key locations are Penang, the Klang Valley and Johor.
Yeap says the landscape has changed: Where a green building was not even considered previously, multinational corporations today are asking for green buildings. He points out, for example, that a distribution centre in Bukit Raja was developed at a cost of RM200 psf. Today, the cost has risen to RM230 psf and even rents have increased, he said. 
During the Q&A session, a question was asked about rental rates being higher for newbuilds or for buildings that had upgraded their facilities. LaBrooy said it might be better to tear down the building and rebuild, which would be more cost effective.
"There will be a lot of brownfield [industrial] developments coming through. A nice thing about industrials is that they are not expensive to build and very cheap to knock down. They can be replaced like a pair of socks," he said, drawing chuckles from the audience.
Emerging trends
In the last panel session for the day, TI Homes executive director John Chong and CSF Group chairman Billy Lee shared their views on retirement villages and data centres respectively. The session was moderated by Elvin Fernandez, PEPS exco member and managing director of Khong & Jaafar Group of Companies.
Chong started off by noting that the senior living product was a subsector of the residential property market, which is divided into two categories, depending on the capabilities and mobility of the residents — retirement village for independent living and mobile seniors; and aged care facilities for residents who require low to high care.
Chong focused his presentation on retirement villages, which he said was greatly needed in Malaysia. He pointed out that, in 2022, Malaysia had a population of 32.7 million, of which 3.63 million, or 11.1% of the population, were above the age of 60. According to overseas statistics, 5% to 7% of seniors prefer to live in a retirement village. Based on this figure, he said, it could be translated into a target market of between 181,000 and 254,000 seniors in Malaysia.
He added that, assuming an average population of 1.5 per retirement unit, as some people move in as a single person or a couple, this could result in a demand for 120,600 to 169,300 units. Right now, he observed, there are only a few hundred units in Malaysia, so there is growth potential in terms of building retirement villages.
The cost of building a retirement village is similar to that of a housing product, with a top up of 10% to 25% for senior-friendly features such as larger bathrooms and fittings like grab bars and lever handles.
There are two business models in the market — the sale/lease model and the rental model. The former is the sale of the right to use and occupy a unit with no transfer of ownership. There is a lump-sum charge and the price is pegged to market value with a slight premium of 10%, said Chong. There is also a monthly service charge to cover operations. 
The issues and constraints in developing a retirement village include not having specific legislation to regulate retirement villages. "As there is no specific legislation, it means the general requirements are very low. As long as you follow best practices and international norms, what you provide will generally be better and superior to whatever requirements there are in Malaysia," he said. 
"Others include no incentive for developers to build retirement villages and no financing for residents due to their age and lack of active income. So, the residents have to be self-financing. There are some taxation issues and there is also a lack of recognition of the needs of the elderly by the government. While the situation hasn't become dire yet, hopefully, in the future, this can be addressed in time."
Lee then spoke about the growth of data centres in the country. His company has been in the data centre industry for 25 years and he has seen how the industry has grown, starting with small data centres to large custom-built facilities today. While data centres may look very profitable, a deeper understanding of what goes into developing them is required.
"It is not easy to be in the data centre business because it takes different skill sets to build, operate and manage a data centre," he said.
One hot data centre development area, according to Lee, is Johor Baru, where "a lot of demand is moving from Singapore to the JB side because of the proximity", with foreign parties choosing to build data centres in the southern state. He also pointed to other potential data centre areas in the north of Peninsular Malaysia and in Sabah and Sarawak. 
The challenges faced by the industry include insufficient skilled labour to meet future demand, but Lee sees this as a short-term problem as the industry is gradually catching up with demand.