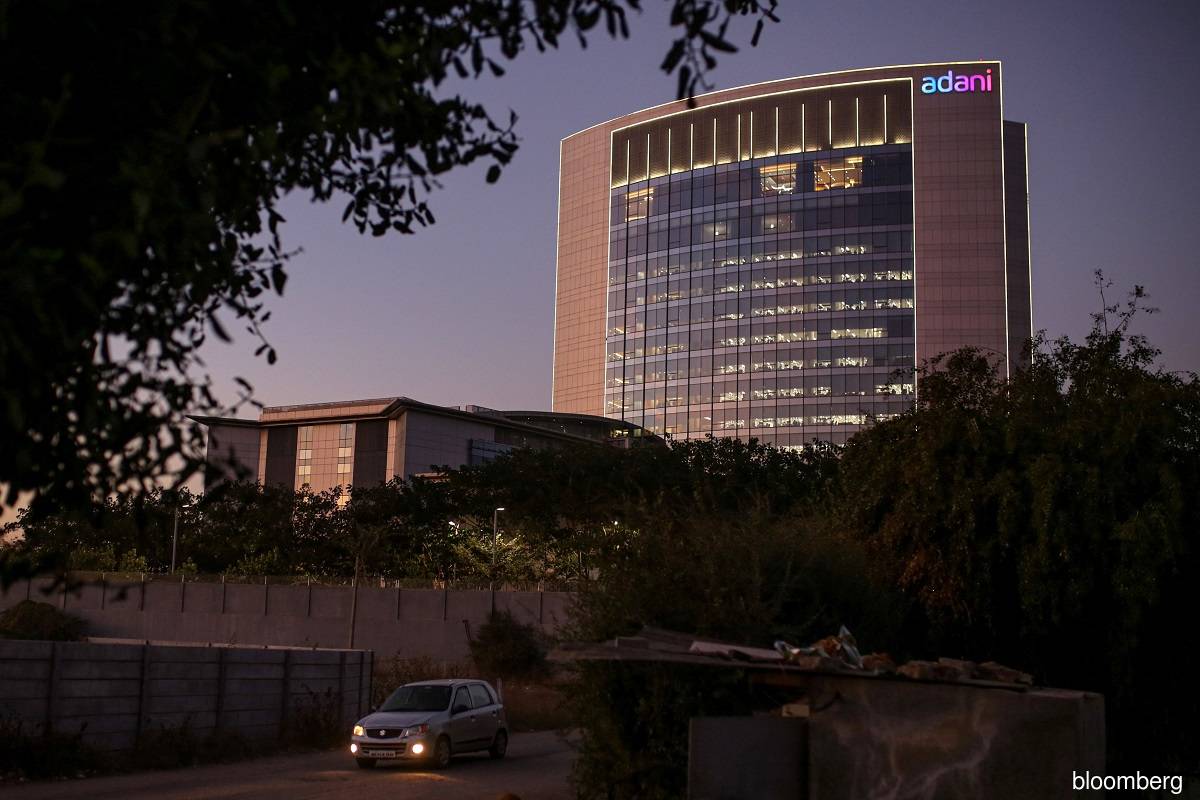 (Feb 7): Adani Enterprises Ltd surged, leading gains as most of the Indian conglomerate's stocks rose after its founders pre-paid some debt and traders covered short positions.
The flagship's shares rallied as much as 25% before finishing up nearly 15% in Mumbai on Tuesday. That helped trim the slide in the group's market capitalisation to US$115 billion since US-based Hindenburg Research released a report on Jan 24 alleging market manipulation and accounting fraud — claims that Adani has repeatedly denied.
The reprieve came as Gautam Adani and his family prepaid US$1.11 billion worth of debt, in a bid to calm a selloff that sparked fears of a contagion across India's economy and markets. Adani Ports & Special Economic Zone Ltd said on Tuesday that it will repay debt of around 50 billion rupees (US$605 million) in the year starting April, helping the billionaire's firm to improve a leverage metric at a time when its financial health and that of other group companies has come under intense scrutiny and concerns have grown over their access to funding.
Six of the group's 10 stocks ended higher on Tuesday. They had seen a combined US$118 billion in value erased in the previous eight sessions.
"The recovery is happening due to a variety of factors: the prepayment, short covering and technicals all are driving it," said Deven Choksey, managing director at KRChoksey Holdings in Mumbai. "The group is expected to take more corrective actions going forward."
Adani Wilmar Ltd climbed by the 5% limit on Tuesday. Adani Ports ended 1.4% higher after the debt repayment announcement, even as it reported third-quarter net income that missed the average analyst estimate. Adani Transmission Ltd finished little changed after posting a 78% gain in third-quarter profit on Monday. New Delhi Television Ltd was due to announce results.
"Amid news of prepayment of loans, the rally in Adani group shares looks more of a tactical bounce from oversold levels," said Nitin Chanduka, a strategist at Bloomberg Intelligence.
Hindenburg's accusations have propelled long-held concerns about the Adani Group's debt-fueled expansion onto the global stage, and opposition lawmakers forced parliamentary hearings to be adjourned for three days as they demanded answers.
Some of Adani's dollar bonds fell into distressed territory following the criticisms, with debt investors holding initial conversations with financial advisers and lawyers to weigh their options.
Easing Volatility
Shares in flagship Adani Enterprises had tumbled more than 50% from when Hindenburg published its short-selling report through Monday, the steepest decline of the four stocks in the group that have underlying derivatives.
The ratio of put-to-call options on the stock, as measured by open interest, slid to a six-month low at the end of last week, briefly dropping to about two standard deviations below the 24-month average. Whenever the ratio has breached that level in the past, a reversal in the shares has taken place, according to data compiled by Bloomberg based on regression analysis.
"The volatility levels in the stocks have reduced and swings could narrow further if there are no negative catalysts or news developments," said Deepak Jasani, head of retail research at HDFC Securities Ltd. "The force of selling may reduce and that may give a small boost to prices."
In the credit market, some of dollar bonds issued by the Adani Group of companies clawed back their daily losses. Nine of 15 dollar bonds issued by the group rose, according to data compiled by Bloomberg. The gain was led by Adani Renewable Energy's debt due in 2039, which jumped 0.9 cents as of 1:34 p.m. in Mumbai.
Hindenburg Research alleged that a web of Adani-family controlled offshore shell entities in tax havens were used to facilitate corruption, money laundering and taxpayer theft. The conglomerate has called the report "bogus" and threatened legal action. Adani gave a video speech last week, stating that the group's balance sheet is healthy.
Investors are keenly watching the group's actions, with some saying it will take a lot more effort to restore the market's confidence.
The repayments "can provide some relief but it won't be a change of trend, which is down," said Sameer Kalra, founder of Target Investing in Mumbai. "We need to keep watching how much more repayment happens, how the capex goes."
Read also:
Adani Group share clues can be seen in surging options market